As part of my February travels, I also made a daytrip to the island of Kinmen, which precisely contains the main island, the Western sister island Lieyu (which connects to Kinmen by ferry) and a couple of very minor islands.
Kinmen – Location & History
Kinmen, which literally means "Golden Gate", or Qoemoy, how it is also named in English and several other languages, is just close to the East coast of mainland China, with a minimum distance of two kilometres to the chinese metropole Xiamen. With 120,000 inhabitants and 153 km², it is comparably small, but in history gained importance due to its strategic position. The long-lasting battles between China and Taiwan for example lead to one of the most famous Kinmen products, top-notch knifes made of artillery shells – which I would have loved to buy at the Kinmen Airport, but travelled with hand luggage only.
I decided to explore the island by electric scooter, which is quite a fancy option do to so. Taiwan nowadays requires an international motorcycle licence or a national scooter licence if you want to hire a petrol-driven one, so that the electric option is very handy for short stays (at least if the weather is fine).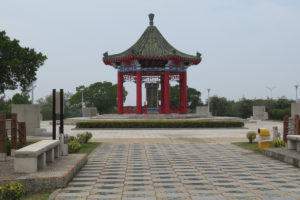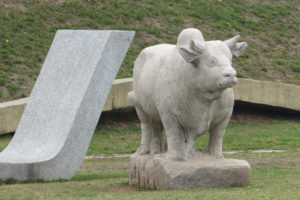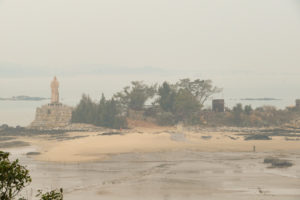 Zhaishan War Tunnel
The most important sights on Kinmen are somehow combined with military and war history. There were three main sites I spent quite some time at: one of my first stops has been the Zhaishan Tunnel, which they drove into the rocks of of the coast in order to be able to quickly load and unload military ships without the necessity to turn them around – they just enter the A-shaped tunnel on the one end and leave at the other one – quite an interesting place and idea: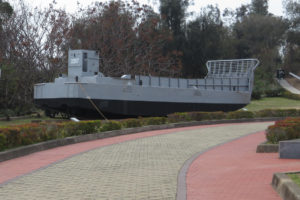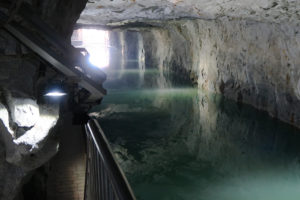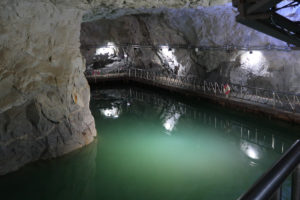 823 Artillery Battle Museum
Another very interesting place has been the 823 Artillery Battle Museum close to the township of Jinhu, which deals with the 1958 artillery war during the Second Taiwan Strait Crisis. For quite a long time, China shot on Kinmen every second day. Very interesting exhibits with a nice park around – absolutely worth the visit.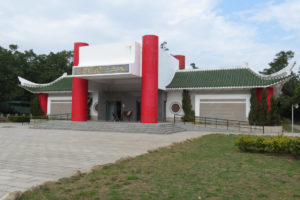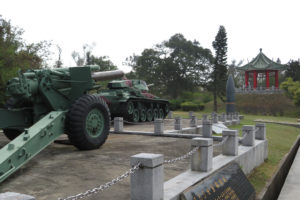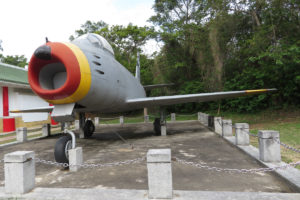 Military Brothel Exhibition – A very special Museum
One exhibition I have never seen like this is the Military Brothel Exhibition Hall, which shows in a very informative way, how the military history lead to prostitution on the island and how this has been organised on the islands, including stories of the working girls.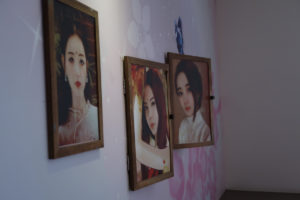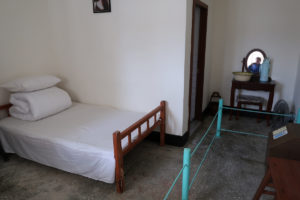 However, if you are not too much into military history (like me), Kinmen has a lot more to offer. Like anywhere in Taiwan, you will find beautiful temple spots, for example.
Lovely historic villages like Zhu Shan
I also loved the historic Zhu Shan Village with its historic style buildings, the temple and a nice top-of-the-hill pagoda where you could just enjoy the view (and even could do planespotting :)).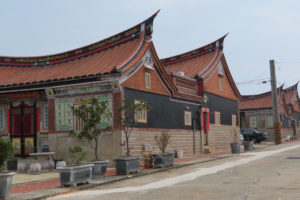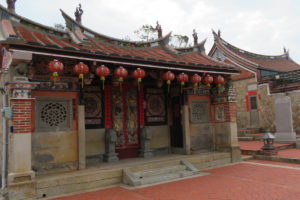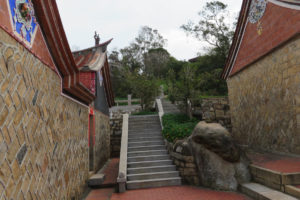 Duty-free shopping on the Island
Finally, Kinmen is tax-free, so it is also quite popular for shoppers, who mainly come by ferry from China. Close to the 823 Artillery Battle Museum, for example, there is a huge hotel including quite a lot of posh fashion brands in its outlet (the outlet has much more brands than advertised outside… I unfortunately did not recognize before being at the airport again and found a flyer about that place – so no pics from inside).
Apart from the knives mentioned above, one other popular Kinmen product is liqueur – so don't travel hand luggage only like me if you visit the island – at least if you go by plane, if you want to come back with a souvenir.
Flyctory.com on Taiwan
All other articles about Taiwan:
Flyctory.com on Social Media
Flyctory.com is active on the following social media platforms:
Furthermore, you can follow the weekly updated Country Music Playlists on