My team is back in Europe! Three years after the Davis Cup tie in Serbia, I am glad to support the Indian national team in the male tennis competition again. This time, I headed to Espoo, a large city West of Helsinki. Finland became quite a strong competitor despite their rather low world ranking. I would say that the hosts are even the favorite team in the tie. Nonetheless, there is this tennis fever again. Glad to share my coverage with you – which I will partially majorly write in a way that I can re-use my postings for Indian Tennis Daily. The match is a World Group I match, the winner has the chance to qualify for the Davis Cup Finals 2022 by one or two more knockouts.
The Tennis Davis Cup coverage from Espoo is done in collaboration with

The Teams
A tie between Finland and India would have likely been a rather easy task for my team during the last years. Nowadays, I would see the Scandinavians as favorites – the key reason is Emil Ruusuvuori. Here are my thoughts about the teams.
Finland
Finland has been a one-player show for many years. Jarkko Nieminen dominated the Scandinavian team campaigns, not that rarely leading to victorious ties with two singles and a doubles rubber wins. The Finnish placement in the world ranking is thus rather low, #33. However, this does not really reflect their current strength.
The reason: the Finnish tennis has developed massively during the last years. Nieminen has stopped being active after 18 years of DC experience, but he is now on the bench, as a non-playing captain. The team is lead by Emil Ruusuvuori (Singles #74), who is the highest ranked player in singles of the tie. For singles, Nieminen's key options are Otto Virtanen (#419) and Patrik Niklas-Salminen (#491). In doubles, two times ATP Tour Finals winner Henri Kontinen is a legend in Finnish doubles tennis, but is now ranked at #46 only. The most probable partner is #76 ranked Harri Heliovaara. These two also played the US Open recently, but lost in first round. Ruusuvuori is of course another option.
India
There is no Top 100 tennis player in singles in India currently. Their likely most prominent player, Sumit Nagal, is missing. Nonetheless, non-playing captain Rohit Rajpal has been able to nominate a quite interesting team. India is currently ranked 22nd in the world rankings.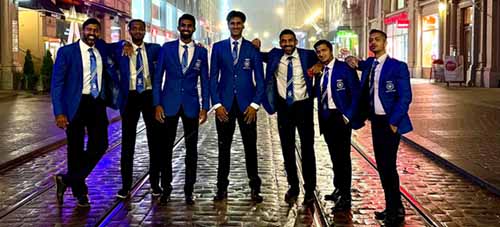 With the non-availability of Nagal, two players are the key options for Rajpal in singles: Prajnesh Gunneswaran is ranked #165 in the ATP Singles Rankings, while Ramkumar Ramanathan is at 187th. Both should be superior against the second Finnish singles player, but need to play a courageous match against Ruusuvuori to go for an upset. India had a lot of Davis Cup upsets in the 1990's and 2000's. However, they became rare in singles in the 2010's. Ramanathan is also a decent option in doubles, he just won an ATP Challenger. However, India will quite likely rely on their straight-forward choice, Rohan Bopanna and Divij Sharan. Bopanna complete 20 years in Davis Cup in 2022 and is by far the most experienced player, who also was part of some upsets in the past. He is India's highest ranked player in doubles (#44). Like Bopanna, Sharan is a skilled doubles specialist, ranked #86. Thus, their rankings are comparable. Last, but not least Saketh Myneni completes the team. His rankings are not that threatening (singles #573, doubles #296), but he has given some heartful tennis battles in the past and is definitely a good backup.
Espoo – The Host City
Espoo is the second largest city in Finland with almost 300,000 inhabitants. It is right West of Helsinki. There are a lot of companies in the city, which has developed massively as a neighbor of the capital. It is also a city of education and hosts the famous Aalto University. One of the most famous people of Espoo is former Formula One driver Kimi Räikkönen. I always love to watch around the city and see how much the Davis Cup is a local happening. I could not spot any ads for the tie in Espoo, not even around the official hotel. A quick Thursday scan of the papers did also not lead to too much information. Tennis is rather small in Finland – despite their recent success.
The Venue: Espoo Metro Areena
Espoo Metro Areena in the borough Tapiola a 1999 built multi-purpose arena. I was quite surprised about the selection of the venue, as its capacity (7,017 for ice hockey matches) is rather large. Nowadays, the arena is majorly used for sports events and concerts. I read that the Espoon Blues Naiset, a top league female ice hockey team, uses the arena regularly as well. Finland chose a rebound ace hard court, which is described to be rather slow.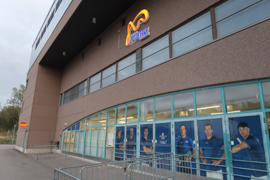 Social Distancing
The Covid-19 influenced rules for the tie are rather strict. In contrast to previous Davis Cup ties, I will neither be able to visit practice sessions (apart from those before the matches) nor the draw ceremony. Press conferences are virtual. The players are in a bubble, don't even stay in the official tournament hotel. Thus, I opted for another place, the Radisson Blue in Espoo. Thus, this coverage will me more limited compared to previous tennis coverage.
The Draw Ceremony
As said, the draw ceremony has not been public. Finally, the only draw is whether India's number one is facing Finland's number two first on the first day or vice versa. Davis Cup has become a two day best of three set matches thing. Thus, there are two singles at Friday and the doubles match followed (if necessary) by the reverse singles on Saturday. According to the draw, the schedule is (in local time). Below is the schedule as drawn. In fact, there have been substitutions in both teams. Nominations changed later in italics.
Finland
India
Fr 18:00
Otto Virtanen
Prajnesh Gunneswaran
thereafter
Emil Ruusuvuori
Ramkumar Ramanathan
Sa 14:00
Harri Heliovaara /

Henri Kontinen

Rohan Bopanna /

Divij Sharan

thereafter
Emil Ruusuvuori
Prajnesh Gunneswaran
thereafter
Otto Virtanen
Ramkumar Ramanathan
not played
The draw is definitely in favor for the Indian team. If you just look into the rankings, Ruusuvuori should be under pressure on the second rubber on Friday, if Gunneswaran does the expected job and wins the first singles.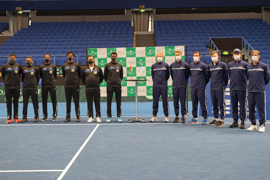 Winning and Losing
The consequences of winning the tie are a bit of weird. If you win the tie and you are among the Top 8 nations who did proceed in the WG1 ties, you automatically proceed to the Madrid qualifiers in March 2022. The remaining four teams have a knock-out stage in November 2021. India, if winning, will definitely be among this Top 8 group. The situation for Finland in case of a victory is uncertain.
All inside arena and draws pictures and tie logo by the Finnish Tennis Federation / Suomen Tennislitto. Indian team picture by Divij Sharan.
Finland vs. India Davis Cup 2021 – Galleries
All Flyctory.com pictures from Espoo are gathered in a dedicated gallery group. Here are the links to the individual galleries, split by match:
Finland at Flyctory.com
Here are all postings on Flyctory.com about Finland:
Postings related to India
Here are all my postings related to India: