In the life of a sports fan, there are those days you simply remember. Great victories and upsets, huge disappointments, epic battles. While my roots of being a fan of the Indian Davis Cup Tennis Team are dating back to the 1990's, one of these days to me is the 19th September 2023. The location: Zwolle, Netherlands. Davis Cup World Group Playoffs, Netherlands vs. India. Rohan Bopanna, at that time a 23 year old newbie from Bangelore, played his fourth Davis Cup tie overall. And the first time I watched im playing. On that weekend, I started loving Rohan Bopanna.
Twenty years later, he is stepping back from Davis Cup Tennis for his home country. In Lucknow (which is unfortunately just too difficult to get to from Germany for a weekend trip…), he is part of the team facing Morocco in the World Group II tie. I definitely have to praise this legend of tennis, who just traveled into Lucknow from New York City, where he beat the world record being the oldest tennis player ever in a Grand Slam Men's Doubles final.
An Incredible Tennis Career
Over all these years, I have countless memories with Rohan Bopanna. The Zwolle one was my most intense one. You have to say that Rohan' career high ranking in singles was in the low 200's, some four years later. On that 19th September 2003, Rohan Bopanna's single ranking was #344, playing against world #14, Martin Verkerk. Verkerk was a French Open finalist that year. The very first rubber of this tie in Zwolle became an epic sports battle. It took the Netherlands 6,000 spectators (excluding myself, my friend Niels a few other Indian people), 4.35 hours and a prolonged fifth set to somehow overcome this underdog fighter. After three sets, India was in the lead, 7-5 3-6 7-5. The fourth set went to the tie-breaker and had an epic showdown, 9:7 for the locals. No tie break in the decider, which finally ended 12-10 for Verkerk.
On Saturday, Bopanna and Indian doubles legend bowed down against the local doubles team in a four setter, sealing the straight victory for the Netherlands. But the Dutch fans did not forget what they saw. On the third day, when captain Ramesh Krishnan replaced exhausted Bopanna by Harsh Mankad, the Dutch crowd was cheering Rohan Bopanna! Rohan Bopanna! I will never forget that moment, that unique way of appreciation.
More Than Two Decades of Professional Tennis
At this point of time, Rohan was already having some years on the challenger tour. His first ITF future and ATP Challenger appearances are dated as of 1999. In his first ever ATP Challenger singles, he at least in the first set gave Thai Paradorn Srichapan, who was a Top 100 player at that time, a tough fight. Officially, he turned pro in 2003. Some of his bravest performances did not finally lead to the big moments, unfortunately. Another singles match by "Bops" I won' forget is when he played Roger Federer in the first round on German grass in Halle, giving the best player at that time an amazing first set, losing closely in the tie-break.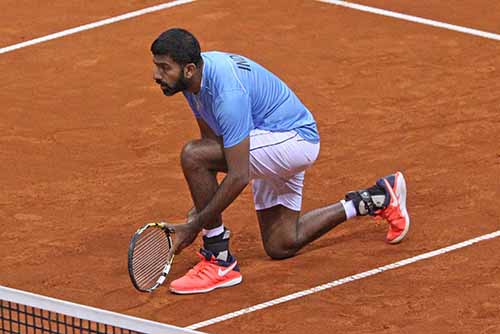 The more the sunshine of the "Indian Express", the legendary Indian tennis doubles of Leander Paes and Mahesh Bhupathi, has been fading, the more Rohan created Indian tennis glory. From his very early years, Bopanna stood for a values and sportsmanship. His long-lasting teaming up with Aisam-ul-Haq Qureshi from the poltiical "rival state" Pakisan become legendary. In his recelnt US Open final, Rohan claimed to the referee that he touched a shot by his partner Matthew Ebden with his shoulder. Neither the ref nor his opponents recorgnized that touch in the game.
An Amazing Year 2023
I feel feel sad that I did not make it to see Rohan on court this year. The collaboration with Australian Ebden went extremely well, winning the likely most important ATP Masters tournament in Indian Wells, being at the semifinals of Wimbledon and doing the record-breaking performance at Arthur Ashe last week. More than that, Rohan Bopanna should be honored for fighting back to the very top of professional tennis. In March 2016, he dropped out of the Top 10 in the Doubles Ranking. He dropped down to the 50th spot in the world in the meantime, before he made it back to the Top 10 at the end of May 2023.
Even though there is just one Grand Slam title in his record book – the mixed one he won with Canadian Gabriela Dabrowski at the 2017 French Open – he is one of the most outstanding players in doubles tennis in recent years. In his recent years, you also saw more and more and emotional Rohan Bopanna on court. You will never see him emotionalize like Leander Paes did. But his best shots made him push himself and raise his first to the New York City sky this week.
A Great Spirit and Heart
The sportsman, the idol, the coffee lover, the proud daddy… There are so many things I think of and appreciate when I think of Rohan Bopanna. Especially when it comes to Davis Cup, he was also always the reliable part of the team. He was on court, when India needed him. His experience and his calm way of approaching challenges has been such an important factor to the team in recent years. Including the match-up in Lucknow, Rohan will have played 33 ties for India.
I started actively watching Indian Davis Cup tennis in the late 1990's. It somehow felt that Rohan was always there. When I am visiting another tie in 2024 or 2025, I will deeply miss him.  And I feel that it is a shame that he overall did not get the publicity and attention he deserved. He is maybe not loud, not shining. But he is a hero of this sports – and a legend in Davis Cup tennis.
I would love to be with you, Rohan, at this very special weekend. But I will keep my fingers crossed that you will have an amazing last dance with this team.
Flyctory.com about Indian Tennis
Here are all postings related to tennis and India:
2023 Hotel Reviews
Here are all my hotel reviews published in 2023: