With the suprising Serbian doubles rubber upset on Day 2, the Sunday match just featured a dead rubber. It was expected that both teams bring in their spare players to give them some audience, match practice and the chance to finish with a proud performance for their countries.
The Tennis Davis Cup coverage from Kraljevo is done in collaboration with

3rd Singles: Predja Kristin – Srinam Balaji 6-3 6-1
Nenad Zimonjic selected Predja Kristin for Serbia, who made his debut in the first round loss against the USA in Nis earlier the year (in a dead rubber as well). India chose Srinam Balaji, which was a bit of a surprise, as Balaji does have a singles ranking, but in fact is a doubles specialist.
Balaji did a very decent job in the first set. Kristin struggled with the Indian who tried to do serve and volley on the slow clay where possible to profit from his volley skills. Balaji was strong with his first serve, while Kristin felt significantly more comfortable at his second serve. There were four breaks in the first set, three for the Serbian and one for India, leading finally to a 6-3 score.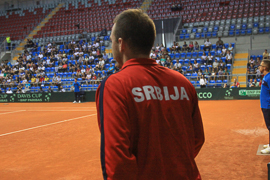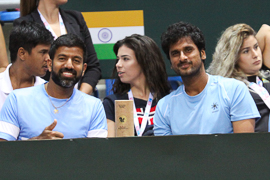 In the second set, the host contestant got better and better in the match. Balaji already faced a 0-5 score at own serve, but at least could win that game. The loss was unavoidable, but both players showed a nice one hour match to complete the tie. It was a nice and fair tennis demonstration, in which the spectators stopped yelling before second serve and in the rallies and enjoyed tennis.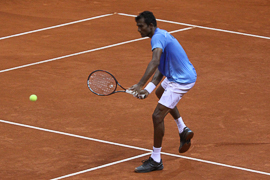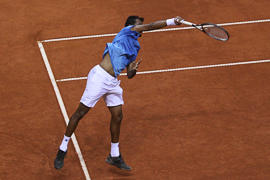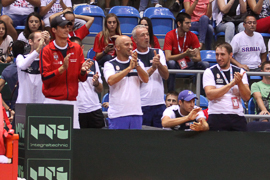 Warm-Up Pics
I did some Indian team warm up pics before the match. Here is a selection: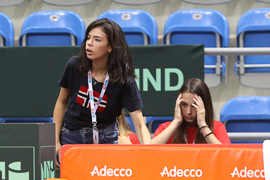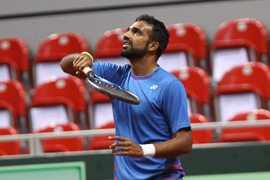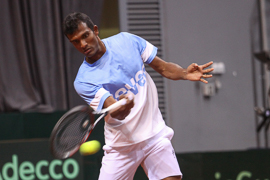 There is no fifth rubber on a dead rubber day.
My View on the Tie
One reason why I wanted to visit Kraljevo was to see the very last Indian tie based on traditional Davis Cup rules: Home and Away, Best of five sets, best of five rubbers. The current DC semifinalists will not have that experience at all. India and Serbia might at least be cheered by their home crowds in February – or have to face those on the road. Furthermore, there will be no Best-of-Five sets any more. When you look at some of the current battles like the ones in Great Britain or Hungary, you easily see how much the sports will all miss that.
No real Davis Cup Atmosphere in Kraljevo
I hoped to see a great tie at the end of this era. Unfortunately, I didn't. The undeniable fact that India lost the tie and did not show the potential the team has was just a minor factor. First of all, the crowd has not been as loud as expected it to be in Serbia. I felt disappointed that there were so few people interested in it. I do understand that they wanted to see Djokvic – but finally, this would have simply lead to a less attractive tie. India has no chance against Serbia's best nomination. Secondly, the matches were just not as close. I especially hoped for a great doubles match, but there were hardly any rallies, also due to the high quota of unforced errors by the favorites.
Great Organisation – New Friends – Will miss it!
A great thanks to the organizers. I feel the team in the arena was great! So motivated and friendly, a very good level of English, I loved to work in Kraljevo arena. I did not like the city too much. However, the center with its vibrant bars and cafes was a really nice spot to relax after the matches.
Next year, new format: I will not like it, but I will of course keep on supporting my team, whenever possible. Travelling to Canada for two days of best-of-three-sets tennis will likely no longer be attractive. In 2017, I did that to see my team in Edmonton. I made a couple of new amazing friends in Kraljevo (again). It just feels sad that the new format might take this away. Hope one day we at least have more home crowds again. Seeing India in Bastad, Winston-Salem, Zwolle, Edmonton or Kraljevo were all unforgettable memories, despite we lost all ties.
Serbia vs. India Davis Cup – Other Postings
Flyctory.com offers a full coverage of the tie in Kraljevo in collaboration with Indian Tennis Daily. There was a preview posting earlier in the week illustrating why this is no playoff tie – and which teams are hoping for a final tournament 2019 spot:
Here are the postings from Kraljevo:
Serbia vs. India Davis Cup – Galleries
All pictures from Kraljevo are gathered in a dedicated gallery group. Here are the links to the individual galleries, split by Match:
Postings about Tennis
Here are all postings which are related to tennis on Flyctory.com