Tennis Davis Cup again. I was really flattered about the first day in Espoo between Finland and India. Will there be a tie after the first two matches or would one team be able to take a huge first step towards the 2022 Qualification Rounds? How would the Finnish crowds be alike? A lot of questions, which the sports wanted to answer on 17th September 2021. Here is my Preview to the tie.
The first day in Espoo featured the Opening Ceremony as well as the first two singles – in line with Davis Cup regulations since a couple of years, the (by ranking) potentially stronger player of each nation featuring the weaker one of the opponent. Prajnesh Gunneswaran were draw to lead India in the first rubber against Otto Virtanen. After Day 1, India faced a crucial 0-2 trail and needs to sweep Finland on Day 2.
| | | | |
| --- | --- | --- | --- |
| | Finland | India | |
| Fr 18:00 | Otto Virtanen | Prajnesh Gunneswaran | 6-3 7-6(1) |
| thereafter | Emil Ruusuvuori | Ramkumar Ramanathan | 6-4 7-5 |
This posting comes with an overall of 552 major size pictures in a dedicated picture gallery for this Davis Cup tie. Also see links below.
The Tennis Davis Cup coverage from Espoo is done in collaboration with

Original onsite reports as used by Indian Tennis Daily – which also means that they feature an Indian perspective.
Opening Ceremony
At Friday, 18:00 hrs local time, some 2,000 fans supported their country and gave their team a nice comfortable atmosphere. Some Indian fans, mainly Finland residents, were in the arena and cheered for our team, where necessary. A surprisingly nice setting for a Davis Cup tie under pandemic conditions. Below are also some impressions of the opening ceremony: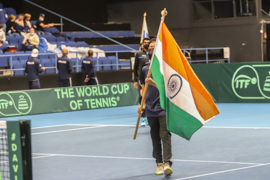 1st Singles: Otto Virtanen – Prajnesh Gunneswaran 6-3 7-6(1)
Singles-ranked #419 Otto Virtanen had an easy day in the first singles against Prajnesh, who is ranked more than 200 spots in front of the Finnish second singles player. Otto Virtanen played with virtue – and quite some luck in the deciding points. The close ones went majorly in favour of the hosting team. Virtanen felt to be very comfortable on the turf Jarkko Nieminen selected – the Finnish Davis Cup legend obviously chose the right strategy for Espoo 2021. Especially with surprising lobs and in long rallyes, Virtanen forced Prajnesh to mistakes too often. In the first set, Prajnesh lost his serve at 2-3 down, facing three break points against him. Overall, he felt to be more vulnerable in this first set. Even though this was the only break of the set (and of the match), Virtanen played very solid and went straight into the major intermission.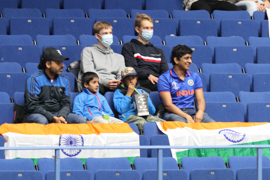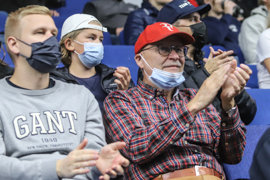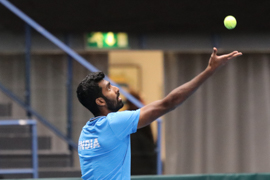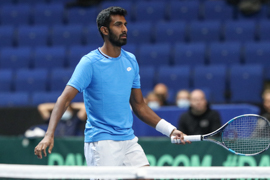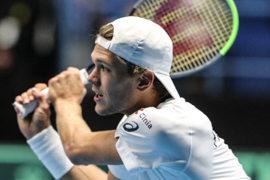 The second set was much more leveled – a battle at even strength. Even the experience of 32-year old Prajnesh Gunneswaran could not pay out when Virtanen felt to give more opportunities to give India a tied set score. However, the most dramatic game was Prajnesh serving in the ninth game, when the Indians could defend five break points before they won the game. Prajnesh felt to have a chance to force this match into the third set – but Virtanen could stand all attacks. In tie-break, he played with confidence, while four unforced errors on the Indian side just were too much. 7-1 in the tie-breaker and by that 2-0 to love – Finland and Jarkko Nieminen deserved this lead absolutely – very unfortunately from our perspective.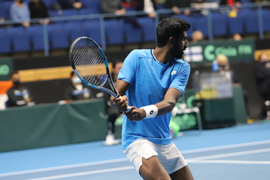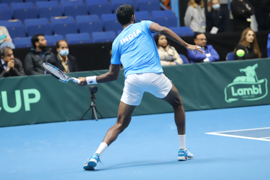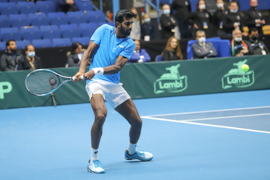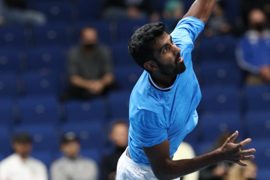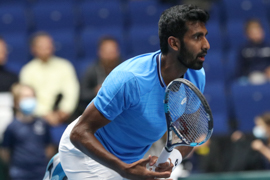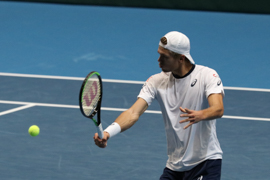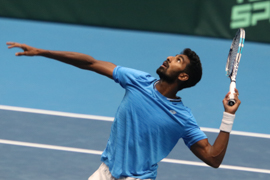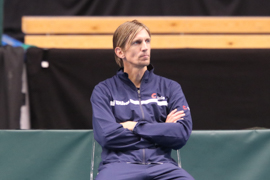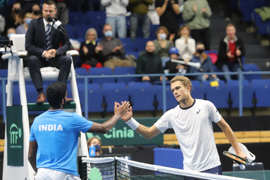 2nd Singles: Emil Ruusuvuori – Ramkumar Ramanathan 6-4 7-5
The match started with a hint that this evening could be special: Ruusuvuori served first – and faced two break points. Ramkumar converted and India was in the lead. Even though the Finnish corrected this "accident" right at India's first time serving, the tennis was amazing. Especially Ramkumar Ramanathan showed a huge variety of strategies – like using a lot of slice shots in rallies and even doing Serve & Volley and Chip & Charge attacks. Ruusuvuori felt to be just a little bit better over most parts of the match, but also he showed that modern tennis does not only need to be a battle of hard, flat top-spin shots. Even though the first set felt to be a bit of straighter than the second one, the people in Espoo Metro Areena saw some really entertaining rallies with a huge variety of different plays. So unfortunate that when Ramkumar came under pressure towards the end of the set, he could not keep his great level of play. In the tenth game, the host player broke the Indian's serve and by that secured the first set right when the crowds started to get really nervous.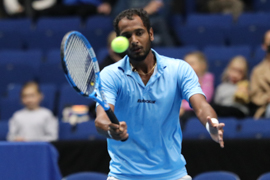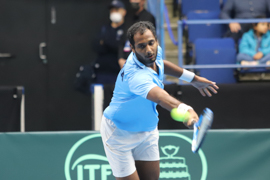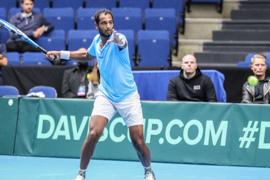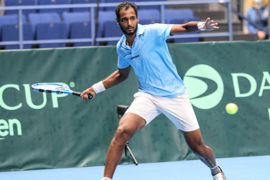 The second set was even more of a battle – and here and there, the home crowd just could not do other than cheering for some beautiful points by the courageous Indian. Again, it was just beautiful-to-watch tennis. Regardless if that was about the talent of both players or about the special characteristics of the court – there were only two really bad things about second set: First of all, that it was already a potentially deciding one. This second rubber between Finland and India just was made for an epic best-of-five match. Secondly, Ramkumar just became a little bit too weak in the deciding game of the set: at own serve in an epic game, he save one match point at 30:40 already – but then gave Ruuusuvuori another chance with a double fault. Finally, Ruusuvuori is too strong – and too talented. He converted this one and just made it over the finish line. You could see the huge respect both players had for each other after this battle.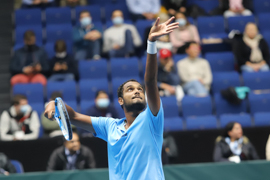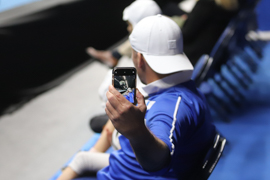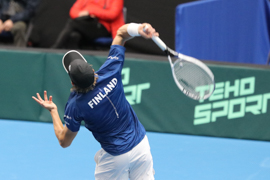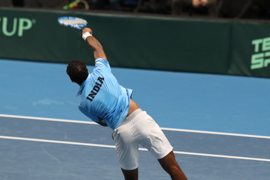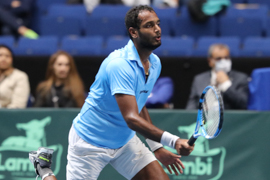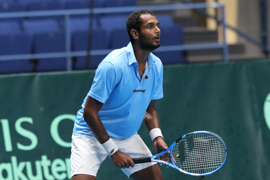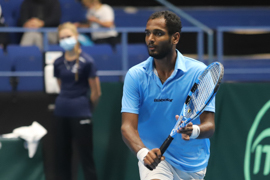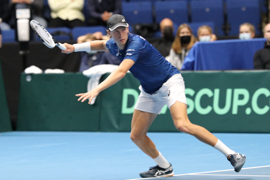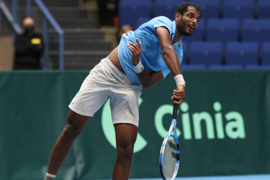 With that score, India trails 0-2. The doubles as the first match on Saturday needs to give some initial comfort for a comeback. The potential second match would be India's second try to beat Finland's Number One in singles, Ruusuvuori, like on behalf of Prajnesh Gunneswaran. A battle of the second players of each Nation would be the potential showdown – and could be a really interesting one. Needless to say, though, that Finland is absolutely on the driver's seat now. Especially beating Ruusuvouri in the fourth rubber would be a huge upset.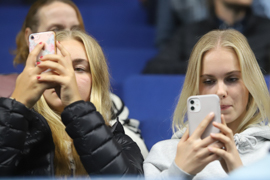 Finland vs. India Davis Cup 2021 – Galleries
All pictures from Espoo are gathered in a dedicated gallery group. Here are the links to the individual galleries, split by match:
Postings about Tennis
Here are all postings which are related to tennis on Flyctory.com
Flyctory.com Floorball Postings
Here are all Floorball-related postings on Flyctory.com: