Trailing 0-2, India was under pressure for the second day which features the doubles. However, the guests having the best-ranked doubles player of both teams, Rohan Bopanna, approached this task as favourites – and failed. Serbia will be seeded in the 2019 Final Tournament Qualification, where – in theory – they could even have to travel to India, who are save as an unseeded Asian contestant.
The Tennis Davis Cup coverage from Kraljevo is done in collaboration with

Doubles: Milojevic / Petrovic vs. Bopanna / Myneni 7-6(5) 6-2 7-6(4)
Mahesh Bhupathi made a surprising move and put Saketh Myneni ahead of #110 ranked doubles player Sriram Balaji, who was India's original lineup. Nenad Zimonjic stayed with Nikola Milojevic and Danilo Petrovic, whose rankings (#345/#228) both are behind the Indian team.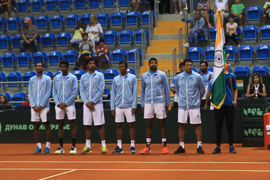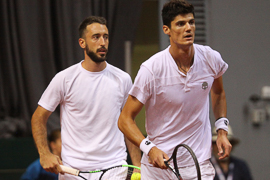 Zimonjic is a true legend and veteran of doubles tennis. From the very beginning, you saw that he made a very smart choice in selecting his team. Despite their very average rankings, the Serbians played extremely well, especially at own serve, with a high confidence and great serves and returns. The match did not look like doubles tennis at all – but that was the Serbian match plan and gave huge struggle to the favorites. Break points, though, were the key stats in the first two sets. India just did not have any of them. The Serbians had two in the first set, which they failed to convert. When the first set went into the tie-break. India struggled more and more with Bopanna serving and Myneni at the net. Serbia could take opportunity of that constellation twice to pave the road to a tie-breaker victory. The last point of the set was a rally, being closed by Myneni hitting the net. Serbia won the set 7-5 in tie-break.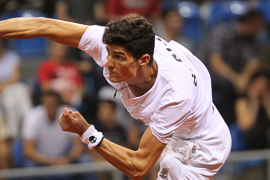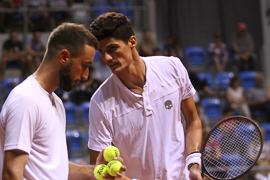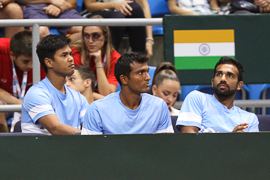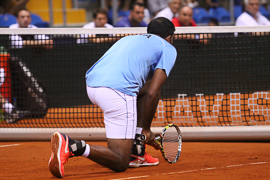 India again struggled at Bopanna's serve right at the beginning of second set. Serbia broke and put the Asians even more under pressure. There were little more rallies now. Even in those, Serbia just was the better team in second set. When Myneni faced another break in the seventh game of the set, this was the set decider. Serbia won the set 6-2 and was two sets up now.
There was still potential for a comeback and a (maybe not too high-class, but) epic doubles battle in third set. The set started with Bopanna facing a 0:40 situation, but India scored five points in a row to stay on the save side. The next games did not add too much to the story of the game, but in the sixth game, India surprisingly took the break and was 4-2 in the lead now. It was somehow characteristic, how this match turned. Bopanna served for the set at 5-3, but did not have a single set point. Serbia did what they had to do, came back and it was tie-break time again. India got an early point against Serbia's serve, but a Myneni double fault lead to an even score at court change. Serbia just had more touch on India's serve. Finally, they got into the lead and converted the first of two match points.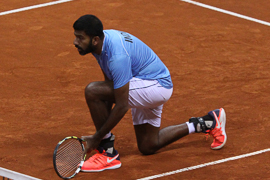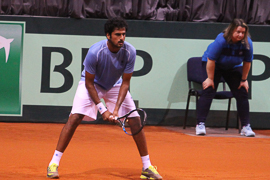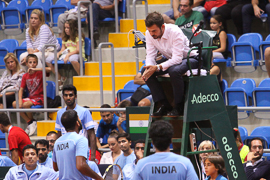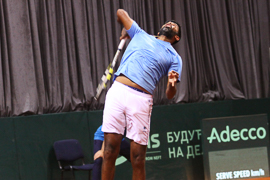 With that surprising result, Sunday will only host dead rubbers. India showed a disappointing and uninspired performance. For example, when I saw Rohan Bopanna playing in Flushing Meadows with Roger-Vasselin, they varied much more on the return against a strong serve like playing high returns over the net player. In Kraljevo, the Indian doubles tennis toolkit was just too limited against a comparably limited, but strong Serbian strategy. The Indians deeply missed #38 Divij Sharan, but also skipped their Top 100 players Purav Raja, Jeevan Nedunchezhiyan and Davis Cup legend Leander Paes as well as squad member Srinam Balaji as potential options. Hard to believe there were no tools for that match.
Serbia vs. India Davis Cup – Other Postings
Flyctory.com offers a full coverage of the tie in Kraljevo in collaboration with Indian Tennis Daily. There was a preview posting earlier in the week illustrating why this is no playoff tie – and which teams are hoping for a final tournament 2019 spot:
Here are the postings from Kraljevo:
Serbia vs. India Davis Cup – Galleries
All pictures from Kraljevo are gathered in a dedicated gallery group. Here are the links to the individual galleries, split by Match:
Postings about Tennis
Here are all postings which are related to tennis on Flyctory.com