Calligraphy is a kind of graphic art which is very deeply linked to the Arabian culture. Thus, it is not too surprising that one of the lovely museums in Sharjah is dealing with this topic exclusively. Let me take on a visit to the Sharjah Calligraphy Museum
Sharjah Calligraphy Museum – Location & Admission
The Sharjah Calligraphy Museum is located in the historic (made up) area, where several other museums are located. You may go to the area by bus (e.g. Al Arouba Street KM Trade Center stop, buses 3R, 8R, 15R), but you will typically rather take a taxi or park your rental car in the city. As I wrote in several other posts, parking in Central Sharjah may be tricky for non-locals as the parking machines do only accept coins, local mobile phone payment or a local payment card.
The Sharjah Calligraphy Museum is part of the Sharjah Museums driven by the emirate. Their opening times are typically amazing. This one is opening 8:00 to 20:00 daily apart from Friday, where the doors open at 16:00. Ramadan times are significantly more limited. Adult admission is 10 AED, roughly 2.50 EUR.  There is also a joint ticket which also features the Al Eslah School Museum, the Sharjah Heritage Museum, the Sharjah Al Hisn Fort and the Bait Al Naboodah traditional house. It is just 20 AED and thus an amazing bargain. You should make sure that the museums you are interested in are operating, though.
Sharjah Calligraphy Museum – The Visit
The Sharjah Calligraphy Museum is one of the smaller city museums. After entring, you walk into some kind of covered patio. Even if you are not into the techniques of calligraphy, some of the amazing works around this place will capture you. Here and there, I would love to get a bit deeper in the scripts and pieces of art presented in the museum.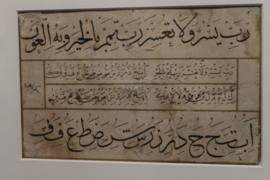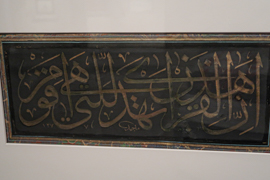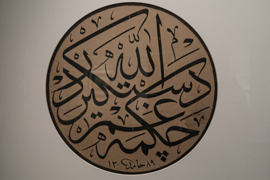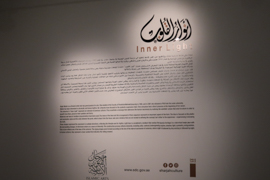 Apart from the pieces of art themselves, you also learn about the techniques and materials used to create them. Again, I love the idea of the museum, but I feel the topic has a much higher potential than the limited space of the museum can finally give to the visitor.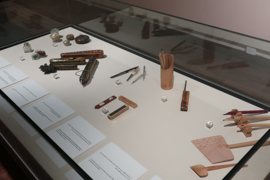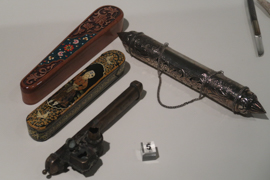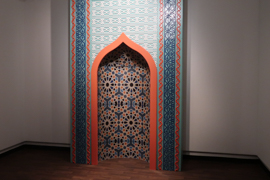 Sharjah Calligraphy Museum – Services
The staff was very friendly. Some of the services are shared with other Sharjah Museums around.
Sharjah Calligraphy Museum – My View
I love the Sharjah Museums. This one has some fascinating exhibits – but it does not develop its full potential. Some more videos and interaction here and there could make your visit really memorable. Still a good one – and if you have the value ticket, you will just go for the visit anyway.
Sharjah Museums
Here are all my reviews of Museums & Exhibitions related to the U.A.E. Emirate of Sharjah:
Graphic Arts on Flyctory.com
Under the Graphic Arts tag, I sum up all kinds of paintings, graphics and prints: