Especially when airports are located a little outside the city, airport express trains feel to be the perfect mass transportation to bringt people from the travel hub to their business and vice versa. For Toronto-Pearson Airport (YYZ), this transport solution is the Union Pearson Expresss, also known as UP Express. While being in Toronto in March 2023, I had another ride with the train and felt to share my thoughts with you.
Union Pearson Express – Network & Tariff
Union Pearson Express serves four stations. Pearson at Toronto Pearson Airport (YYZ) and Union for Union Station in Downtown Toronto are the key ones for travelers. However,there are two more stations, Weston and Bloor, who both connect to other public transport systems and are thus fairly popular among the locations. The total travel time between Union and Pearson is given with 25 minutes, which is rather accurate (my trip to the airport has been slightly longer). After Covid-19, the trains are back to a 15 minute interval between early morning and late. On weekdays, the first train to Toronto Pearson Aiport (YYZ) departs at 4:55, while it is 6:00 on weekends (as of writing this posting). Thus, the connection might be tricky, especially for morning Terminal 3 flights.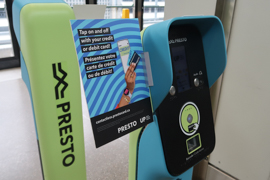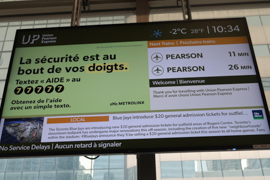 The tariff majorly depends on the route you are taking. There is only one class of travel. The one-way ticket between Downtown Toronto and the airport is 12.35 CAD, return 24.70 CAD, regardless if you buy them online or at the machine. There are some special rates, e.g. if you have a long layover at Pearson and want to explore the city during the day. Families (two adults, three Under 19's) pay a one-way fare of 25.70 CAD. Tickets are controlled by station staff, there are no barriers or similar facilities at Union or Pearson. You can also pay by PRESTO card, which is cheaper (one way 9.25 CAD)..
At Union Station
The tracks for the UP Express are separate from the national and regional rail ones. There is even a separate entrance near the corner of Front St and York St. However, you can of course also transfer from other rail tracks through the terminal building. Apart from ticket vending machines, there is a small cafe next to the track, which is additionally protected by glass doors.
At Pearson Airport (YYZ) Terminal 1
UP Express is departing from Terminal 1. This means that if you fly to/from Terminal 3, you have to change to the Terminal Link monorail, which is in fact operating on different tracks at the same location. The location of the rail and monorail hub is a bit of remote and requires some walking. Furthermore, there are no services at the station, which explicitly includes that there are no toilets there as well.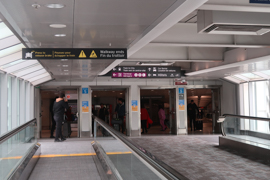 Union Pearson Express – Rolling Stock
The Union Pearson Express is based on the DMU (Diesel Multiple Unit) concept by the Japanese company Nippon Sharyo. It is especially designed for the North American market, meeting local emission and crash standards. The only other transport system using the concept is the Sonoma Marina Area Rail Transit in California. UP Express runs a total of seven trains. Four of them are having a three car configuration, while three of them come as a two-car set, each car coming with a capacity of 159 (79 seated, 80 standing). The train is running on a 1,435mm standard gauge track and can run up to 90 mph / 145 km/h. As the tracks are additionally protected with glass walls at both terminal stations, I could not take better pictures of the train from outside.
Union Pearson Express – In-Train Experience
The seating is an economy class-alike 2-2 configuration. The seat pitch is quite nice, the width, however, felt rather narrow to me. This also comes on top of Covid-related transparent plastic walls between the seats, which overall gave me an uncomfy feeling. There are also some special seats, e.g. if you having a stroller with you or travel in a wheelchair. The seats have foldable tables in their backrests and there are power sockets at the walls of the train. A funny part of the UP Express configuration are airplane-alike overhead bins. I guess that they are only used in very peak periods, though.
For larger luggage, there are luggage racks with blockers close to each side of doors. They are very handy and lead to an easy way to store your hold luggage during the train ride. Close to some doors, there are wastebins as well. There are also status screens. However, quite a significant number of them did not work during my trip.
There is free WiFi onboard, which worked reasonably well during my off-peak trips. The train is also featuring (accessible) toilets, which were in very good condition during my travels.
Union Pearson Express – My View
Union Pearson Express is a very reliable airport train service, if you are not departing very early / arriving very late. The service is reliable and beats any taxi ride, especially during rush hour, in duration and price. However, from a European perspective, the rolling stock feels rather outdated and the WiFi is too slow, compared to European high speed trains.
Airport Rail Systems
Here are all my Rides on Rail postings, which are also related to airports:
Flyctory.com in Toronto
Here are all postings related to Toronto: