Even though their ranking the the NHL is not always reflecting it, the Toronto Maple Leafs are likely the biggest franchise in the whole National Hockey League. The more I was flattered to tick off their home arena from my bucket list, when my wife and I visited their match against my beloved Pittsburgh Penguins on 18th November 2021. Here is a review of the atmosphere in Scotiabank Arena, which has been named Air Canada Centre until 2018. The Maple Leafs share the arena with concert events and the Toronto Raptors.
Scotiabank Arena – Location & Traffic
You definitely cannot argue against that Scotiabank Arena is absolutely centrally located: it is right South of Union Station, so that there is an excellent connection to public transport. You may also use the metro station Union to get to the arena. There are of course also a couple of parking garages around. Compared to US ice hockey venues, parking around Scotiabank Arena is relatively moderate regarding pricing. The arena is also linked to the covered walkway system PATH.
The area around the arena is actually really nice to hang out before or after the match. There are a couple of bars and you can walk to the Harborfront as well. There are also multiple hotels around Scotiabank Arena. We were lucky to get a good rate for a hotel in very short walking distance, the Delta Hotel by Marriott Toronto. From Scotiabank Arena, you walk some ten to fifteen minutes to the Hockey Hall of Fame on the opposite site of the rail tracks.
Scotiabank Arena – Arena & Ticket Situation
Even though I still associate the Toronto Maple Leafs with the historic Maple Leaf Garden and feel that Scotiabank Arena is rather new, the venue has in fact been opened in 1999. For ice hockey matches, it offers a capacity of 18,800 (with a potential for standing tickets to upgrade it). The ticket pricing and situation is rather ridiculous. We had a regular ticket (no resale) in one of the curves of the upper ranks, which was about 300 CAD. Lower rank seats close to the middle of the ice can be up to 1,000 CAD. Nonetheless, Toronto Maple Leafs tickets sell out rather fast.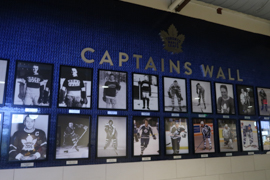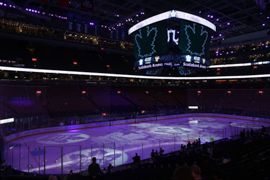 Scotiabank Arena – Atmosphere
I was especially curious, how the home crows will support their Maple Leafs and create some atmosphere. Honestly, I have been rather disappointed – I expected more from a Canadian crowd. There was hardly any support for the team, if not especially attracted by the stadium PA. The show around the match was rather cool though – even though – again – it was not too outstanding.
Scotiabank Arena – Food
Scotiabank Arena offers a lot of food booths – and these offer quite a nice range of dishes. We had a Buffalo Chicken sandwich, which was spicy, but really tasty. There was also a wide range of options – including healthy food options. Compared to US venues, the prices are significantly lower (more or less the same amount, but in Canadian instead of US dollar).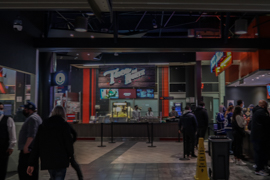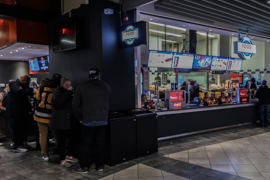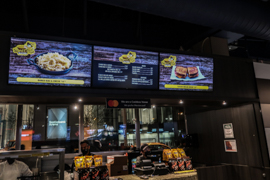 Scotiabank Arena – Shopping & Services
Of course, there are also opportunities to update your jersey collection and grab some apparel and other souvenirs. The largest fan store is close to main entrance and was crowded by people.  I could not spot any too special items, though.
Toronto Maple Leafs at Scotiabank Arena – My View
Indeed, Scotiabank Arena is somehow a magical place. Toronto is the capital of ice hockey and thus watching a match there is something special. The location is excellent, the food situation is very good. On the other hand, there are also some negative points. The prices are too high – and that may also cause a rather quiet atmosphere in the arena. Overall, Scotiabank Arena may be a must-visit for a hockey fan – but overall, it is not a Top Pick! venue to me.
Stadiums & Arenas
Here are all reviews and reports about (sports) Stadiums & Arenas:
Flyctory.com in Toronto
Here are all postings related to Toronto: