There have been rumors about that for months – but when Canada finally announced that they will accept fully vaccinated travelers for business and leisure travel again, flight prices felt to have no limit. I have been lucky to grab a flight at the very first day from Germany to Canada again – as Condor moved their flight or to the first day of potential travel, 7th September 2021, I was one of the first who could book that flight. Condor is definitely not my favorite airline, but I just longed that badly to me back in North America. Here are my impressions of a very special trip.
My flight from Frankfurt Airport (FRA) to Toronto (YYZ) was leaving Germany at noon:
| Date | Dep. | Arr. | from | to |
| --- | --- | --- | --- | --- |
| 07.09.2021 | 12:30 | 15:30 | Frankfurt (FRA) | Toronto-Pearson (YYZ) |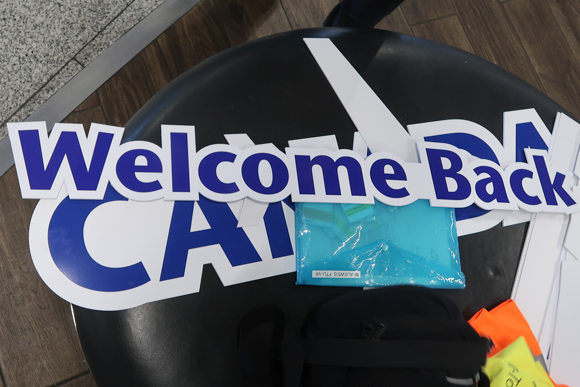 Travel To Canada 2021 – Still At Home (Or: The Rules)
First of all, I had to prepare for the trip to Toronto and the immigration to Canada. The rules which applied to the immigration to Canada were as follows:
You do not immigrate to Canada earlier than 7th September 0:01 hrs EDT
You are fully vaccinated, meaning having two doses of Pfizer-BioNTech (Comirnaty, tozinameran, BNT162b2), Moderna (mRNA-1273), AstraZeneca/COVISHIELD (ChAdOx1-S, Vaxzevria, AZD1222), including combinations of them, or one dose of Janssen/Johnson & Johnson (Ad26.COV2.S). Your (last) vaccination did have to happen 14 days before the trip.
You have an accepted negative test against the infection. This is typically a PCR test. Antigene / Lateral Flow tests are not accepted.
You are symptom free
You have a quarantine plan
You have to enter typical information (flight data, passport, vaccination, type of travel) including the vaccination information and proof of vaccination (e.g. scan of protocols) into the ArriveCAN app. You receive a receipt, in the app as well as by e-mail, which proofs the status of your application. The ArriveCAN receipt, the Covid-Test result and your proof of vaccination should be present during the whole trip and should be available
Travel To Canada 2021 – Frankfurt Airport Check-In
I don't have too much experience with flying Condor, honestly. The more, I was glad how smooth the process went. The check-in agent was well-prepared and requested all the documents I had prepared – so at least we were on the same level of information. Thus, check-in did not feel special in any way, just a bit of increased paper work. I expected some delays, so that I came to the airport very early. Almost four hours until departure after checking in now.
Air Canada were the first ones to open the Canada flights from Germany. Two flights, to Montreal (YUL) and Toronto (YYZ) left almost parallel at around 10:15 hrs. I first thought that Air Canada handles the situation well – but the comparably moderate queue was in fact the Priority lane. The Economy lane, however, was huge – some 90 minutes before departure.
Travel To Canada 2021 – At The Gate
Condor had to (re-)check all travel documents from people who haven't been at the check-in desks at Frankfurt Airport – meaning hand luggage only and transfer passengers. I feel they did a very good job.
We finally just had a some 25 minute delay compared to the massive ones of the Air Canada planes (and even touched down ahead of schedule). Especially the Toronto flight from Frankfurt by Air Canada had strong (avoidable) delay.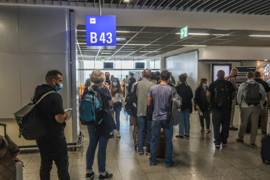 Travel To Canada 2021 – Inflight
I have been expecting some additional measures, some additions or whatever – but the the flight was really easy and relaxing. The most "threatening" thing was maybe the Condor announcements clearly stating that they do not accept flying without a mask. Quite surprising, there were even no landing cards / tax declaration cards. Toronto Pearson has replaced them by customs self-service kiosks, similar to the ones used in the USA. Very handy.
Travel To Canada 2021 – Arriving at Toronto Pearson (YYZ)
Randon Covid-19 tests? Discussing a quarantine plan? I have been really a bit of scared about the in-fact immigration process. But the immigration was rather easy. Of course, it took more time, as you had to show all three key documents again, i.e. the ArriveCAN receipt, my Covid-19 test and the vaccination documents. There was no discussion about my potential vaccination plan. Depending on the review by the immigration officer, you receive a certain sticker.  The only bothering thing was that we had to wait a bit for luggage (which has been announced before). There were some health interviews before in-fact immigration to Canada, but overall, I did not see a single person being selected for random testing.
Fun fact was that some 20 minutes before in-fact touching down, I received a mail that I may have to re-do my ArriveCAN application due to software upgrades. That has been a thing, which has been discussed in forums before – Canada had announced that they will come with an updated arriveCAN better being able to handle immigrtion from the beginning of September
Travel To Canada 2021 – Some Final Words
Yes, traveling to Canada is now having more regulation and restriction. But overall, it is still that Canada feeling. There are more rules, you need more preparation, but it they went for relatable and somehow sensible decisions. I felt welcome to the country. Really happy to be back North America – even though it is just for a few days.
ArriveCAN logo copyrighted. All other pictures by myself.
Canada Travel Postings
Here are all my travel postings related to Canada:
All "classic" blog posts
No reviews – just debating and certain topics – these are my "traditional" blog posts in the categories Just blogging, Just blogging on music and Sports Blogging: