After having my very first car rental review about the local company AutoReisen on Gran Canaria, my second review about a car rental featured a location which has been a tricky one in my past experience: Dubai International Airport (DXB) has been a mess for grabbing a rental in the past multiple times – typically caused by the small space available to the companies and the terrible traffic situation around the airport, which slows down the supply of cars. Thus, I did not expect a too outstanding experience, when I had my booking with Europcar in December 2020 (for my first time at Terminal 3, as T1 was closed due to Covid-19 and maintenance). Finally, my expectations were significantly worse.
Europcar Dubai Intl. T3 – The Rental
My rental at Europcar Dubai was a Mazda 6 2.5 class car, booked from 26th December to 31st December 2020 (five days). The total rental price was 728 AED (166 Euro at the time of booking). Europcar shows pre-paid options for Europcar, but they fail during the reservation process. Better car classes are significantly more expansive typically – Europcar is in general very competitively priced, compared to their peers in this country. In general, post-rental stuff like miles / points and award booking days are tricky when booking at Europcar in the U.A.E. – they are typically not processed. There was a full CDW coverage with a some 400 Euro self-coverage. Due to the political / pandemic situation, there was no possibility to buy permission to cross the border to the Oman – which I had not planned anyway.
Europcar Dubai Intl. T3 – The Rental Office
The rental car parking situation at Terminal 3 is much more relaxed than I know it from Dubai Terminal 1. Still, there is maybe a dozen of car parks per company, so that the typical procedure is the same: right after leaving the baggage reclaim area, all major companies run a small office, which is doing the paperwork (which is a surprisingly long process at the Emirates). Thereafter, you go to the rental car parking lot, where you receive the keys and your car. Your car is checked with a team member there before it is handed over. However, during my rental, the airport office was closed asking people to head to the office directly for a good reason (see below). The office is operating 24 hours – there are however quite significant peak times of operation.
Europcar Dubai Intl. T3 – (Not) Receiving The Car
When I arrived at the rental car parking office, the area around Europcar was crowded. My flight from Frankfurt had been delayed and there was a lot of luggage trouble as well, so that I reached the office at about 2:00 hrs in the night About 90 minutes later, the station manager finally declared to the remaining customers (roughly five parties, including me) that they will not be able to provide a car any more. The staff asked to leave our phone number and Hotel, we will be called in the morning when the cars will be delivered. On top, Europcar will pay for the taxi. They really stayed very professional even though the people were surely very angry. They were simply left with the issues by their operations team – the staff really tried everything to please the customers, preparing every car which has been returned for immediate rental (which is maybe not ideal during Covid-19, but there was no other option). The manager also informed the operations team by mail and copied me into my mail. Due to that mess, I arrived at my hotel room around 4:15 hrs.
Non-active communication
I asked for an answer until 10:00 hrs the next morning latest, as I had some plans for the day I urgently needed a car for. There was no communication from Europcar operations, even when I dropped them a mail again short before this deadline whether there will be a car delivery or not finally. I finally had to call them and received the answer that they might not even be able to provide a car on that day at all. I finally decided to go for the same thing the Europcar did in the night before: I went to the airport and hoped for a return, which I could grab. I was lucky to receive a car very quickly – thanks again for the awesome staff, who was really working hard. During my rental registration, other customers whom I met the night before, came to the rental office, as they have not been updated about their status as well. Finally, Europcar called me in the very late afternoon – but I already had a car at that time.
Reason for car shortage
It was the first time I had a rental car office, which has been overbooked. I guess they typically do that do a certain extent, as airlines do that with seat capacities as well. Nonetheless, I felt that there were just too many people around. Other companies were, interestingly, sold out as well. At rental car return, the office confirmed to me that there two effects, which lead to a complete mess around the New Year's celebration, during which the U.A.E. became very popular as a holiday travel destination:
First of all, with the beginning of the of the Covid-19 situation, many rental car companies sold a major part of the fleet. I feel that this is overall a smart move to reduce your operational costs. My guess is, however, that you receive a relatively poor price due to the cirumstances. With tourism starting to grow in December 2020 again, they were not quick enough in restocking their fleet.
A second effect is that in the meantime – like they did in Germany as well – the rental car companies offered rental contracts, which the customers can quite easily and flexibly prolong. It feels that many rental companies underestimated that the people will use their prolonging option significantly more frequently than originally assumed. This of course reduces your fleet size in peak times as well.
Europcar Dubai Intl. T3 – Returning The Car
In contrast to the bumpy and terribly car rental, the returning of the car went very smooth. I also had a nice chat with one of the office managers about what happened on 25th / 26th December 2020. Again, I would emphasize that I felt that the office staff did a really good job.
Europcar Dubai Intl. T3 – The Car
I received a Mazda 6, just as I booked. The car had a mileage of roughly 22,000 kms and felt to be in a very nice conditions. The car was equipped with all necessary functions – the only thing which is often very basic and Emirates rental cars is the radio. But the sound itself was fine so that the radio worked well. I received the car with a nearly full fuel tank and had to return it at the same level. There were some minor scars, but nothing serious. Bright seat covers are very popular in the U.A.E. – so that you typically have some marks from previous rentals inevitably.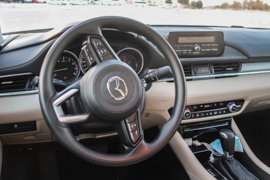 Mazda 6 in Dubai – My Thought (Not part of the review)
The Mazda 6 is a good choice for an U.A.E. rental. It easily gives sufficient storage for a major shopping trip and also comes with the necessary power to navigate in the busy streets. I felt that the car is very comfy. Having the rear view camera in the rear view mirror felt a but strange, but finally worked out very well.
Europcar Dubai Intl. T3 – My View
No doubt – the fun about this reservation was completely killed before I even got a car. If there wasn't the amazing staff at the Europcar Dubai International Terminal 3 rental office, who really tried everything to somehow make the situation as comfortable as it could ever get, this would have definitely been my first review with a rating below 1.0. These guys and the good condition of the car were the only positive fact about this rental. The rest was just terrible – even in regards that all Dubai Airport car rentals are terrible somehow. I will likely no longer opt for Europcar when in the U.A.E. after this rental.
Flyctory.com in Dubai
Here are all postings about the entertainment wonderland Dubai:
Non-Aviation Transportation
The category Other Transportation covers all transportation but aviation: