Fujairah is definitely quite underrated as a touristic destination in the United Arab Emirates so far. I have to give in that it is not maybe a beautiful destinations away from the beaches at first sight, but it does have some hidden gems – and it felt to me that the area is developing. Currently, the airport is quite interesting as it is used to park decommissioned airplanes (unfortunately, taking pictures is strictly prohibited, which is really a shame) and there are some really posh resorts North of the city center. Quite central, however, is the Fujairah Museum, which impressed me with a lot of love and interesting exhibits. Here is my review.
Fujairah Museum – Location & Admission
Fujairah Museum is located North of Fujairah center, in the same area where the Fujairah Fort is located. The easiest connection is by car or taxi – there are sufficient parking lots for a visit (unfortunately, the place is not as popular as it should be).
The admission is 5 AED, which is some 1.20 EUR. Opening times are 8:30 to 13:30 and 16:30 to 18:30 daily. Friday is the only exception with a 14:30 to 18:30 only opening time. There is free parking in front of the building and free WiFi within the premises.
Fujairah Museum – The Visit
The staff in the museum was really friendly. There are three halls – or sections. I started in the halls of antiques, which has a lot of pottery of the Islam period, but also a lot of other interesting exhibits. The second hall rather concentrates on historic weapons, historic farming tools and similar items. The area also includes a coin collections – so don't be too confused about the Munich 1972 Olympics (see my review of the Olympic Stadium tour) coin below.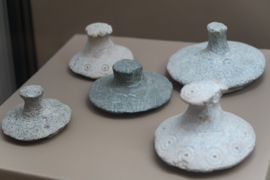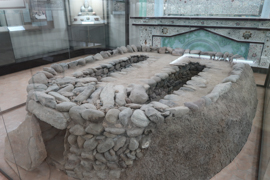 From a cultural perspective, these first two rooms might be the more impressive and valuable ones – I still rather enjoyed the third section, which illustrates traditional life in the region – starting from the typical style the polticial leaders used to live in and welcomed guests, but also small insights to fishery, traditional furniture and similar displays. Finally, there are some donations Sheikh Nasser Al Sabah Al Ahmad, which of course lead to a very nice close of your visit, which roughly takes you 45 minutes. All sign-posting is in English and Arabic, so that you will get around easily.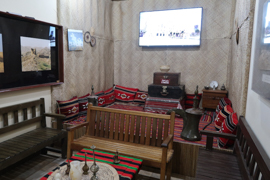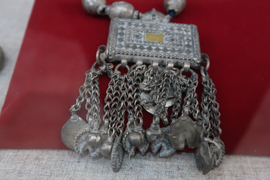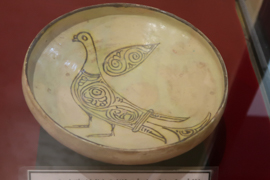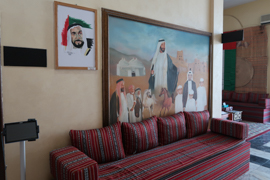 Fujairah Museum – My View
Visiting Fujairah Fort and the Fujairah Museum and having a look at all the parked airplanes was my very first time in Fujairah. I feel the city is currently strongly developing, so it might grow more and more as a hotspot. The more, this museum is a valuable place and gives you the chance to have a small, but very nicely done look back in time. Visiting Fujairah without visiting this museum would definitely be a fail.
United Arab Emirates – More Postings
Here are all posting of related to the United Arab Emirates:
Historic Museums
Here are all other postings on Historic Museums: