Coffee and tea are key parts of the Arabic culture. Thus, I was curious about visiting the Dubai Coffee Museum during my recent stay in the city in December 2020. Here is a review of the small museum, which is located in one of the historic districts.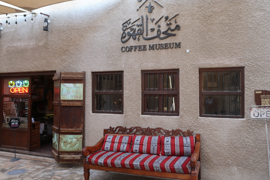 Dubai Coffee Museum – Location & Admission
The Dubai Coffee Museum is located in the beautiful historic Al Fahidi district. Admission to the area is free (and is highly recommended in my point of view). There are some other museums and stores in the district. If you are in the Dubai historic district, you likely best walk or take the abra to reach the museum. From other areas of the metropolis, the best connection is the metro station Al Fahidi, from where it is roughly a 700 metres walk.
The museum opens daily apart from Fridays, 9:00 to 17:00 hours. The admission is 10 AED, roughly 2.30 Euro, and includes a free coffee.
Dubai Coffee Museum – The Visit
The museum has exhibition rooms on two floors. However, most of the items can be found on ground floor. You enter the room through the shop and reception area. Once I arrived into the museum premises, I have been offered a freshly brewed Arabian style coffee (from a selection of different beans), which is part of the museum experience.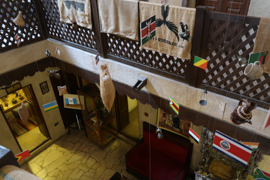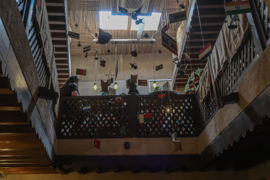 Thereafter, you can explore the exhibition floors. There is a certain structure in the rooms and few documentation – unfortunately, many of the items are just displayed without an explicit comment. No matter if it is the vast collection of coffee mills or coffee roasting utilities – you would not expect that many items in that comparably small space. The upper level also has some coffee literature.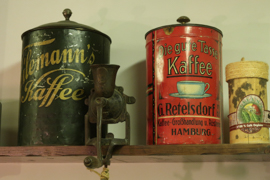 Dubai Coffee Museum – Shop & Service
The upper floor features a cozy cafe, where you can have a nice rest. The coffee souvenir shop is quite nice, with a range of souvenir items but also a lot of coffee related stuff for the caffeine junkie.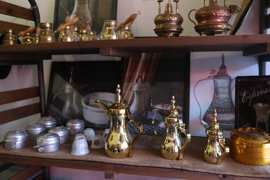 Dubai Coffee Museum – My View
The Dubai Coffee Museum was a really nice visit. The place does not look that large from the outside, but they really did a nice collection of items. The staff is very friendly and the free coffee leads to a very relaxed stay. The place can be comparably crowded, though – as this small hidden gem is not too hidden any more and known among the tourists. On the negative side, I would love to have more documentation about the exhibition.
Flyctory.com on Eating & Drinking
Flyctory.com is not a culinary blog. Nevertheless, here are all posts dealing with Eating and Drinking:
United Arab Emirates – More Postings
Here are all posting of related to the United Arab Emirates: