Dubai is a huge entertainment paradise and offers fun for everyone. One special group of clients are gamers, which typically are meant to be at home at the PCs or video game systems to do their hobby. Hub Zero is giving them a home away from home, offering a variety of video games at very high technical level, e.g. by using virtual reality hardware. Here is a review of that very special indoor amusement park. If you are especially keen on VR attractions, Dubai Mall also hosts the VR Park.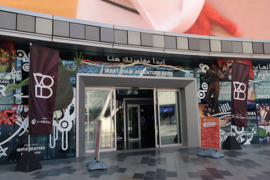 Hub Zero Dubai – Location & Admission
Hub Zero is located in the City Walk district, close to the City Walk Mall. It is one of the most beautiful spots in Dubai to me, very modern and a somewhat European flair. It is also very close to Dubai Mall and Burj Khalifa. The area also hosts the rainforest biosphere Green Planet.
Admission to Hub Zero is free, you can walk around and get an impression of all the games and rides without paying. The typical payment system is Pay per Ride: you can buy a prepaid plastic card loaded with a certain balance and pay each time you you ride. The price per ride differs significantly – the most expansive is The Void – Ghostbusters Dimension, which charges you 70 AED (some 17 EUR). There are also two daily passes, though. The Premium Pass gives you unlimited access to all attractions but the Ghostbusters experience. You also can do the Gears of War lasertag once for the price of 165 AED. I went for the 275 AED Mega Pass (online only), which adds one Ghostbusters ride, 35 AED each for the Arcade games and food and Fast Pass to all attractions, which offer that fast lane.
Hub Zero Dubai – The Attractions
The number of Hub Zero attractions is quite limited, thus I can give you some words on each of them. I could not test all attractions, though, as my body size does not allow to ride all of them. You just queue for the rides. The exceptions are The Void: Ghostbusters Dimension and Gears of War – Laser Siege, where the reception assigns you a time slot.
The Void: Ghostbusters Dimension
The Void: Ghostbusters Dimension is the current signature attraction on Hub Zero. Of course, you take the role of the superheroes with the proton packs in this Virtual Reality attractions. All rooms are comparably limited in size, but nevertheless this attraction (which interestingly seems to be copyrighted by Madame Tussauds) is a lot of fun. Bad luck that you are only able to do it once without paying again.
Gears of War – Laser Siege
The lasertag arena is really cool, keeping in mind the limited space. We played in two teams. The playing time is roughly ten minutes.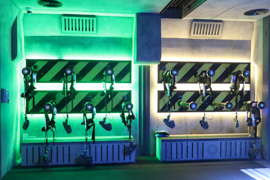 Hack Attack
In Hack Attack, you are taking the role of a sniper in a virtual reality game. I felt it is quite some fun, though I am not too much into ego-shooters.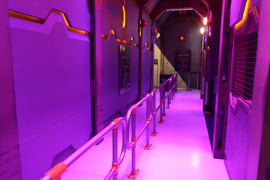 Asuras Wrath
This one is a classic 4D cinema. Quite some fun 🙂
Virtual Arena
When I visited Hub Zero for the first time, this was something like the key attraction of the fun park. In the VR attraction, you are located into a courtyard being attacked by zombies from all direction. It is amazing how easily you can be set into stress, though the graphic quality is definitely not fully realistic. Quite fun.
Soccer Stars
Soccer Stars is one of the weakest attractions. You do a penalty shootout against a virtual goalie. I felt that especially the ball reception was rather unrealistic.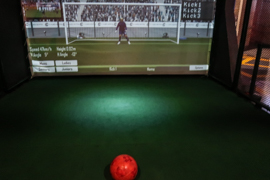 Double Agent
Feeling a bit like James Bond in here? If you cross a laser beam, it will lead to an alarm – so be careful.
Final Fantasy
You are sitting in a bus-alike vehicle in the Final Fantasy themed ride experiencing a lot of action around . A wide screen allows you to explore and look around.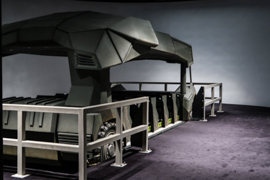 Herozone
If you are training for the Ninja Warriors or just love to climb, Herozone is your place to be. Quite a physical attraction.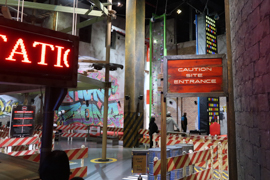 Dragon Zone
I cannot say too much about Dragon Zone as I do not meet the physical requirements. It feels to be a roller coasster simulating ride, which also turns you heads down and into loopings. I guess it is a lot of fun 🙂
Hyperdrive
Hyperdrive is my favorite of the whole park. You drive a sports car in this driving simulator in a movable cabin. Unfortunately, the some five minute playing time is slightly limited, so that you can just have one flying lap per try (some 1:45min lap time). Four players compete against each other.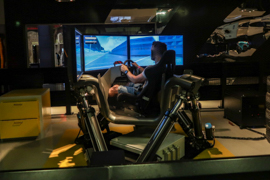 Resident Evil
In Resident Evil you are driven through different areas with a small cart shooting at a lot of Zombie stuff and other unfriendly creatures. You compete with the others going with you for the high score. Not too special (so many amusement parks have similar rides nowadays), but quite well done. I found this nice promotion video on YouTube about the ride:
For Kids – Hub Play and Tiny Tracks
In the very corner of Hub Zero, there is Tiny Tracks – the race "simulator" for those you are a bit too small for the Hyperdrive experience. Next to it is a very posh playground, so that Hub Zero is really a family attraction.
Hub Zero Dubai – The Arcade
The arcade moved from the upper floor to the entrance area. There is quite a nice variety of arcade games, including some classics. I especially loved the variety of flippers in display.
Upper Floor – Network Gaming & Lucky Break
There are three key entertainment areas located upstairs. You may do Karaoke or play pool and Lucky Break. The most impressive part of the upper floor is the massive LAN gaming park, though. There are some 30 gaming PCs (at 10 AED/hr) in the central arena area. In addition, there are separate cabins, in which clans may play separated from others.
Hub Zero Dubai – Services
The reception staff at check-in was very friendly, though my day pass seemed to cause some problem to her to handle.
If you want to refresh yourself, there are several cafes in Hub Zero. The key ones are the Hub Cafe self service on ground level and The Server on the upper level. The food I consumed was freshly made and reasonable in quality.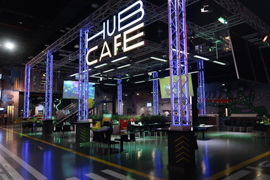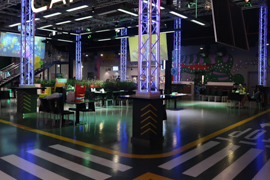 Hub Zero Dubai – My View
Hub Zero is a park for gaming nerds – and I am a gaming nerd. I might not have too much time any more to really dig deep into virtual adventures, but the more I enjoyed to have a day out at Dubai and spent multiple hours in the park. It is maybe a bit on the pricey side, but apart from the Dubai Parks annual pass, it will be hard to find a bargain in this kind of entertainment in the United Arab Emirates.
Amusement Parks – More Postings
Here are all postings about Amusement Parks:
United Arab Emirates – More Postings
Here are all posting of related to the United Arab Emirates: