My honest first idea about "Louvre" is that it is a place in Paris where people queue and punch to see a far-too-small picture of a girl called Mona Lisa. In fact, the museum's headquarters is (by area) the third largest museum in the world. In 2017, the French opened an outlet of their famous attraction – a nice opportunity to add some cultural touch to my trip to the U.A.E. in May, which mainly consisted of visiting the new amusement parks in the Dubai Parks and Resorts. The architecture is absolutely massive and overwhelming.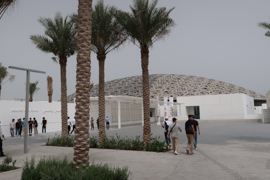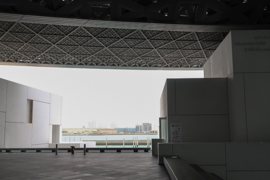 Louvre Abu Dhabi – Location and Admission
Louvre Abu Dhabi is located in the new Cultural District on Saadiyat Island. If you are on the Al Falah Road between Yas Island and the city centre, you just cannot miss the signs to the museum. There are some covered parking lots and additional uncovered ones. It has really been a straight drive from the Novotel Suites in Dubai where I stayed. Parking is currently free, but there are parking gates installed – so you might have to reserve some Dirham for leaving your car when you go there.
The admission to the museum is reasonably priced. The admission is 63 AED (eqivalent to some 14 EUR at the time of writing), the multimedia guide has been another 20 AED. Very nice feature: the admissions may also work as postcards – the necessary stamps are of course available at the museum store. The museum also hosts a well-rated cafe, which I did not test. All facilities open from 10am to 8pm. Friday and Saturday, the Arabic weekend, the closing time is at 10pm.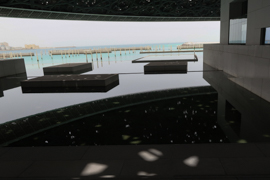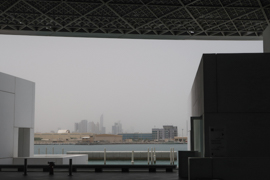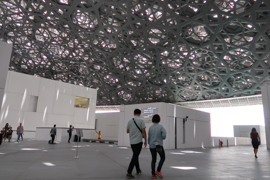 The Exhibitions start with the very early ages
The Louvre Abu Dhabi exhibition mainly consists of twelve main galleries. There are some "intermediate rooms" in addition. All exhibits are described in Arabic, English – and French. I feel that this has been one of the key reasons why there has been a significant higher rate of French-speaking people than in other places I visted at the Emirates – some sort of home-sweet-home feeling for the baguette lovers 😉
In fact, any key gallery is dedicated to a certain topic. As these topics typically reflect a very characteristic development during that time, the galleries mainly follow a chronologic order. The first room, however, shall show the effort behind the Louvre Abu Dhabi exhibition – the floor is showing the outlines of the U.A.E., added with names of the source places of all exhibits you find during your visit. The coastline of Qatar has been shown in the past in this room as well – but due to the diplomatic trouble between the countries, the museum management removed these marks.
The first room of the exhibition shows art in the very early stages of mankind. Thereby, some exhibits are described in high detail, the multimedia guide does give you some additional information on route. The second gallery is named The First Great Powers. The key exhibits to me have been an Egyptian statue, a mummy (case) and a very nice interactive display which allows you to research in detail on the history of coins over time – very well done! Despite you are greeted by a dragon statue in the third room, you might already have a look on massive Roman Statues as well.  It contains quite a lot of interesting exhibits like a mosaic from Persia. The Universal Religions room lead me to more focus on other religions – not just due to Shiva and Buddha, who are represented in that room.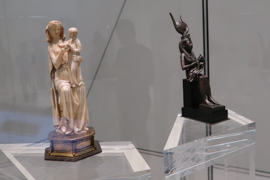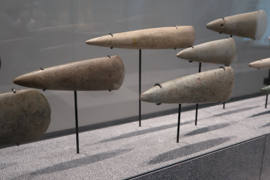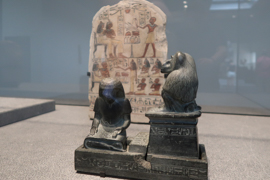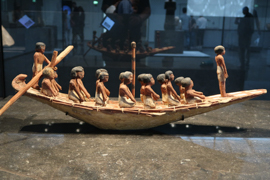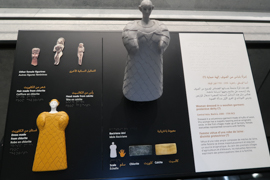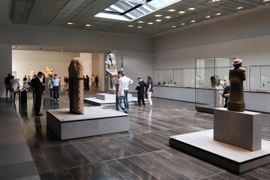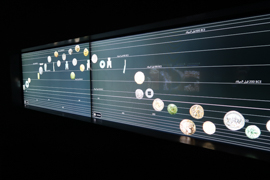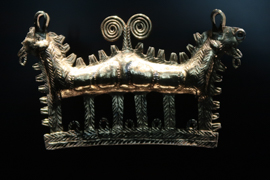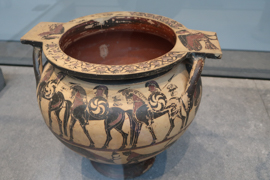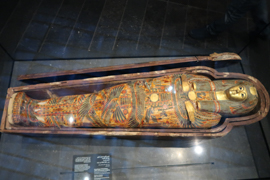 Louvre Abu Dhabi – Ante Domini
Step by step, the Louvre exhibition works towards more recent times. A very interesting section is the fourth one called Universal Religion as it also held a separate section with an historic bible, a koran and a torah. As I like Asian arts, I liked Asian Trade Routes as well, which also illustrated the influence of Asian culture and arts to Europe. The following two sections are called From the Mediterrenean to the Atlantic and The World in Perspective.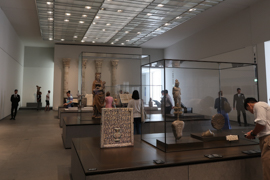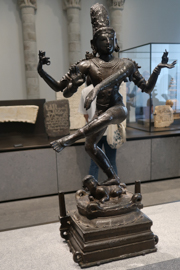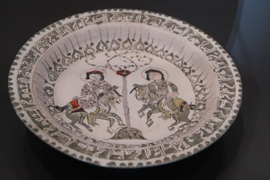 For me, I should have tried to concentrate on very key topics. It felt very intense – and exhausting – to me to have such a wide-spread and diverse travel through time and topics. Even though the rooms themselves do not that overwhelmingly large, tehre is quite a lot of different items, ideas and explanation in them.
Louvre Abu Dhabi – Van Gogh and more
Though I am rather in earlier ages's arts and culture, the most prominent exhibits are likely towards the end of the trip through Louvre Abu Dhabi. When you enter The Magnificence of the Court, you are overwhelmed and eye-catched by a large horse statue, but you may also recognize that the European culture displayed more and more moves towards paintings. They also displayed a replica of room of a former well-situated French family in this section. A new Art of Living had some wonderful Asian exhibits will you will find in the pictures of this section. This section had quite a lot of exhibits and so did A Modern World?, which also hosts one of Vincent van Gogh's self-porttraits, which is likely the most prominent painting in the Louvre Abu Dhabi collection. I liked these two rooms in general, as they also showed quite a variety of items. Challenging Modernity already partially tends to include some very abstract pieces of arts, while in the last room called A Global Stage, you will mainly be focussing on a major light installation, which takes away all looks from the few other exhibits around.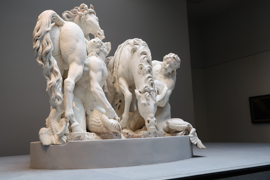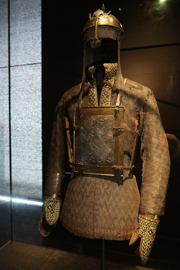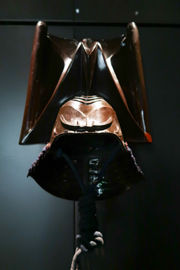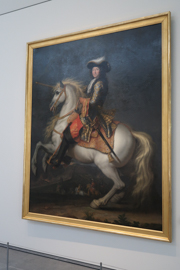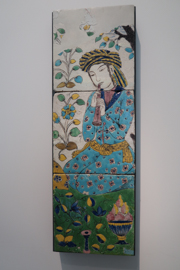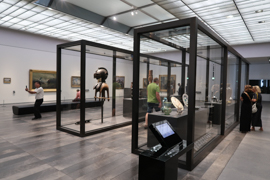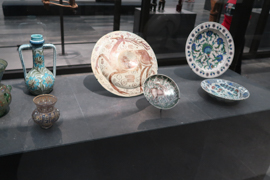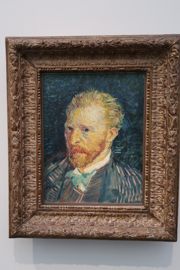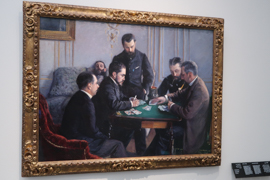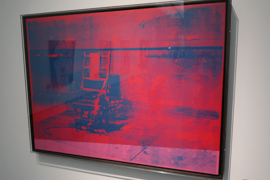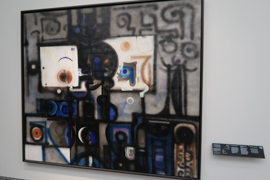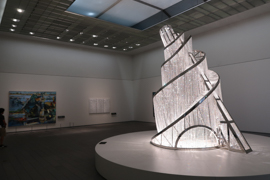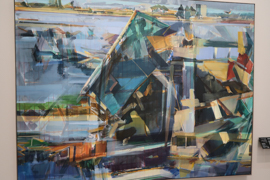 Louvre Abu Dhabi – All About Globes
One of the special exhibitions at Louve Abu Dhabi covered the history of globes – those explaining the galaxy as well as the globes showing Mother Earth and her continents. I have been looking very much forward to that one and really enjoyed my comparably short rush through that part of the museum – it would have easily been worth to spent much more time with it. They had all the "big names" in the history of astronomy and also explained assumotions like the Ptolomean view of the world with the Earth as a disc and how he could explain all the star movements around. I also enjoyed the very end of the exihbition: a classic "You are here" on a picture of our galaxy.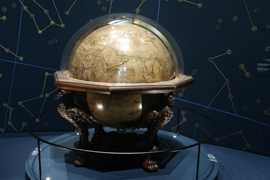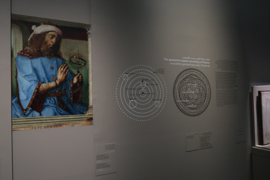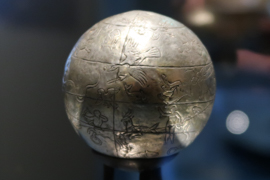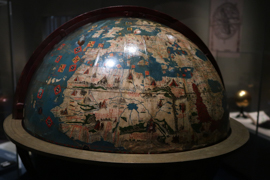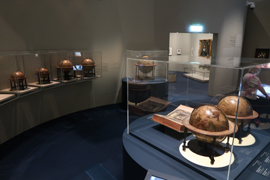 Me, an iPad and the Louvre Abu Dhabi
During my visit, I used an iPad-based multimedia guide. I am more and more critical about these fancy add-ons to a museum visit. On the one hand, they give you quite nice information on top of the exhibit descriptions on those items you are really, really interested in. On the other hand, they quickly lead to a certain "background information overkill". I felt that the Louvre explanations have been well balanced – there has typically been a some 90 second (audio) introduction by room and detailed explanation of similar length for about a handful items per room. I also liked that you may use GPS to navigate to certain exhibits. Nevertheless, I feel, you do not necessarily add these costs to your Louvre visit – also because of the explanations given in the gallery are already quite good. However, on a really crowded day, you might be happy to have left your ID or driver's licence as a deposit and run around with a tablet hanging around your neck just to avoid areas where too many people gather around a certain piece of arts.
My Thoughts on Louvre Abu Dhabi
I was a bit nervous about visitng this new Arabian Temple of Arts. Honestly, I am not too much into paintings, I just value their artistic value too low and just like the ones most which have nice colours, a nice view or any other criteria which would not really make me a good culture journalist.
I have to say, I liked my stay there – especially as there has been much more historic arts than I expected. I have been much quicker in the last departments than in the beginning. The iPad multimedia guide bothered my quite a lot. On the one hand, it is well done and the explanations are not that lengthy as in other museums, on the other hand, you just have quite a bit more hanging around your neck – and it finally just leads to an information overkill in the stylish exhibitions. I liked the way the Louvre Abu Dhabi is composing different culture in different eras and to different topics. My visit took me some 2:30 hours – but if you want to learn more, you should not arrive too late to run into trouble with the opening times. You can easily do five hours in there as well.
Louvre Abu Dhabi – Area Map
All Abu Dhabi Postings
Here are all postings about Abu Dhabi:
Historic Museums
Here are all other postings on Historic Museums: