Music, dance and drama – that is what Bollywood is all about. More surprising that this Indian movie culture cash machine did not have its own amusement park place – before the Dubai Parks planners thought about all the Indian expats in their country and gave them a place to celebrate the very special kind of movie. To me, as I am addicted to Indian culture and the Indian Tennis Davis Cuppers, visiting that park has definitely been a very special part of the Dubai Parks trip to me.
Bollywood Parks Dubai – Bollywood Boulevard
Maybe Bollywood Park is one of the few amusement parks in the world where you pass one of the main attractions before you pass the entrance turnstiles: at the entrance to the park, there is a nice replica of the India Gate. After entering the park, you reach Bollywood Boulevard, which is (naturally) just a street-alike walk full of stores and cafes, obviously inspired by movies.
From a central fountain square, you are able to access more or less all areas – very likely, you will first head straight on as you are magically attracted by the Rajmahal Theatre which is right opposite you when you just entered the park. However, to your left is a Mumbai-inspired area which is not just holding a couple of more places to refresh, but also the ride Don – The Chase, which is one of the many 3D media tunnel rides in the park. A bit far behind (so far behind that I really missed to check it out…) are three more rides motivated by the movie Lagaan: Champaner Cricket Carnival: another motion simulator ride and two carousels mainly aiming for children.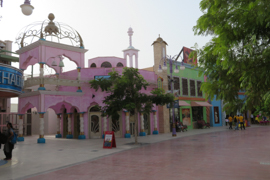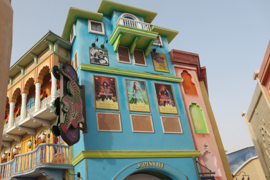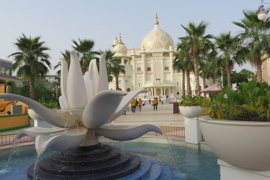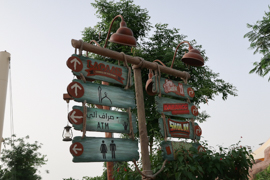 Bollywood Film Studios – the must-see!
If you stand to go straight from the fountain and turn right you are maybe in the best area of the park, where I loved all three attractions: The Bollywood Film Studios with their Heroes Vault cover two indoor rides praising Shah Rukh Khan's movies. I liked Krrish – Hero's Flight for vaious reasons: First of all, the technology is quite cool: when you are seating, you are in three rows, one after each other – for the ride, these ones are turned to one on top of each other and you have a great view over a big screen. Secondly, Krrish is flying over some of India's most famous sights… Makes me "homesick" somehow. The other ride in the indoor place, Ra.One Unleashed tells a story of an innovative game controller which somehow feels your emotions and gets you even deeper in the games. Nice 4D show, but the ride next to it is simply that much better!
At the same square, there is also the Cinematic show which has been inspired by Zindagi Na Milegi Dobara. This mixture of show and attraction is interactive and shows the participants how movies are made with effects like good camera positioning, blue/green-boxing, sound making and others. At the end, you will have a modified trailer of the movies with ordinary park visitors being part of it. Absolutely funny and a great way to introduce people to film making.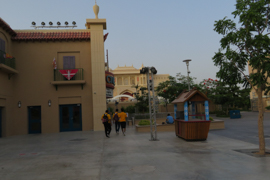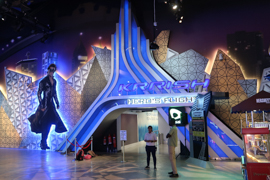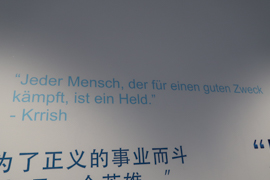 Bollywood Parks Dubai – Rustic Ravine
The most remote area of the park is Rustic Ravine, which you access by passing a beautiful small waterfall area. The area just covers two rides. The first one features Dabangg and is a stunt show. Unfortunately, I could not attend it due to the rare showtimes. In Sholay – the Hunt for Gabbar Singh, six people are driven in waggons through different scenes and you have to shoot at enemies to gain points. In my second ride, they forgot to give me 3D glasses and I won my party with the double score of the second placed one… Maybe that is the overall strategy for these rides 😉
Rustic Ravine also hosts the Spicy Dhaba restaurant, which I will absolutely miss when in amusement parks next. For some 40 AED (after annual pass discount), you get a nice vegetable thali, which I felt to be an absolute pleasure. Highly recommended.
Bollywood Parks Dubai – Royal Plaza / Jaan e Jigar
I told you about the Rajmahal already, which is likely the most majestic scenery in the whole Dubai Parks area. It is part of the so-called Royal Plaza, which however just consists of the Rajmahal itself and the fancy-looking (but not tested) Mughal-e-Azam restaurant, which is just open during the (Arabian) weekend.
The Rajmahal hosts a major theater, which used to host the Jaan e Jigar show. The park promotes it as a Broadway-style Bollywood musical – however, the actors are not singing. About that play, there are a couple of good and bad news: the show has been brilliant, having a fantastic stage and lovely dancing and acting. It does not even matter too much if you do not speak Hindi – I definitely had a great time during that two-hour-net performance played in two acts. The story is about two brothers, who have been seperated early in their live (the guys are of course called Jaan and Jigar…), the bad guy, which is in this play a lady called Marjaani… and of course love, so that we have a happy ending. It has been absolutely amazing which huge-sized dragons and other monsters on stage, superb choreos. The singing is playback though. Therefore, the admission has been a laugh – with the annual pass discount, I paid 65 AED for a first row center stage ticket (50 per cent discount – it includes admission to the park one hour prior the show starts). The worst news: I happened to be at the very last performance of that show. Even with a lot of fans of the play and friends of the artists in the audience, the theatre has simply been too empty – what a shame. That was maybe my best time in the whole Dubai Parks stay!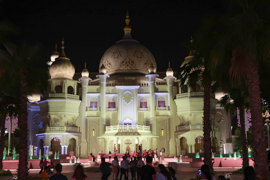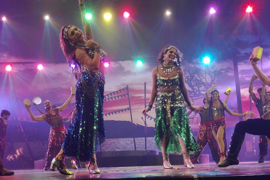 Bollywood Parks Dubai – Shows and Entertainment
While the number of rides in the parks is limited (as the reduced admission price), Bollywood Park is just great with its shows. Especially on Bollywood Boulevard, there are regular performances – and the Indian-origin people sometimes even join in for a dance. The dancers typically do not sing live, but their dancing is really amazing. They even have (at most: reasonable) doubles for some of the real Bollywood superstars (of course, you are able to take pictures with them). Even if you do not understand what they are singing, you just have to sway yourself to the rhythm!
Parts of the entertainment programme are also small dancing classes on Bollywood moves – so you might be able to become a real Bollywood actor / dancer one day by visiting the park more frequently.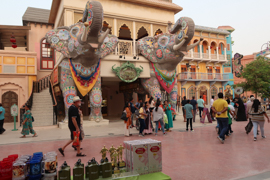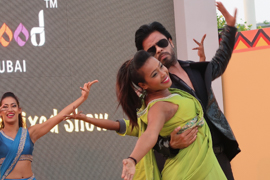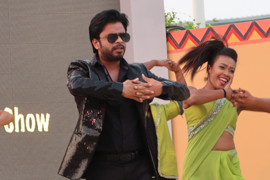 My Thoughts on Bollywood Parks Dubai
Bollywood Parks has maybe been the part of the new amusement center in the desert I have been most curious about – and I have to say I loved it. The atmosphere is just lovely. However, it is hardly possible to stay in the park the whole day, it is just to small. Thus, be aware with the showtimes and plan your day there carefully, so that you do not end up waiting in the park for a specific show for more than an hour. I also highly recommend the food there – it just felt like being in India (also due to all the Indian expats around in the park…). If you want to dip in into Bollywood a bit and go for Legoland or Motiongate anyway, give this one a try.
Here is a link to the overall sum-up of my Dubai Parks and Resorts visit
United Arab Emirates – More Postings
Here are all posting of related to the United Arab Emirates:
Amusement Parks – More Postings
Here are all postings about Amusement Parks: