Corn Flake, muesli, granola, any kind of flavored and sugared loops and many more – cereals are one of the traditional starters of the day. In recent times, dedicated cereal cafes have more and more established in many cities local dining scene, not just offering a good start into the day. While visiting Dubai Mall, my wife and I just had to stop by the Cereal Killer Cafe Dubai. I am just too attracted by weird places – here are my thoughts. There used to be, by the way, a very similar place in London.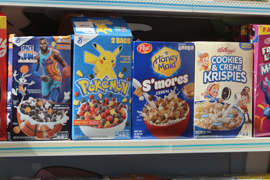 Cereal Killer Cafe – Location & Access
The Cereal Killer Cafe is located right at the Waterfall. The location is rather behind the attraction and thus, there are limited number of people passing by. The best parking areas for the Dubai Mall are Cinema / Ice Rink Parking. You may reach Dubai Mall also by metro – the long covered and air conditioned walkway from the metro to the mall may be a bit bothering, though. Dubai Mall is opening from 10:00 hrs to midnight and until 1:00 hrs. on the Arabic weekend, Thursday to Saturday.
Cereal Killer Cafe – Atmosphere
Apart from the cereal concept, the reason which almost sucked me into this place is the posh, colorful… and nerdy design of the cafe. You may sit on chairs – but can also opt to sit on beddings with cartoon design bed linens (we had Tom and Jerry and Spongebob *smile*). There are a lot of vintage 1980's toys, action figures and similar items in display boxes. Even though a lot of them lost their color being exposure to the U.A.E. sun through the mall windows, I really loved it.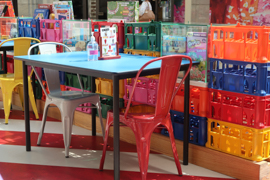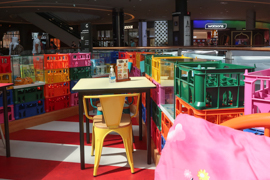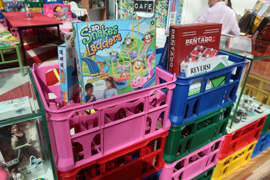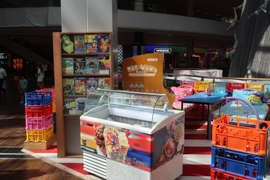 Cereal Killer Cafe – Food & Drinks
First of all, you can "kill" cereals in the Cereal Killer Cafe, of course. This means that you just go to the cafe's desk, watch the amazing selection of items they have, chose your cereal(s), your kind of milk and other toppings.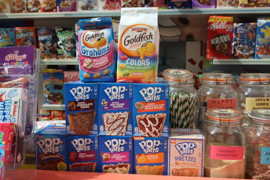 We did a bit more of the experimental stuff and had two cereal-featured milk shakes. My one was a chocolate loaded one while my view was watched by a Kinder Bueno hippo on her drink. The drinks were really good – and the giant donut we shared with Fruit Loops was also much better than I in fact expected. It is not a destination you select when you travel Dubai on a shoestring – however, the whole Dubai Mall is not that kind of thing, likely. The menu also features savory items like a cereal covered chicken burger.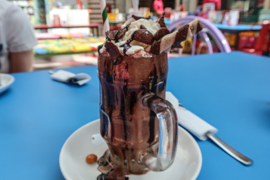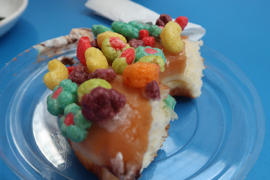 Cereal Killer Cafe – Service
The staff at the cafe was really kind and helpful. Dubai Mall is providing WiFi access. It may be a bit bothering that due to the adjacent waterfall people stare at you while eating.
Cereal Killer Cafe – My View
Yeah, it is a nerdy place – but I absolutely loved the Cereal Killer Cafe. Especially all the 1980's items in display gave a nice atmosphere. The concept works better than I thought and we had a really relaxing and saturating time at this place in the Dubai Mall.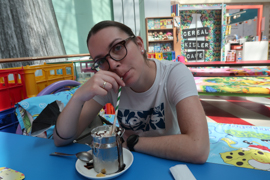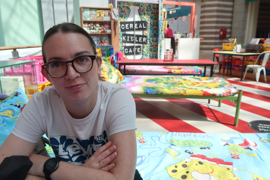 Flyctory.com on Eating & Drinking
Flyctory.com is not a culinary blog. Nevertheless, here are all posts dealing with Eating and Drinking:
Flyctory.com in Dubai
Here are all postings about the entertainment wonderland Dubai: