The Dubai Parks have been the key destination of my May, 9th to 13th, trip to Dubai. I have been in the Dubai Parks and Resorts area for three days, May 10th to 12th (though I never spent the full day in there. This posting gives general information about the parks, the visit, pricing and minor attractions, which are not discussed in detail in separate postings.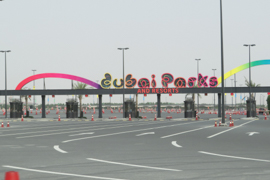 Dubai Parks and Resorts – Location
If you ask for the exact location of Dubai Parks and Resorts, "Middle of Nowhere" is maybe not that bad. The area is having its own exit at the Sheikh Mohammed Bin Zayed Roard, which connects Dubai and Abu Dhabi. Thereby, the new (but currently not too intensively used) Dubai World Central / Al Maktoum Airport (DWC) is not too far away – Google Maps gives a 25kms distance. The distances to Dubai International (60kms) and Abu Dhabi Airport (75kms) are comparable. There are no other major attractions around – thus, it may take you 30 to 60 minutes from Dubai or Abu Dhabi, traffic comitting (and depending on your exact location) to reach the parks.
Dubai Parks and Resorts – Attractions
Currently, Dubai Parks and Resorts hosts four amusement parks – the links guide you to my reviews of the park (if completed):
Motiongate, a park which is majorly dealing with the movie industry
Bollywood Parks, which is – obviously – dealing with the Indian way of movie-making
Legoland Dubai, in which the plastic bricks and smaller children are in focus
Legoland Waterpark, which is the unique splash interpretation of the brick empire (review to follow in November 2018 likely)
Rollercoaster-addicts cannot wait until late 2019, when Six Flags is expected to open their outlet as part of the complex.
In addition, there are some other attractions and places around:
Riverland is for Dubai Parks what Disney Village is four the Mouse Empire – an area with shops and restaurants to hang out and enjoy yourself (see review below)
The Dubai Outlet Village is allowing you to spoil your credit card even harder if you haven't done it already in the parks.
The Lapita Hotel Dubai is right next to Riverland and allows you to Sleep and Ride (not reviewed)
There is also another closeby hotel, the Qasr Al Sultan Boutique Hotel. which also seems to host some sort of Arabian dinner shows. Apart from that, I read about plans adding a Lego-styled hotel to the list of accomodation options.
The pricing structure is complex. First of all, it depends if you are a GCC (Gulf Cooperation Council) Resident or not. If so, spending a day at Bollywood Parks is 95 AED, which is at the time of posting roughly 21 Euro or 25 US Dollar (other parks start at 165 AED). Non-residents start at 175 AED for Bollywood Parks and 235 AED for the others – in all cases, you get a 10 per cent discount if you book three days in advance. Spending one day in two parks is 285 AED and having all parks within two days 495 AED (non-resident).
I opted for the (all parks) annual pass, which is 525 AED. It offers you free parking in the standard visitors parking lot (which is accessing all parks my a motorised tram) and 10 per cent discount on food and merchandise. There are also discounts in the Lapita Hotel. If you are interested in the Bollywood Parks – based Jaan E Jigar musical, the annual pass grants you half price, so that it easily pays off with a two-day visit. There has also been a very highly priced VIP annual pass, which is here and there referenced on the website, but no longer sold. I found one source stating that this posh all-included (even VIP parking, food, fast track all days) item was priced with some 7,000 AED.
In case you are in a hurry or feel like the park is too crowded, you can buy the QPass / Fast Pass options, which are roughly deducting you 150 AED (differs by park) per day, person and park to your account. Much more fancy is that the parks offer you a flatrate on all pictures taken from you if you are an annual pass holder. For 200 AED, they will transfer you any picture taken in the park, including ride pictures, to the Dubai Parks app for free for one year. The daily print flatrate option is open to anyone and costs 160 AED.
There is also a posh covered VIP Parking area, which is in short walking distance to all parks. If you like that kind of luxury, be ready to pay 100 AED at the parking gates. Standard parking is 20 AED, free of charge after 6:30pm.
Lockers are located in the park and in Riverland. A daily rental started at roughly 40 AED, depending on the size of the locker. I guess, it has been a one day rental fee. There are also lockers near some of the attractions, which are available for short-term rental (one hour during my visit), which have been for free.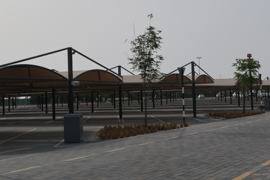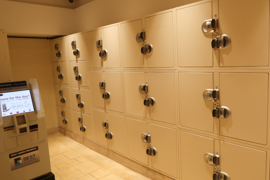 Dubai Parks – Food and Amenities
Staying in an amusement park for a whole day, especially in the Arabian sun, could easily blow up your travel budget in food and drinks. I felt the pricing, however, if quite fair. A bottle of chilled water (500ml) is 6 AED, some 1,30 EUR. On my first day, I bought a large 1,5l bottle for the double price. Soft drinks are more expansive, but still reasonably priced.
I went for several food options during my stay. All of them have been really reasonable or good, in price and in quality. For example, a not that posh, but absolutely fine pizza, pasta and salad all-you-can-eat buffet was 60 AED (including my annual pass discount), including all drinks.
The parks are spotless clean. This absolutely includes the sanitary facilities. There are family bathrooms for male and female parents. All signs are bilingual, Arabic and English. As in most Dubai, the in-fact language spoken is English. All park attractions dealing with language (including shows) are in English. At least Legoland held Russian park guides.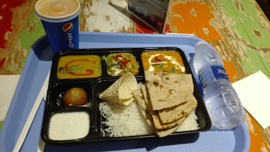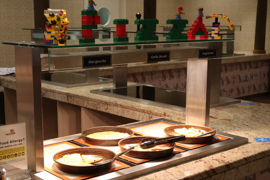 If you are coming from Abu Dhabi and feel like a snack after leaving the parks, I recommend you to enjoy the Northern Last Exit motorway service station, which is very close to the parks.
Dubai Parks – Riverland
The official Dubai Parks and Resorts website lists Riverland in the same category as all the amusement parks – and I feel they are right! The boulevard of shopping and dining opportunities (which is split into different areas) is an absolutely beauty. You will love to stroll around there before or after a long day in the parks and enjoy some food or a snack.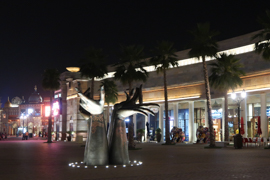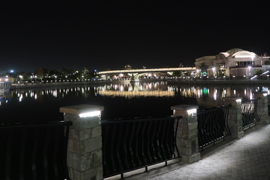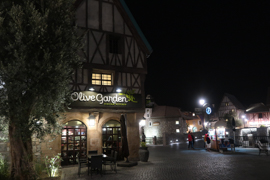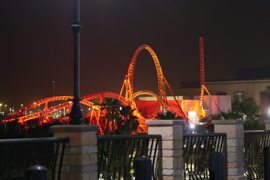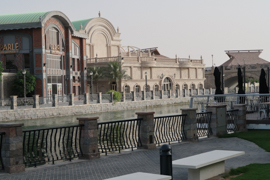 Dubai Outlet Village
The Outlet Village reminded me of a very similar-looking one I once visited in Italy, where this Mediterranean fits best. Due to the pre-Ramadan sale, there have been some quite amazing offers in the mall, which covers quite a lot of posh brands.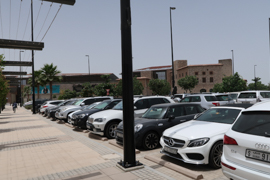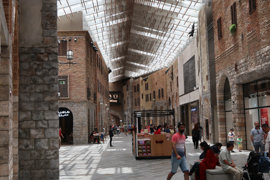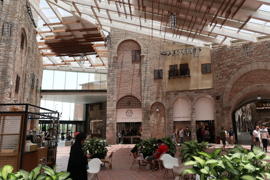 Dubai Parks – Overall Impression
Maybe I just hit a good day with the people starting their Ramadan preparation. The parks just felt too empty on all three days – which on the other hand of course leads to an incredible experience. I liked the concepts of the parks. Maybe the Motiongate has the biggest potential of all parks so far due to all the fancy licences like the Smurfs or Dreamworks. On the other hand, what is Smurf Village if there is not a single blue guy running around most of the time (even if I have to give in that it may just not be possible to do this in the Arabian heat…)? There are just limited audition / meet & greet times. I also asked myself why the Park does not adjust the duration of rides to the number of people in the queue. Sometimes the carousels have been finished quite fast without somebody really waiting in the line. Finally, there is a lack of variety of rides. You can have a 3D point and shoot adventure in almost any park. Somehow as boring as having some two dozen of roller coasters in a park – it is the variety which is all about…
Nevertheless, the parks are definitely worth visiting and a great place to relax and enjoy yourself.  Of course, one of the big factors of that enjoyment is simple that it is really empty – keep my fingers crossed that they are not closing down the park again as they did with the fabulous "Jann e Jigar" Bollywood musical show. My favourites are Legoland and the Bollywood Parks, but this is really a matter of taste and you might opt for Motiongate for example as you just ever dreamed of meeting the Ghostbusters!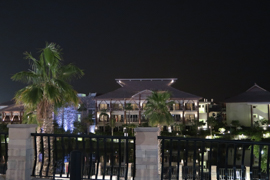 External Link to Parks website: Dubai Parks and Resorts
I paid the whole trip and my admission to Dubai Parks and Ressorts by myself. I did not benefit in any way of this article. The only benefit I took is buying an annual pass for all parks, which is available to everybody, but provides me with free parking and discounts on food and souvenirs.
Amusement Parks – More Postings
Here are all postings about Amusement Parks:
United Arab Emirates – More Postings
Here are all posting of related to the United Arab Emirates: