Two fun empires meet each other: on the one hand, there is Madame Tussauds, which seems to be creating wax museum places everywhere tourists meet and want to do some snaps with artificial celebrities. And on the other hand, there is the entertainment mega-city Dubai, where you can practically invest your money in any kind of hanging out and having a good time. It feels like an almost logical thing that both touristic big players had to be united one day. And in fact, in October 2021, Madame Tussauds opened their branch in the United Arab Emirates. I visited the place shortly after the opening with my wife. Here are my thoughts.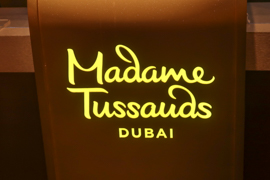 Madame Tussauds Dubai – Location & Admission
Madame Tussauds Dubai is located on the Bluewaters Island in the new Bluewaters Mall. The entrance to the wax museum is right opposite of the new largest Ferris wheel of the world, Ain Dubai. The only public transport option is the Dubai Ferry from Marina, so that you can opt for a taxi or come by rental car. Parking at Bluewaters was free during our visit, but the parking fee machines were already set up. Going there by car can be a bit of confusing as the signs in the tunnel below the surface of the island is not that ideal.
At the time of visiting, Madame Tussauds Dubai opened daily from noon to 20:00 hrs. Admission is 135 AED, roughly 32 Euro. Surprisingly, there were no package deals with other attraction, even not Legoland Dubai, which is driven by Merlin Entertainment as well.
Madame Tussauds Dubai – The Visit
Right after passing the reception, you head to the upper floor (by stairs or elevator). We could not find a single figure which is not described by a sign at the wall. Documentation is in Arabic and English. The first figure you meet in the exhibition is Indian Prime Minister Narendra Modi, who is followed by a couple of more or less popular politicians. If you feel like meeting one of the United Arab Emirates leaders in this place – they are not represented at Madame Tussauds Dubai.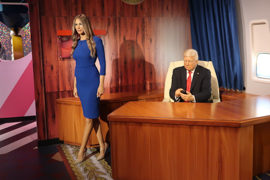 The exhibition then takes you rather to Hollywood and general movie celebrities, which also includes Spiderman. In my Madame Tussauds Berlin review, I already questioned whether these fictive characters are suitable for wax figures. I personally enjoy to meet local celebrities in Madame Tussauds as well – so that I liked to have some figures representing local radio and TV big ones as well (even though I did not know them). Thereafter, there was another proof of the close cultural links between the U.A.E. and India: in the Bollywood section, you could meet actors like Deepika Padukone or Shah Rukh Khan and even do a Bollywood dance on an interactive screen. In general, this kind of presentation (as well as the very good light) is what makes Madame Tussauds still that superior compared to most peers on the market.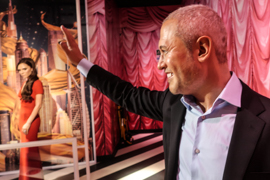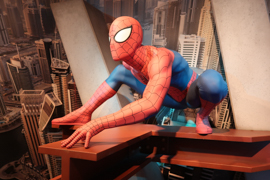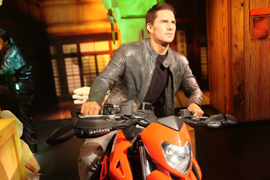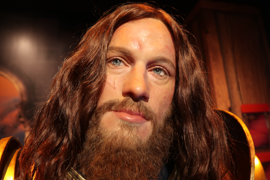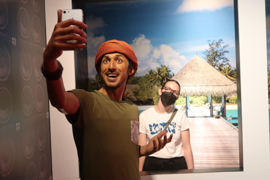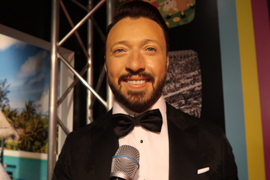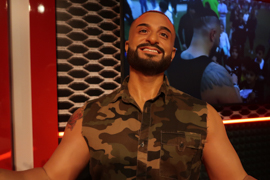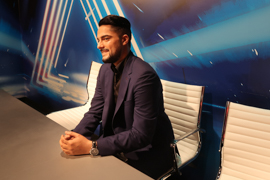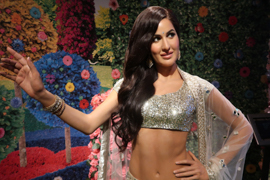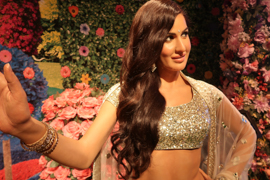 After the Movies: Sports
The next section of your trip is about sports. You meet international big players like Christiano Ronaldo or Louis Hamilton, but also some local sports stars. I loved to run into Sergiu Toma, who got a bronze medal for the U.A.E. in Rio 2016. But there is also Amna Al Haddad, a local female weightlifting athlete. Again, India is represtented by cricket superstars. I was hoping for some of my tennis idols – might have to head to "M.T."'s outlet in Delhi one day. After this sports section, there were some more celebrities known for their achievements in the music sector.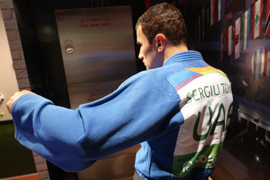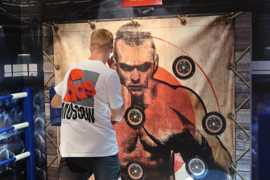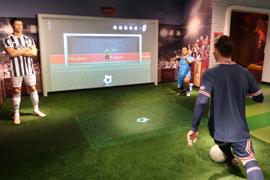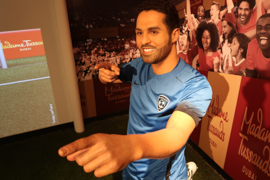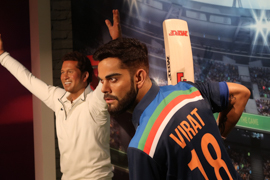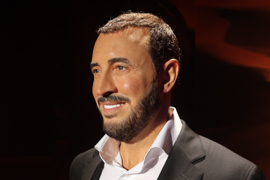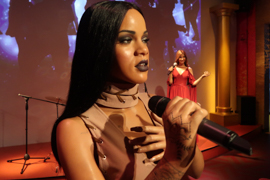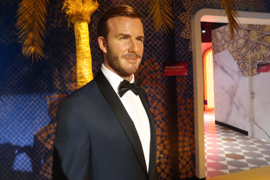 Madame Tussauds Dubai – Services
At th end of the visit, there is a souvenir store. Even though the Dubai one is not too bad, the items on sale are quite predictable if you have been at other places before. The staff was very attentive. There was a photo machine (and an additional one not working), where you could do unlimited pictures and receive them for free online (or for a fee as a printed picture). That was something I definitely loved.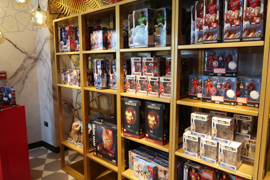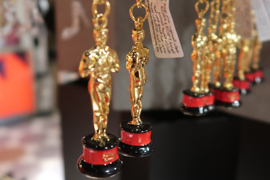 Madame Tussauds Dubai – My View
First of all, Madame Tussauds Dubai is really expansive. You get some 60 figures for a price of over 30 Euro – which I feel is just too much. Again, Madame Tussauds does a great presentation, interactive places, which turn the wax museum into a real family fun place. It is a nice way to spent quite some additional money after / before having a ride with Ain Dubai – but I expected something more posh (or should I say: Dubai-alike?) in their Emirates outlet.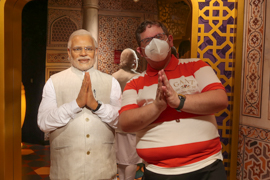 Flyctory.com in Dubai
Here are all postings about the entertainment wonderland Dubai:
Wax Museums
Here are all other postings about wax museums: