When I was preparing for my November 2019 trip to the Emirates, I ran into a review of a roundabout in Sharjah, which had very high ratings. I felt hat this might be a rather short, but maybe interesting and special posting on Flyctory.com. Here is my review of Cultural Square, which is the official name, or Quran Square, how I found it in other publications.
Cultural Square Sharjah – Location & How To Get There
The Cultural Square connects the E11/E88 road with a couple of other roads. For the main travel route from the city center towards the airport or vice versa, the traffic may use a tunnel underneath the square. It is located on the Eastern part of the center.
The place is not only interesting due to the major Quaran statue, but also due to the adjacent buildings. For parking, I recommend to use the parking lot of the Ahmed Bin Hanbal Mosque. You can enter the center of the square – there is also a traffic light for that close to the mosque. However, at time of writing, the traffic light was switched off so that crossing the massive roundabout is some sort of an adventure.
Cultural Square Sharjah – Buildings around the Square
Between each two of the roads leading two the roundabout, there is one quite iconic building. The most eye-catching one is likely the Cultural Square, which is on he Northeastern corner. From there, in clockwise order, the next building is Sharjah Library followed by the Government Departments Building. Finally, there is the Sharjah Ruler's Office and the Ahmed Ibn Hanibal Mosque.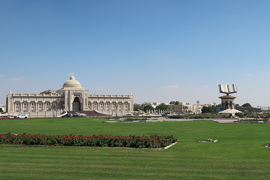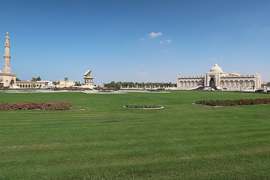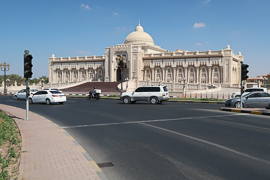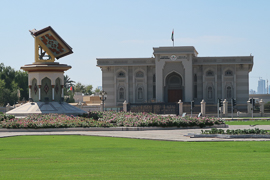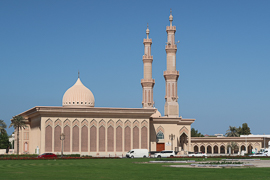 Cultural Square Sharjah – The Quran Memorial
The history of the Quran Memorial is quite interesting. Originally, the center of the Cultural Square feature a flame driven by gas. However, the flame, which was driven by a major gas pipeline, was that high that people felt too concerned about it. The Quran is seven meters high and is thus the largest one in the world. Infortunately, the access to the monument is limited – if you do not want to cross the lovely-cared of-meadows and flowers.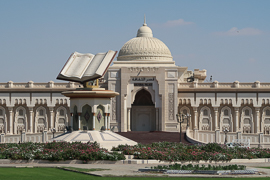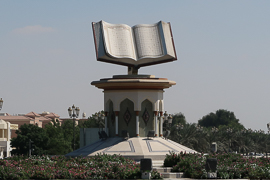 Cultural Square Sharjah – My View
The Cultural Square Sharjah would be a lovely vist and a nice impressive part of any Sharjah visit. Unfortunately, the traffic system is not made for visitors / pedestrians. I would also like to approach the Quran without stepping over flowers or meadow and thus thinking I am doing something wrong. Still a nice visit, but it cannot be a top rating under these conditions.
United Arab Emirates – More Postings
Here are all posting of related to the United Arab Emirates:
Places & Sights
Locations, which are not a museum or similar dedicated buildings, are found in the Places & Sights category. Here are all postings: