You may like Dubai or not – but it is hard to argue that the city does not try to offer everything you feel like paying money for. Gaming geeks, for example, have two pilgrimage ground in quite close proximity: while I visited the Gaming Theme Park Hub Zero in one of my last visits, the quite nearby Dubai Mall hosts the VR Park Dubai – a mixture of a small theme park and an arcade focussed on Virtual Reality Gaming. As they seemed to have improved quite significantly and are now the world largest park of that kind, I could not stand and gave it a try in November 2019.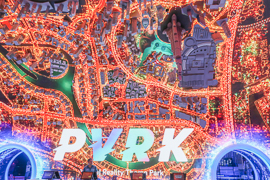 VR Park Dubai – Location & Admission
The VR Park – or PVRk, how the logo looks like, is located on the second floor of the Dubai Mall. It is located right across the large cinema. The Food Court and the ice rink (on ground floor level) are close to it. If you come by car, the best parking for VR Park is cinema parking. Second floor mall equals seventh floor in the parking deck.
Admission to the park, which is full of blue-ish light, is free. However, the normal admission system is a pay per visit system, so that you pay every person and VR experience or arcade game. Most VR attractions range between 25 and 35 AED, some 6 to 9 EUR. There are some passes, which make your stay affortable. For 169 AED, you could buy a Super Seven Pass, which allows you to have seven VR ride. In addition, you receive 100 AED credits for the arcades. This offer is limited to one person, who receives a wristband. You can pre-order the pass also online one day before. That version does include all non-redemption arcades, but no further credits, for a price of 115 AED.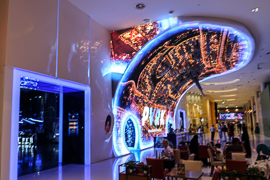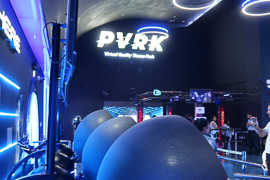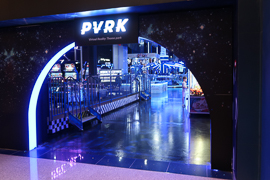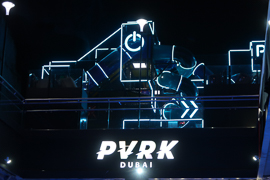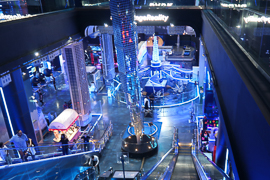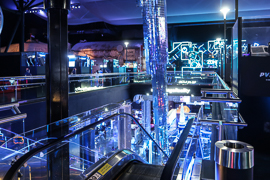 VR Park Dubai – The VR Attractions
The key attractions of the park are of course the VR ones. My favorite one was Paradrop,w which feels a bit like the posh version of Nintendo's Pilotwings classic: you are a parachute pilot and have to fly through different targets for points.
A major proportion of the VR games are of course shooters. The most prominent one is likely Robocom VR, where you maneuver through a lot of enemies in your own space ship. Unfortunately, this attraction was the only one which used masks which are not compatible to wearing glasses. In VR Maze you place together to defend against a horde of zombies and other bad opponents. In most attractions, you can follow the players on screens which show their perspective (in 2D, of course). There are many more games, the VR Park website lists them.
But there are a lot of peaceful games as well. In Sphere, you can do different rides virtually like roller coasters, while in VR Sports, you can play basketball or soccer. Basketball was entertaining, but not too realistic, though. Beat Saber is a mixture of Rock Band and Donkey Konga, but instead of hitting the drums, you need to virtually slam certain blocks with a light saber according to the rhythm of the music. A very funny and family-friendly way of enjoying VR is taking the Rabbits for a spontaneous session.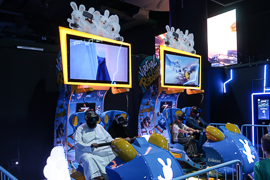 VR Park Dubai – Arcade Attractions and Kids Rides
The arcade area might not be too large and comprehensive, but definitely allows the family to have a wider rang of entertainment. I love to have cycle and car racing machines, but there are also ticket games, where you get tickets according to your performance (and your luck)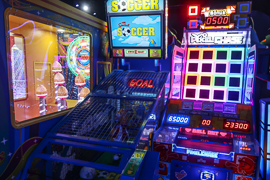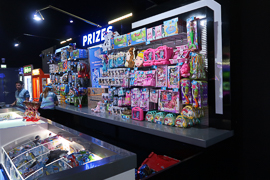 In addition to the arcade games, there re real carousels. There are also bumper cars and a small free fall tower.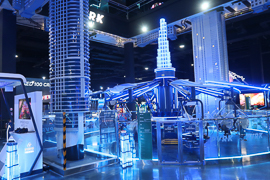 VR Park Dubai – My View
The VR Park, PVRk or however you call it is definitely a good one. I had a lot of fun and distracted myself. There are not too many things on the negative side. Maybe it would be cool to have a day ticket. I would have loved some of the games another time, but the single play price is just too high. Of course, I have to live with the fact that there are weight restrictions (so that I could not do two of the rides) – what I don't understand is that one single attraction, Robocom VR, is not compatible with glasses as it has another mask.
Do you need to visit this place or rather buy a Playstation 4 with VR mask? Of course, there are some games like the sports games, which you likely can play at home in similar quality. Some of the games, though, are really fun and need the additional equipment which is only available in mega-arcades like that. If you like gaming, you have to give it a try!
Flyctory.com in Dubai
Here are all postings about the entertainment wonderland Dubai:
Amusement Parks – More Postings
Here are all postings about Amusement Parks: