IMG Worlds of Adventure
295 AED (regular adult)
Flyctory.com Pros
Huge and impressive building
Free parking
Some nice licenses
Nice winter decoration around entrance area...
Flyctory.com Cons
Taxi or rental car needed
Not as atmospheric as other parks in the U.A.E.
Bad Covid-19 hygienics
... but remaining park is rather Christmas-free
140,000 square meters of indoor space and a capacity of 20,000 people per day – the IMG Worlds of Adventure is indeed an impressive indoor theme park at the edge of Dubai city. During the 2020 Christmas season, I visited the park for the second time. I mainly also have been curious about their seasonal decoration. Here are my thoughts about the park in general and the visit during winter time.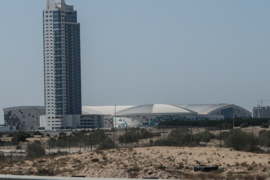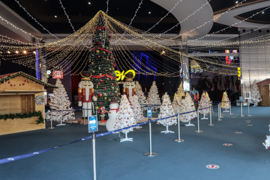 IMG Worlds of Adventure – Location & Admission
IMG Worlds of Adventure is located East of Dubai City Center, right at the E311 motorway. Two of my favorite Dubai Locations, the Dubai Miracle Garden and the Global Village, are in short distance. There is no public transport. I generally suggest to have a rental car in Dubai, even though the taxi prices are temptingly low.
At the time of my visit, the park was open 12.00 to 21:00 hours on weekdays and 12:00 to 22:00 hrs on weekends (which means Thursday and Friday). If you are not requiring or enjoying valet parking, parking is free. I booked an online ticket beforehand which was funnily charged in Euro( 61.91 Euro). The ordinary adult admission is 295 AED, roughly 66 Euro. There are upgrades to use the fast tracks and a VIP Package. Even for a low attendance day like I had, it may save you a lot of time and give you a lot of fun.
At the right of the entrance hall, there is a major multiplex cinema. It also includes an IMAX.
IMG Worlds of Adventure – The Visit
After you enter the park you are typically at IMG Boulevard, a city-alike scenery with a lot of shops and restaurants. The other areas are Marvel, Lost Valley and Cartoon Network.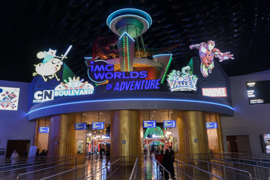 Unfortunately, most of the winter decoration was concentrated at the entrance and IMG Boulevard. I generally like these shopping and dining areas at the entrance of many modern amusement parks. I feel they are really atmospheric – and the winter decoration definitely added a lot there.
Marvel area
From there I headed to the Marvel area. I unfortunately missed one of the signature shows of the park, Hulk Epsilon Base 3D, which is a 360 degree 3D cinema – the shows were only once an our. Marvel offers some thrill rides with the Spider-Man Doc Ock's Revenge roller coaster and the Thor Thunder Spin, which I decided to rather skip. I therefore took a flight on the family attraction, Avengers Flight of the Quinjets, where you can control your own jet in a rotating carousel.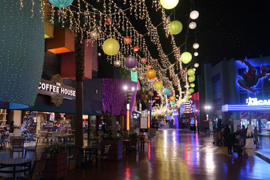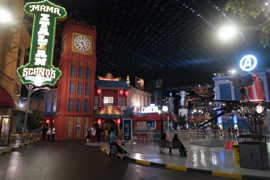 Lost Valley
Adrenaline junkies likely head directly into the lost valley, which is very atmospheric with some dinosaur statues. The signature ride of the park is likely the speedy The Velociraptor, which even leaves the huge indoor building. Looping and rolls indoors are part of the fun at Predator, the second coaster in that area. I liked to see that the park offers a classic horse carousel, just with dinosaurs (Dino Carousel), which I feel is a nice idea. Unfortunately, the Forbidden Territory family ride was closed during my visit. Adventure Fortress is a stylish adventure playground for the kids.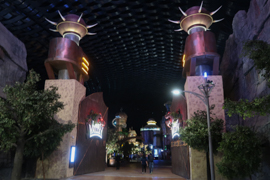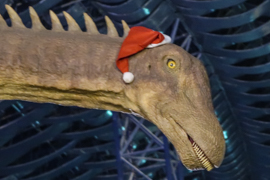 Another key attraction, which is somehow an area of its own is the The Haunted Hotel, which is somehow an area on its own (and thus not even featured on the IMG Worlds of Adventure website). It is a ghost house with real actors. Surprisingly, this ride was open (with later opening hours) even during Covid-19 restrictions active. 
Cartoon Network area
Undoubtedly, the Cartoon Network area is the most colorful one of the whole park. I personally loved to have a slow ride with a lot of characters on the top of the park with Adventure Time – The Ride of OOO with Finn & Jake. Lazy Town is an area for kids. The Amazing Ride of Gumball is one of these "drive through and shoot" interactive rides, which is quite some fun. The Powerpuff Girls – Mojo Jojo's Robot Rampage lead to some action, while Ben 10 is features with a quite straight 5D attraction.
IMG Worlds of Adventure  – Food & Shopping
If you are hungry, there is no need to starve – even during my visit, where the park has been really empty, there are a lot of food opportunities – and the stuff I tried was really tasty and within reasonable pricing.
Of course, licensed theme parks like this IMG park offer a lot of opportunities to go back home with some stylish souvenirs. There are plenty of shops in the park – including designated shops for each area.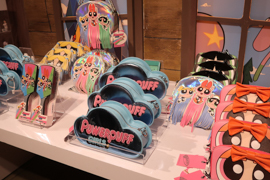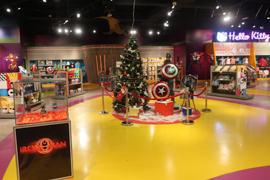 IMG Worlds of Adventure  – Service
As you are used to in Dubai, the staff in the park was really friendly and helpful. I absolutely missed waiting time monitors. There are a few central ones (which gave very imprecise timings) – but if you are at the entrance to the attractions and they do not have an open waiting line, you have no clue about how long your waiting is gonna take. This was especially critical during Covid-19 times. It took quite some time to queue even with the empty park. Additionally, I felt that the park did not care at all about social distancing.
You had to wear a mask when entering the building – but after that, I just ran into too many careless people and had to leave waiting queues twice as people right behind you felt to take off there covering. The cleaning of the rides was absolutely exemplary, thought. I would still recommend to either visit the park after pandemic times or – if you really want to see it – buy a fast track ticket only to avoid exposure to the same people in long waiting lines.
I read in other reviews that the park is quite strict in regards of not allowing your own food. If you nonetheless come with a backpack, there are lockers from 45 to 60 AED per day, depending on the size.
IMG Worlds of Adventure – My View
I love the Dubai Parks and I had a lot of fun when visiting Hub Zero. Unfortunately, I have to say that my wife and I haven't been too fond of the IMG Worlds of Adventure together some time ago – and this impression did not change during my winter 2020 visit. Indeed, the decoration was nice, but just very limited. The park was rather empty, so it could have been a great day out in the East of Dubai. But too loose hygienic measures (in an indoor facility) and a couple of closed rides just did not gave me the right atmopshere. Indoor parks are just limited in their size, even when they are huge. If you are in the Emirates in summer and feel for some indoor fun, I rather recommend Warner Bros. World in Abu Dhabi.
Flyctory.com in Dubai
Here are all postings about the entertainment wonderland Dubai:
Amusement Parks – More Postings
Here are all postings about Amusement Parks: