I am back. After five days in the United Arab Emirates metropolis, I came back to Germany. My Covid-19 test at arrival in Frankfurt was negative. Honestly, I expected the worst case. While in Dubai, I more and more struggled with my decision to take some days off. I felt there were some experiences worth sharing – hope you enjoy my thoughts about the trip.
Some Forewords about my Decision
I know that traveling during these times has been a very disputable decision. My wife was even not allowed to go with me due to labor law reasons. As you might see in Flyctory.com, traveling is part of my mental health – much more than of average people (which might already be quite angry that they cannot travel). I just had to do some mental relaxation. There were no options within Europe. And I know Dubai very well, I love to be there, enjoy the warmth during cold German times. There were two key factors: the first one is that the Emirates (not just Dubai) did a great job in fighting Covid-19 with strict measures. With my nowadays perspective, I would however add a "until early December, roughly" – see below. Secondly, they have a highly developed and reliable healthcare system. There are a bunch of German-Saudi Hospitals – so even in worst case, there would have been reliable and effective healthcare for me.
It already started at the Airport
I had a direct flight from Frankfurt to Dubai. The flight was packed, practically sold out with numerous op-ups (i.e. upgrades to a higher class due to operational reasons) to handle the number of people. After Germany declared the Canary Islands as high risk area some ten days before Christmas, this is really remarkable. There were just very few destinations, which could sell out flights from Germany during 2020. Dubai is likely the key one – apart from some Caribbean destinations and Cancun in Mexico and maybe the Maldives (which are likely the best destination for social distancing). Thereby, the 25th December 2020 Lufthansa flight from Frankfurt to Dubai was not the only packed flight to Dubai: there were more flights from Frankfurt, Munich and Dusseldorf – all full. Dubai was the place to go in December 2020. I honestly underestimated that completely.
It got even worse when arriving in Dubai Terminal 3 (not the normal Lufthansa Terminal 1, which was still closed): long queues at immigration, ridiculous waiting times at the baggage reclaim. More than that, 90 minutes after I arrived at Europcar at about 2:00 hrs local time in the night, I found out that despite my reservation, they ran out of cars. Hertz was sold out, too. Avis as well. No other chance than taking a taxi to the hotel and waiting for the following day. Breakfast starts in two hours were one of the last words before I finally headed into my room at the Canopy by Hilton Al Seef hotel at some 4:10 hours local time. No doubt, Dubai was weird these days.
I Love the Emirates
The following chapters will be comparably negative about my trip to Dubai. Thus, I feel it is important to insert this statement, how much I love the country. I had so many great experiences in the past, I highly enjoy the amazing clash of cultures, I love the high level of services you receive as a guest. Last, but not least, I enjoy the weather (apart from being in the Emirates in June once… A truly silly idea…). In this December 2020 trip, Dubai kicked my ass. I haven't been to Sharjah this time (there are a lot of places I want to share with you in that Emirate) and Abu Dhabi even had border controls to the Emirate of Dubai. I missed having at least some hours in the less stressful, more cultivated capital of the country. There is still a lot of contents I will share with you over the next months – and some of them were real highlights. I will definitely come back to the U.A.E. again. Though the feelings might just be a bit more mixed.
It's not about the Rules
For sure, almonst everyone arriving in the country currently is tested for Covid-19 – or at least has been tested a few days before boarding the plane (as I did). And the rules, which gave me a lot of comfort when deciding to go for a Dubai trip are still in place: there is social distancing in place – most of the sights I went to asked for two meters of distancing. Wearing a mask is compulsory. It sounds all great – but as I already quoted about my rental car experience above – the rules are just no longer enforced.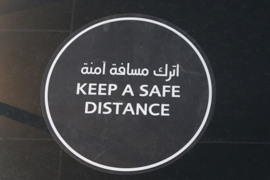 … it is about enforcing them
I could name countless experiences, why I finally felt urged to use my FFP2 / N95 masks much more often than I in fact expected to do, just as I felt to protect myself. Furthermore, I had to "escape" from situations. Some examples
When there were waiting lines, a two meter distancing was almost impossible. Some attractions and places were at least motivated to keep some distancing (e.g. Burj Khalifa), some simply did not care (e.g. IMG World of Adventure, Dubai Airport).
It is mandatory for malls, hotels and attractions to screen their visitors for increased body temperature. I felt it is ridiculous to do so, if you then allow people to enter the place without a mask. This happened to me at waiting queues at IMG World of Adventure, but also in the last hotel I stayed in, the V Hotel.
In general, I saw a lot of incorrectly worn masks. Being able to see the full nose and even the upper lip of people happened very frequently.
I was very surprised about that. I know from friends living in Dubai how much they suffered from the strict rules. They were not even allowed to have visitors (or just very few of them). The Dubai people really worked hard over 2020 to have a comparably good control of the pandemic. They had comparably low numbers, significantly lower than in my home area in Germany. But it felt there has been a climate change, a mental change.
What has happened to Dubai in late 2020?
Towards the end of 2020, the situation more and more turned and Dubai became a posh travel destination again. Flights to the mega-city were very often booked out – and you also saw a lot of celebrities and influencers at the Persian Gulf. I was tempted to post some Instagram postings, but you likely know them anyway. Many of them had in common that even in museums, exhibitions, malls, these people tended to wear no masks. It would have been an easy thing to enforce the rules, but the people, the authorities did not do. I rarely saw that people were asked to wear their mask properly. I am not a fan of having to do take your mask off for a picture and would never do that – but even if you do so, your photographer does not need to do the same if you are in a public place. This happened to me everywhere.
I don't want to elaborate too much on this topic, but there was a clear correlation between the distancing behavior of the people and where they are coming from. I can distinguish people speaking Arabic, Russian, English, Spanish or German (which were likely the five key languages spoken during my trip). Sadly, there was also a correlation between the (assumed) money people have and their behavior – like I feel the same in Germany. In the V Hotel, if you were in a group with ladies dressed up and in high heels, there seemed to be different rules for you. Make up counts more than health of the other guests and your own team. Or is there another factor?
Time to be profitable again
I felt that a part of the Dubai people did not care about the health of people any more. The health of the tourists, the health of your own residents and local nationals. There were just very few destinations people thought about traveling to – Dubai was one of them. I felt it was time to cash in. Things were well booked, KISS played in the Atlantis on New Year's Eve. Don't spoil the fun, let people be happy and grab their money – that is at least my thought about what I explored at Dubai.
Is that a too short-termed view? Nobody can finally validate the number of Covid-19 infections in Dubai the next weeks. I also cannot judge about how precise the German figures are – there are just indications about the "real" values. I feel the real danger for Dubai are people coming back and being tested positive in their home countries. During the first wave of the pandemic, the Austrian skiing village of Ischgl became a synonym for greedy tourism, which went for profit instead of health. The Austrian government took necessary decisions – but I guess, it will take years for the Ischgl to get rid of that image, that negative branding. What would happen if same things happen to Dubai at December 2020 and January 2021? I feel that the emirate took a really high risk.
My thoughts about the Trip
I was thinking a lot about two questions, already while being in Dubai:
Was it right that I went for this trip? I felt very secure that I was very fine before I started to travel. Now, I am not that much convinced any more. Maybe, I made a mistake. On the other hand, I just had to get out, I really had mental and health trouble and could hardly stand the situation I was in. Maybe traveling was right, but I did not chose the best option
The second question I had was: I always felt that to a certain extent, you should value economic impacts of your pandemic measures against saved lifes. Not as extreme as some weird political parties suggest – but in a very moderate way. Dubai taught me that this is not the right way. Whenever you do so, you run into terrible decisions. And you force people to suffer and to die. A key maxim to behave here in Germany is that you act as if you were infected (even if you are very sure you are not). This is community thinking – and we have to stay a strong global community to suffer these ugly times. I did not have that community feeling in late December 2020 in Dubai, unfortunately. That made me feel very uncomfortable.
Happy to discuss with you.
Covid-19 Postings on Flyctory.com
Here are all postings related to the 2020 Covid-19 crisis:
Flyctory.com in Dubai
Here are all postings about the entertainment wonderland Dubai: