In the third match of Saturday, there was absolutely no discussion about the roles: Finland was the absolute favorite against the Russians. The underdog was expected to try to keep a tight goal difference – with a very close score, they would even have some chances to go to Neuchatel if they would loose against Germany on the closing Sunday.
There is a designated full size picture gallery for this match.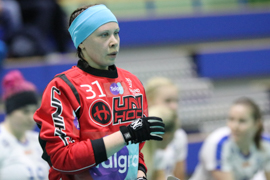 Russia vs. Finland – Match Report
As expected, Finland took control of the match from the very first moment. It took a while to the Russians to accomodate their defense to the Scandinavian skills. Ella Sundström scored the first goal for "Suomi" after 49 seconds, Veera Kauppi increased the score to 0:2 in the 4th minute. However, the Russian got better and played a very solid defense thereafter. In addition, Iana Beletskaya had a great first period and saved an overall of 15 shots. The match felt to become even more interesting when Russia took profit of a defensive mistake of the favorites. Mariia Kitaeva closed up to 1:2 in the 18th minute. This was also the score after twenty minutes.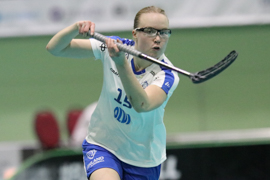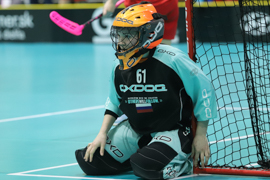 Video Review in Trencin after a Russian Nightmare
While the score – and the match – looked very promising for the Russians in the first period, they could not keep up at all with the Nordics at the beginning of the second. After 28 minutes, Finland increased the lead to five goals, after V. Kauppi, Sundström, Senni Hietanen, Mia Vallenius and My Kippilä scored for scored for their team. Needless to name all the scores, as the period score was 0:13 to an intermission one of 1:15. The only play worth mentioning was maybe the last goal of the period. Vallenius shot with the buzzer. The Slovakian referees decided to use the live stream as a video review and decided that the ball crossed the line before the buzzer.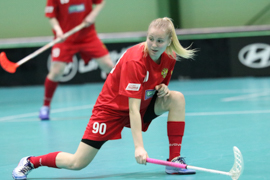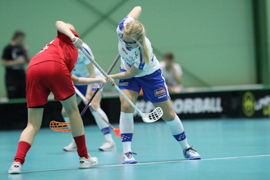 Pleasing Finish for the Underdogs
Finland decreased pressure on the Russian goal, which was minded by Elena Savrasova in the third period. The favorites just scored three more goals, by Hietanen, Oona Kauppi and Kippilä to have an overall pleasing final 18:1 victory against the Russians.
Russia vs. Finland – My View of the Match
Russia showed one surprisingly strong period – and got a tough time in the second. For the qualification to Neuchatel, these fifteen goals within one period can be killing – their goal difference is destroyed now, they can only qualify by beating Germany or by tying them. Finland did what they had to do and at least showed twenty minutes of impressing floorball.
Russia vs. Finland – Lineups
Russia: 61 Iana Beletskaya, 98 Elena Savrasova – 4 Alina Prokhovora, 6 Mariia Kitaeva, 7 Tatiana Kozlova, 8 Vera Pelevina, 9 Anastasiia Skirdenko, 10 Mayya Lytorova, 11 Elizaveta Nadeeva, 14 Sofia Rumiantseva-Mishina, 17 Alena Zhulina, 18 Armine Nersesian, 19 Viktoria Trusevich, 21 Olga Krylova, 25 Ksenia Rapakova, 29 Ekaterina Panfilova, 41 Ksenia Makkoveeva, 90 Mariia Basargina, 92 Elena Kolodiazhnaia, 98 Elena Savrasova, 99 Anastasiia Bulbash
Finland: 31 Krista Nieminen, 1 Noora Vuorela – 5 Sanni Nieminen, 9 Sara Piispa, 10 Sanna Risteli, 11 Laura Manninen, 12 Mia Karjalainen, 13 Hanna Niemela, 14 Senni Hietanen, 15 Ella Sundström, 16 Trine Sallström, 17 Kristiina Kauppila, 20 Mia Vallenius, 27 Oona Kauppi, 28 Veera Kauppi, 32 Mirja-Maria Saarikoski, 80 My Kippilä, 89 Jenna Saario, 96 Sofia Leino
Russia vs. Finland – Gallery
The gallery covers 277 pictures:
Flyctory.com Floorball Postings
Here are all Floorball-related postings on Flyctory.com: