For cocktail lovers, the name Curacao is strongly linked to a liqueur named after that island – as a tourist you may visit the Landhuis Chobolobo in Willemstad, which shows the local production of the Blue Curacao.
Curacao Liqueur Factory – Some Facts
It is not fully clear, who in fact invented the Curacao liqueur. It is made of the peels Laranha, bitter orange. The Spanish initially invaded Curacao to grow oranges on the island – but they always became bitter. Only the peels of the fruit, which you may know asSeville Orange is tasty – the juice and flesh itself is unpalatable. Seville Oranges can be spotted frequently in the Seville Alcazar. There are sources that the West Indies Company offered a bitter orange liqueur with a characteristic blue color, which is just arising from an additional color nowadays – if you buy Curacao in clear or another color, the taste is typically the same.
Curacao is not a brand-protected name, so that it can be produced anywhere. The Chobolobo mansion, in which the distillery is based since the late 19th century, is home of the local Curacao produce, Senior & Co. Curacaois a so-called Triple Sec liqueur and thus similar / equivalent to Grand Marnier or Cointreau.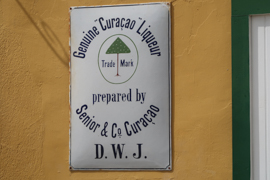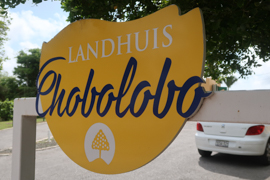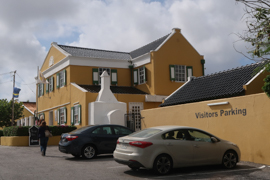 Curacao Liqueur Factory – Location and Available Tours
The Landhuis Chobolobo is located in the Eastern part of Willemstad, some four kilometers away from the historic harbor area. The easiest way to get around is by rental car, you may also try to catch a taxi. The factory website states that it is possible to reach the place by public transport as well, "but the public transportation in Curacao can be a challenge". The gift shop opens Monday to Friday, at 8:00 hrs and closes at 17:00. At the time I have been there, tours have been available from 10:00 to 15:00, taking about an hour. There may be more slots during peak times.
There are three types of tour available: due to maintaining my legal ability to drive, I chose the Standard experience (12.50 USD), which includes the tour, a tasting and one cocktail. For 20 USD, you will join the Deluxe Guided Tour, which increases your alcoholic experience to two cocktails and a scoop of ice cream. Die-hard interested people go for the Blue Curacao Cocktail Experience, which takes place once a week on Friday and adds a workshop, tasting of five liqueurs and two cocktails – make sure that you find a way to get back to your hotel before you spent 40 USD! You may visit the site and see most of the stuff on your own – of course there is neither a tasting nor cocktails included, which already pay back the admission if you are interested in these things.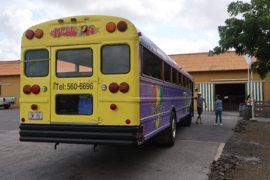 Curacao Liqueur Factory – Visiting the Factory
We visited the factory on a quite buzy day, as there was a cruise ship in port. Despite numerous cruise ship guest groups, we got an "ordinary" tour just together with another couple from Canada. Due to so many other groups, it was sometimes quite hard to understand the guide, but in general, it was a good tour and gave you some nice insights. For example, the name / drink Curacao is not trade-marked, but the design of the bottle is. The drink is still produced in a very manual and traditional way, which might also be quite surprising.
The highlight of the tour is definitely first of all the smelling on different new Curacao drinks and then the tasting – we had the classic Blue Curacao as well as the new tamarind version and the Chocolate Curacao version. After that, you could choose from a quite wide menu of cocktails (there are also some non-alcoholic options if you for example would like to bring your kids). I had a mango-smoothie-alike cocktail with Blue Curacao, which was a really nice refreshment. You could also have cocktails with a higher proportion of alcohol – but I needed to keep my ability to drive that day. You may buy additional cocktails (8 USD) or scoops of ice cream (3 USD). While enjoying the drinks, you could also watch the lizards enjoying the sun as much as we did.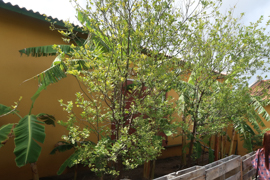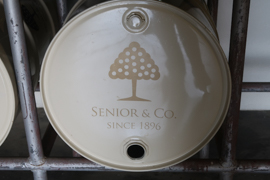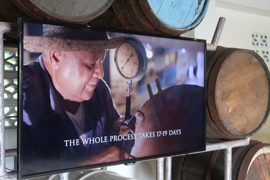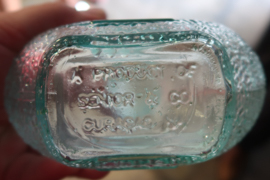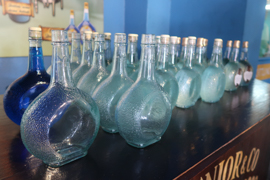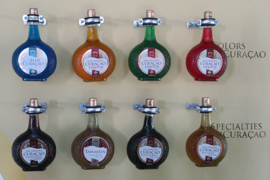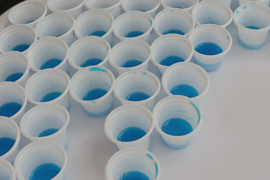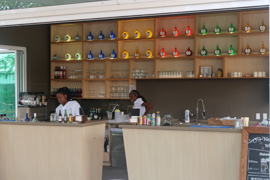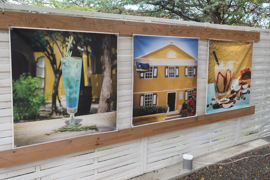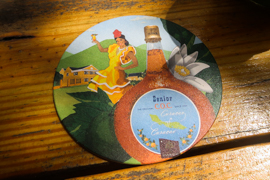 Curacao Liqueur Factory – Glacial
Apart from the distillery process, you can also see how another product of the company, Glacial is bottled. In its early days, it has been given for free to the inhabitants of Curacao, as it cools down and was some sort of "air conditioning" to put on your skin. Nowadays, it is for sale, supposed to help in case of several problems, including cold, headache and others.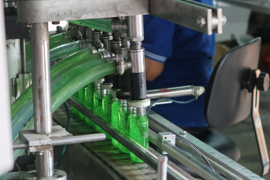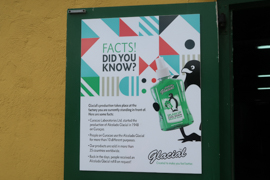 Curacao Liqueur Factory – Gift Shop
Of course, the tour is somehow on ending up in a gift shop and bring some alcoholic souvenirs to your beloved ones. There are also some Curacao-flavoured chocolates and some non-food articles like t-shirts or magnets. The prices feel reasonable and overall, the gift store was quite nice.
Curacao Liqueur Factory – My View
The Landhuis Chobolobo tour may finally not qualify for a "Top Pick!" rating, but it is definitely a nice way to spent some time in Curacao. The guide is nice, the information is nicely presented and especially the tasting is quite impressing. So I feel that it is definitely not a waste of time to go there – and gives some decent memories when you are back home.
Other Curacao Trip Postings
As part of my July travel to Curacao, I so far have additionally posted the following reviews:
In addition, as part of this travel I have done a daytrip:
I flew Air Canada Rouge on this trip:
The following galleries have been published on this trip:
Source for Curacao information: Wikipedia