Austria had the tough task in their final match to learn against Finland and maybe gain some experience towards the next WFC Qualification campaign. They even had the opportunity to upset the whole European Qualification WIldcard Race, but that would have requested a four goals or less loss against the favorites – hard to believe that My Kippilä or the Kauppi twins would allow for that on a Sunday morning in Trencin, Slovakia.
There is a designated full size picture gallery for this match.
Finland vs. Austria – Match Resume
Finland already lead 5:0 after 4:41 minutes. At this very beginning of the match, you just had to think that they maybe wanted to go for the 61:0 Swedish record against France in the parallel group in Gdansk, Poland. But overall, Austria was too strong. They played an impressive match, regarding their level and compared to other matches like against Germany or against Spain. Even though the final score was 37:0, they did not give up, fought the match and smiled at the bench. The coaches kept the spirit of the team. To me, Austrian goalie Olga Ruffler was the player of the match, as she even had some great saves and stood up when the score was already in the 20s and 30s. Obviously, the Scandinavians had no troublesome time in the rink this time, in contrast to the first period versus Russia.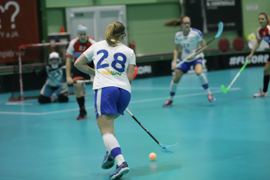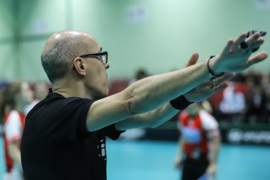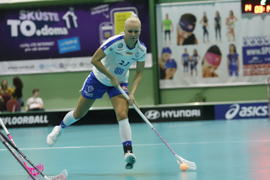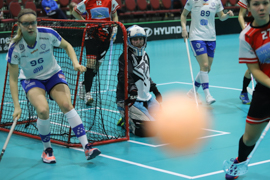 Finland vs. Austria – Lineups
Finland: 1 Noora Vuorela, 31 Krista Nieminen – 5 Sanni Nieminen, 9 Sara Piispa, 10 Sanna Risteli, 11 Laura Manninen, 12 Mia Karjalainen, 13 Hanna Niemela, 14 Senni Hietanen, 15 Ella Sundström, 16 Trine Sallström, 20 Mia Vallenius, 27 Oona Kauppi, 28 Veera Kauppi, 32 Mirja-Maria Saarikoski, 80 My Kippilä, 89 Jenna Saario, 96 Sofia Leino
Austria: 1 Olga Ruffler – 2 Katharina Prinz, 7 Viktoria Fersterer, 11 Julia Zembacher, 12 Elke Mayrhofer, 14 Nicole Romstorfer, 17 Kerstin Nageler, 21 Simone Reitstatter, 22 Julia Schlub, 23 Sabrina Friedberg, 26 Victoria Weitgasser, 27 Sandra Kral, 28 Sandra Tonegatti, 32 Melanie Bernert, 36 Vera Gebert, 43 Livia Muggler, 51 Hannah Riedbert, 91 Alexandra Kemptner, 98 Michaela Weinrich
Finland vs. Austria – Gallery
there is a 280 picture gallery of this match: