The Floorball Champions Cup 2024 indeed feels much more like a "real" European Cup competition introducing home and away matches. However, the teams were split into a "Northern Division" and "Southern Division", which in fact meant that initially Swedish teams had to face Finnish ones and Swiss teams were drawn against opponents from Czechia. The male Swiss teams gathered at Mobiliar Arena in Muri-Gümligen near Bern on 16th September 2023 to host their home matches. In fact Floorball Köniz Bern and Tatran Stresovice were about to kick-off their European campaign in their 16:00 match on that Saturday, with the second scheduled for the Saturday thereafter. I was really happy to be back to a floorball match in Switzerland since quite a long time.
This posting comes with a section of 426 major size pictures in the sports galleries.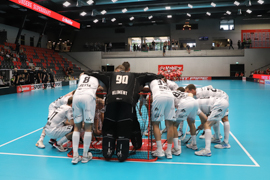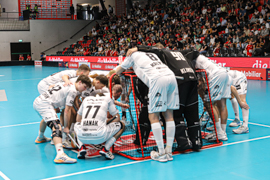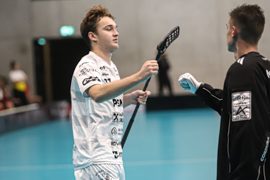 Floorball Köniz Bern – Tatran Stresovice – Match Report
The match started rather calm. Both teams did not want to do a first mistake and tried to get some control of the match. Manuel Engel had the first more serious attempt after some five minutes. Two minutes later, it were the hosts again, who had a right wing attack – Milan Melis stopped the opponent with a clear hit and took the first entry into the match report. The second one was for Jan Zaugg sixteen seconds later, The Swiss made use of the power play situation and gave Köniz the lead in this match. However, This also felt to give Tatran a bit more energy and they played a better match in Gümligen now. Another factor for that were two bench penalties for Köniz Bern. While Raul Wilfratt sat on the sin bin in the last minute of the period, Martin Sindelar converted the power play to tie the score. A bit of lucky, as there were just nine seconds left on the clock, but overall deserved after quite close first twenty minutes.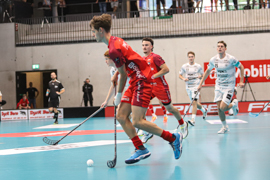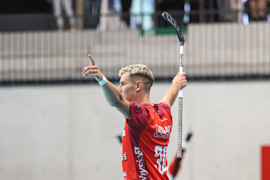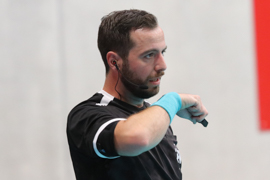 A Close Second Period
The second period was a good match. Both teams had scattered chances, but you could also feel that they don't want to have the "do or die" situation in Prague. Engel was in focus of the key situation of the second period. After launching a wing attack, he felt to be fouled, but the Swiss referees denied sending a Czech player to the cool down place. Instead, Engel just couldn't stop protesting and thus caused one of these short-handed situations, which really hurt (36th). Just seconds after he came back from the penalty bench, it was the second goal by Sindelar, who gave Tatran their first time lead (38th). Really unlucky for the home team, who played a very good box.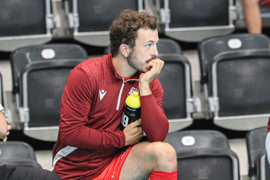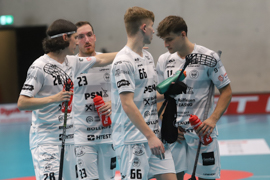 Just back on court, Engel was still frustrated and it at least came to a hit with Stresovice's netminder Tomas Jurco. The mood on court was really heated up now and Martin Cermak pushed Engel in order to defense his goalie. Hmm, the decision just to sent off the Tatran player felt at least very questionable from my position. However, that's been the decision and David Hermie said thanks, tying the score again with 1:58 minutes left. It felt like a good coincidence that nothing happened on top of that, the players and the refs definitely needed a break now.
Tatran seals the victory
The third period was full of thrill. Remember, the playing system is a somehow-best-of-three in two matches: if you win more matches in the two regular time clashes, you made it. If there were two ties or each team has one victory, there is a sudden death overtime decider. The regular time goal difference is not relevant. The players acted now more and more that they felt you should not take too much pressure on you for the re-match, having to win there in 60 plus doing the overtime / penalty shots. Thus, there were long ball controls with carefully built attacks for a majority of the period.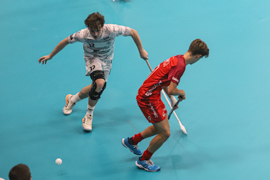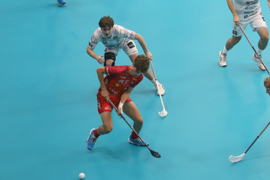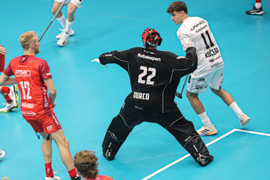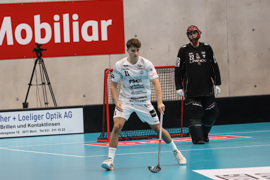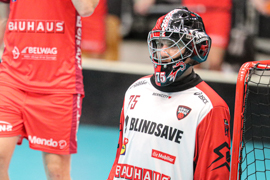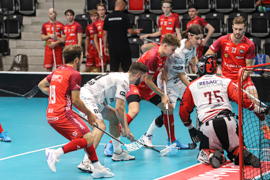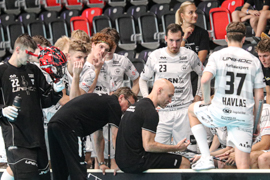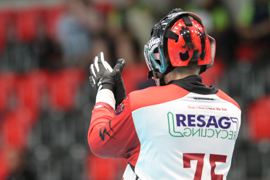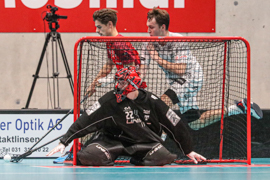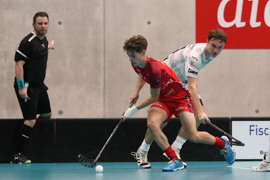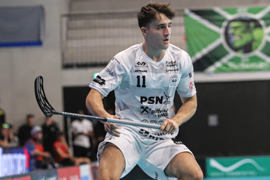 861 spectators saw the time running down. However, Tatran did find the deciding moment for the Gümligen battle. With two minutes left to play, Jonas Kreysa superceded Tim Kramer in the Köniz Bern goal. Now, Köniz had go all in, pulled the goalie, which lead to two empty-netters, scored by Sindelar (59:31) and Kreysa (59:37).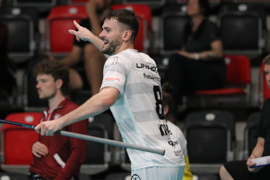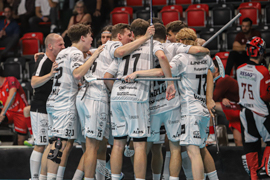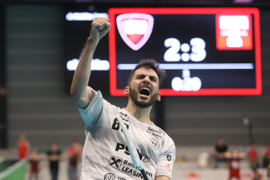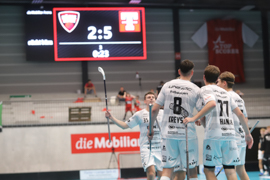 Floorball Köniz Bern – Tatran Stresovice – My View of the Match
It has been a close match full of interesting strategies in Gümligen on that Saturday afternoon. Both teams had their chances to have an easier position in for the re-match. Overall, I felt that Tatran Stresovice was the slightly better team and thus deserved the lead in this series. Great to have these matches with "proper" home and away. The crowd and the arena were really cool and an ideal setup for this double header of Köniz Bern and Wiler-Ersigen. There are things you might have to improve for the Champions Cup 2025 already, but the match definitely underlined that the event is heading into the right direction.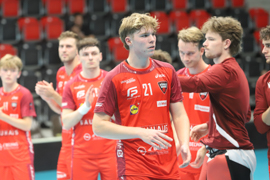 Floorball Köniz Bern – Tatran Stresovice – Lineups
Floorball Köniz Bern: 75 Tim Kramer, 77 Janis Schwarz – 2 Noel Siegenthaler, 4 Mike Gerber, 7 Leon Tringaniello, 8 Otto Lehkosuo, 10 Felix Abrahamsson, 12 Tim Aebersold, 17 Jonathan Blomqvist, 19 Alexander Bühler, 21 David Hermle, 33 Luca Graf, 34 Michel Pascal, 35 Dominic Herzog, 41 Tizian Nikles, 51 Raul Willfratt, 61 Jan Zaugg, 70 Samuel Poffet, 81 Yann Ruh, 93 Manuel Engel
Tatran Stresovice: 22 Tomas Jurco, 90 Lev Kliment – 4 Filip Elias 5 Adam Tlapak, 8 Jonas Kreysa, 11 Adam Kucera, 16 Martin Muhlfait, 23 David Simek, 25 Pavel Sladecek, 28 Jakub Kolisko, 32 Martin Cermak, 35 Marek Benes, 37 Matej Havlas, 53 Daniel Pec, 66 Vojtech Kun, 70 Milan Melis, 72 Simon Vavrousek, 77 Tomas Hanak, 88 Martin Sindelar, 92 Matej Celakovski
Floorball Köniz Bern – Tatran Stresovice – Gallery
In the sports gallery, there is a designated major size picture gallery with 426 pictures of this match at
Flyctory.com Floorball Postings
Here are all Floorball-related postings on Flyctory.com:
2023 Hotel Reviews
Here are all my hotel reviews published in 2023: