After both teams had no chance against their Scandinavian opponents in the semis, the Place 3 Match felt to have high potential for an interesting floorball match. In my point of view, Mlada Bolesav had looked a bit better in their semifinal against Storvreta than Köniz against Classic. But the difference was definitely not sufficient to hand the role of the underdog to the Swiss.
There is a designated full size picture gallery for this match.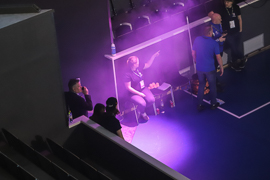 Florbal MB vs. Köniz- Match Report
The first period proofed my absolutely in my guess of strength. Köniz played impressive 20 match minutes. Julian Alder did not take more than 41 seconds in the match when he directly shot from left wing to give his team a lead. But the Czech could find the answer after seven minutes, when Milan Tomasik tied the score. Center Jan Zaugg played a strong role that Köniz could take the first intermission break with a pleasing three goal lead. In the 9th minute, he gave Lukas Bauer no chance from the slot. Just some two minutes later, a right wing fast break added his name to the match protocol again. With less than 30 seconds left in the period, Zaugg took his first assist, when he grabbed the ball in center position and then passed from the right wing to Olivier Hirschi, who scored from the mid-distance.
Five Goal Distance after 40 minutes
The Köniz Express was unstoppable in this match. Though Tomas Chroust gave some hope to Mlada Bolesav in the 23rd minute, Köniz scored thrice in the second period. Two of the goals were scored in power play. Jonne Junkkarinen did the 5-2 in the 27th and Fabian Michel in the 33rd one. Alder did the 7-2 intermission score goal after a smart pass by Stefan Hutzli.
Köniz too strong – even against six Field Players
The Czech tried to come back to the match somehow, but Köniz was too superiod that day. Neither a goalkeeper substitution to Petr Musil nor playing with six field players partially did any significant danger on Patrick Eders goal. Alder scored his third goal in the 53rd minute. A Jan Zaugg fast break towards the empty net could not even be stopped by a foul, so that the tournament All Star Team player did the 9-2 final score.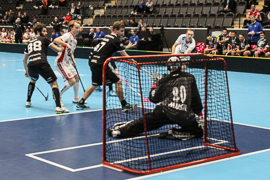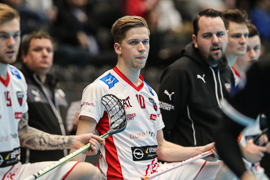 Florbal MB vs. Köniz – My View of the Match
Not yet a walkover, but a very impressive performance by the Swiss champion was the story of this Bronze medal match. There was no chance for Mlada Bolesav in this match, the Swiss performance was just too steady. A key stat was power play, of course, where Köniz converted three out of four situations, plus the delayed penalty goal. Maybe a not that close and thrilling match, but a performance you should pay high respect for.
Florbal MB vs. Köniz- Lineups
Technology Florbal Mlada Bolesav: 74 Lukas Bauer, 80 Petr Musil – 7 Tomas Novak, 14 Tomas Chroust, 16 Tadeas Chroust, 17 Jakub Bina, 18 Jan Rehor, 20 Martin Tokos, 24 Josef Pluhar, 25 Jakub Gruber, 28 Ales Hoffer, 33 Jan Jelinek, 40 Jiri Curney, 58 Filip Zakonov, 70 Petr Krzyzanek, 71 Milan Tomasik, 88 Jan Natov
Floorball Köniz: 30 Patrick Eder, 80 Cyril Haldemann – 3 Stefan Castrischer, 7 Tobias Baumann, 10 Oliver Schmocker, 11 Jascha Blaser, 17 Tobias Saner, 19 Simon Gurtner, 23 Stefan Hutzli, 24 Oliver Hirschi, 27 Simon Müller, 29 Fabian Michel, 44 Cedric Haldemann, 50 Silvan Bolliger, 55 Jonas Ledergerber, 61 Jan Zaugg, 71 Julian Alder, 72 Jonne Junkkarinen, 74 Yves Pillichody, 81 Yann Ruh
Florbal MB vs. Köniz – Gallery
There are 157 pictures in the Men's Bronze Medal Match gallery:
Flyctory.com Floorball Postings
Here are all Floorball-related postings on Flyctory.com: