Russia was the clear favorite for this second Friday match of the World Floorball Championship Qualification. Austria suffered from a high loss against Germany, while Russia had a clear result with Spain.
There is a designated full size picture gallery for this match.
Austria vs. Russia – Match Resume
Austria did a great job and challenged the favorites until the middle of the second period. Russia controlled the game, but Austria stayed dangerous and converted their chances. Especially when Austria lead early by a Hannah Riedberg goal (5th minute) and kept that score for ten minutes, there was a slight chance for a sensation. In the second period, Sandra Tonegatti closed the score to 2-3 in the 22nd minute. However, after some 30 minutes, you saw that the Austrian are not yet able to play that pace for sixty minutes. By scoring the last two goals to a final 4:13, they had a pleasing ending of the match, though. Russia did not position them too well for their final clash against Germany.
I just saw very scattered scenes of the match, so there is no opinion on it.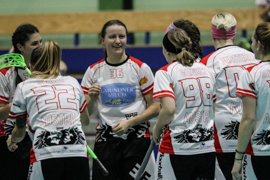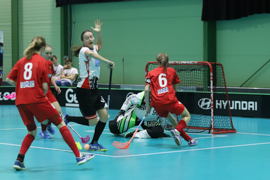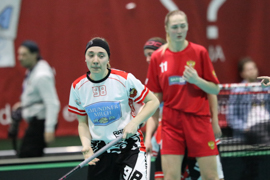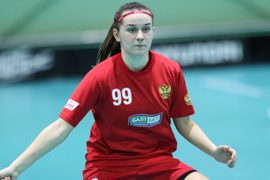 Austria vs. Russia – Lineups
Austria: 26 Victoria Weitgasser, 1 Olga Ruffler – 2 Katharina Prinz, 7 Viktoria Fersterer, 11 Julia Zembacher, 12 Elke Mayrhofer, 14 Nicole Romstorfer, 17 Kerstin Nageler, 21 Simone Reitstatter, 22 Julia Schlub, 23 Sabrina Friedberg, 27 Sandra Kral, 28 Sandra Tonegatti, 32 Melanie Bernert, 36 Vera Gebert, 43 Livia Muggler, 51 Hannah Riedbert, 91 Alexandra Kemptner, 98 Michaela Weinrich
Russia: 98 Elena Savrasova, 61 Iana Beletskaya – 4 Alina Prokhovora, 6 Mariia Kitaeva, 7 Tatiana Kozlova, 8 Vera Pelevina, 9 Anastasiia Skirdenko, 10 Mayya Lytorova, 11 Elizaveta Nadeeva, 14 Sofia Rumiantseva-Mishina, 17 Alena Zhulina, 18 Armine Nersesian, 19 Viktoria Trusevich, 21 Olga Krylova, 25 Ksenia Rapakova, 29 Ekaterina Panfilova, 41 Ksenia Makkoveeva, 90 Mariia Basargina, 92 Elena Kolodiazhnaia, 99 Anastasiia Bulbash
Austria vs. Russia – Gallery
there are 146 impressions of this match:
Flyctory.com Floorball Postings
Here are all Floorball-related postings on Flyctory.com:
Flyctory.com on Social Media
Flyctory.com is active on the following social media platforms:
Furthermore, you can follow the weekly updated Country Music Playlists on