As we used to have a holiday home at Lake Garda, I have been to Venice so many times. Also during my latest visits in more adult ages, I more and more hated the city, to be honest. The reason was that the city simply became more and more over-crowded with tourists. Everything became too busy, too nervous, too packed. Thus, I have been very thankful that I could travel to the Italian lagoon city in September 2020, when Covid-19 massively reduced tourism worldwide. I definitely wanted to go for something which is unlikely to work out on "normal" summer days: exploring the unique city by its unique public transport system, the vaporetto water bus system.
This posting comes with 190 major size pictures in the travel galleries.
The Vaporetto Water Bus System
Of course, the vaporetto (which can most likely be translated by "steam boat") is a public transport system which is driven by boats on water – but in order to understand the system, I feel that water bus is the best translation: the boats follow fixed rules and timetables, there are fixed tariffs and fare rules and the system is open to everyone who is agreeing the follow the rules of the transport.
The at-land infrastructure is thus not too different from bus or tram local traffic in other cities: the landing piers are looking a bit like waiting rooms – and the ticket machines and ticket counters are also quite equivalent. Typically, there are significantly more piers at one major vaporetto stop than you would expect platforms at a local bus station, though.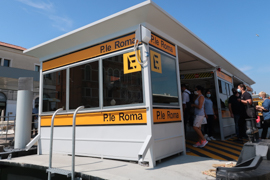 Vaporetto Tariffs & Vaporetto Priority
The typical way to visit Venice is to visit the Venezia Unica website and bundle a couple of tickets (for museums and transport) to a Venice package. For the ACTV, which includes Venice water bus services, but also the tram to Mestre and most buses, you can buy day tickets. A one-day ticket (adult) is 20 Euro, a two-day one 30 Euro and the one week ticket is 60 Euro. This may sound ridiculously high, but a one time ticket (no matter if you take one station of the full route of a vaporetto line) is 7.50 Euro, so the day ticket pays back after three boat rides. If you plan to stay in the city for a longer time, you may go for the long-term stay and resident visitor card, which will reduce a one trip fare to 1.50 Euro. In order to reduce this usage of that, non-residents have to pay a fee of 100 Euro to receive the personalized ticket, which money account can be simply topped up. There are also monthly and annual tickets.
At certain stations (e.g. at the Lido), residents are given priority. This means that they enter the boat first. before the gate for tourists is opened. This may feel odd at first sight, but you simply need to see that this is the locals' bus system on the water and they likely need to do that trip right now – while tourists do it for fun. Even during my visit with low visitor numbers, you might miss a connection at Lido, as it was already crowded with locals.
The Vaporetto Boats
I read that the vaporetto system is driven by 150 boats. The number felt quite low to me, but I cannot validate it. There are no fixed types of boats, some styles also differ by the route they are used on.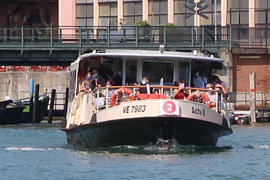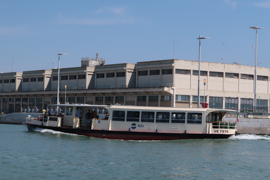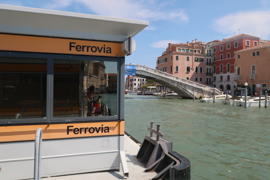 The same source I had stated an average vaporetto capacity of 230 people. This might sound big, but the vessels are not super-huge and quite a bunch of the capacity is indeed standing capacity. Some boats have outside seating at one or both ends of the boat, which is of course the most popular seating amongst tourists.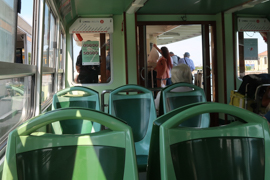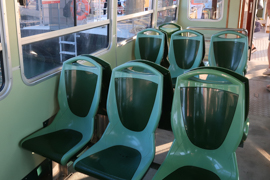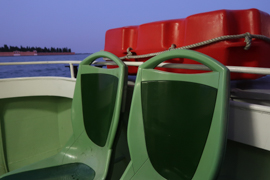 Exploring Venice by Vaporetto
During my time in Venice I took three trips around the laguna: first, I went for Route 2, which is connecting Ferrovia (Train Station) with Saint Mark's Square via a Southbound route (the same as the Lido ferries are taking. Line 5.1 was a direct connection from the Lido to Ferrovia, which I did in the late afternoon to early evening and thus had some nice illuminated view. Line 5.1, however, does not connect to Murano, which I did not manage to visit during my trip. Last but not least, Line 1 is likely the most popular touristic route, as it crosses the whole Canale Grande to the Saint Mark's Square and the Lido. I did that route in two steps, connection from Saint Mark's Square to Lido on Friday evening and made use of the first part of the connection on early Saturday morning. In order to have reasonable seating, I boarded the vaporetto at its starting point, Piazzale Roma.
Line 2 from Ferrovia to Saint Mark's Square
I would say that route 2, the Southern route to Saint Mark's Square, is the least popular among tourists. Indeed, you pass a lot of infrastructural areas of Venice, including the cruise terminal and the people mover – nonetheless, the approach to the heart of Venice is a beauty and you can enjoy the vast water traffic, also to the Lido. On top of that, the route is connecting to many living areas of central Venice, so that you meet a lot of Venetians, who are just returning from their grocery shopping or other "normal" activities. Thus, I really enjoyed to do this route first and get a nice feeling about Venice life during Covid-19.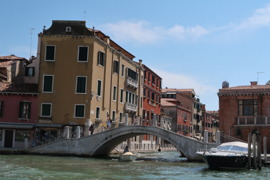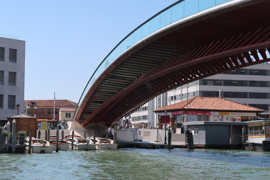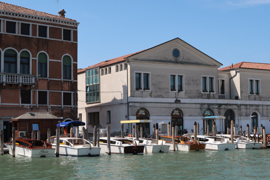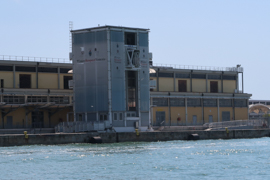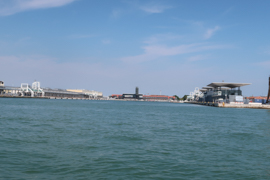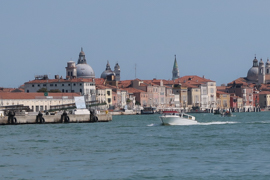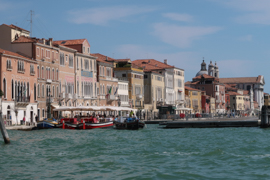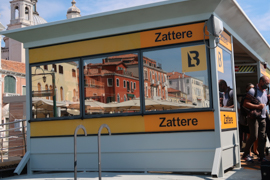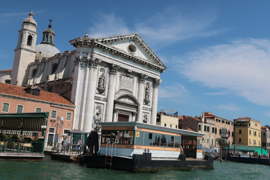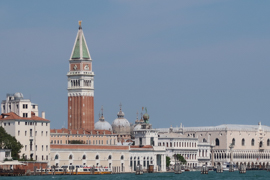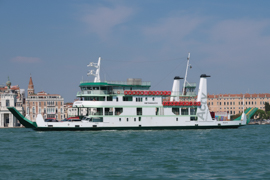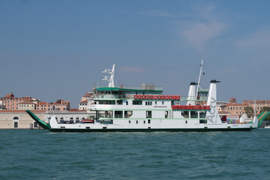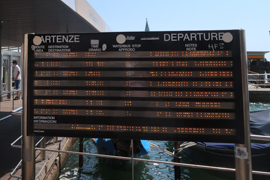 Line 1 from Piazzale Roma to Saint Mark's Square and Lido
No doubt, Route 1 is the touristic classic – also as it is the only daytime route, which is cruising the whole Canale Grande. On an ordinary day, you may do some thankful prayers if you get a seat with a reasonable view when you board the ship at first stop, Piazzale Roma (which is also the terminus for the Venice Tram and local bus services). Even when I did the first part on a Saturday morning, people trying to enter the boat on the second stop, Ferrovia, already had a tough time. I have been extremely lucky that my strategy to grab a front seat worked out – a super-memorable experience passing Venice icons like the Rialto Bridge, the famous Santa Maria della Salute church or several palaces. Canale Grande also hosts a lot of commercial traffic – we passed a funeral, the garbage collection as well as commercial good shipment. Iconic!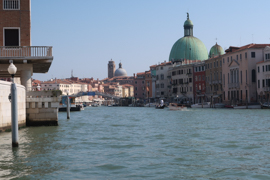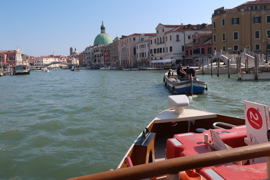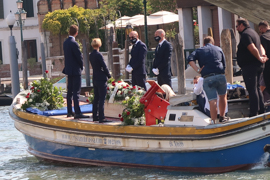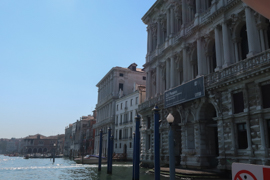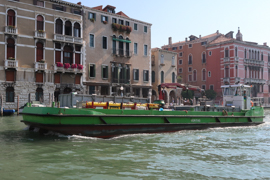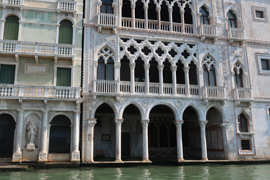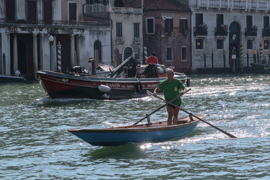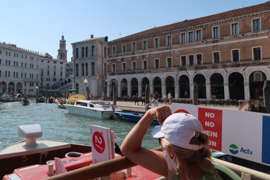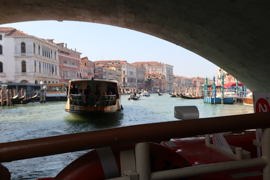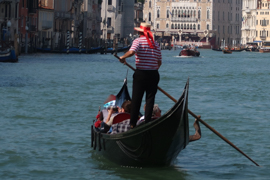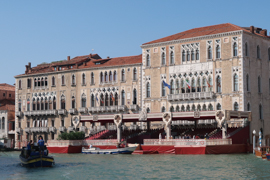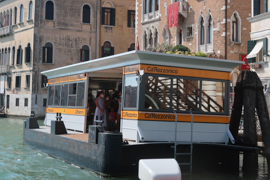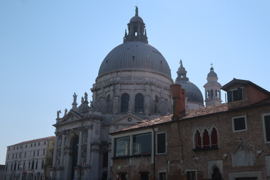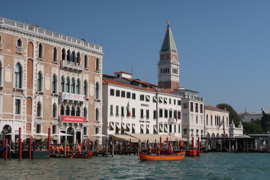 There are just few stops from Saint Mark's Square to Lido – a trip, which I did separately. It is of course beautiful to enjoy the views to all the iconic buildings of Venice when you approach the Lido.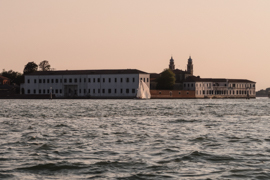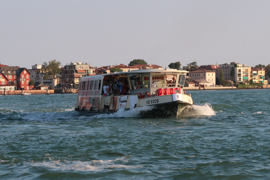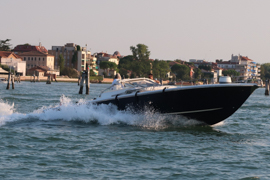 Line 5.1 from Lido to Ferrovia
I enjoyed quite some time at the Lido, which finally prooved to be quite perfect timing. The ride during sunset was just a beauty – and arriving at Ferrovia already close to darkness at illuminated Venice was just a beautiful experience. For sure, route 4.1 via Murano is even more popular – but the pier was that crowded when I arrived at Lido station that I decided for the shortcut. The trip is likely the least iconic of all three I took – but especially due to the light situation and the last section along the Rio de Cannareggio made it a beautiful experience as well. However, be aware that this connection is also very popular among the locals, as it gives quite quick connection to the main island and the train station.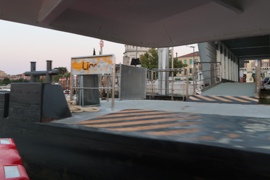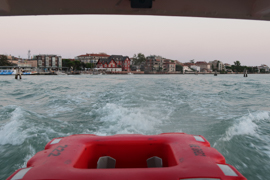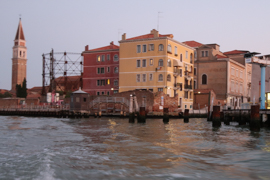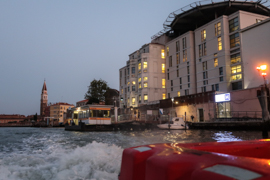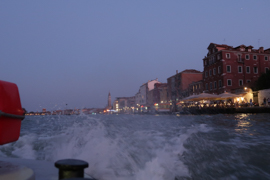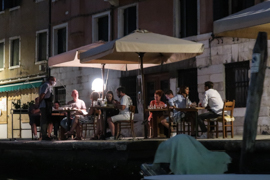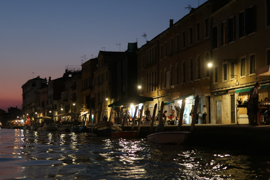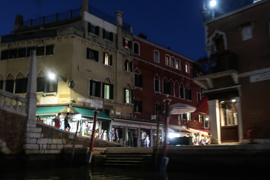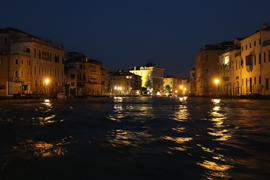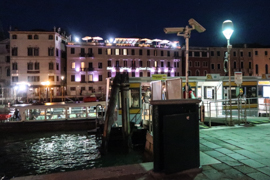 Exploring Venice by Vaporetto – Gallery
I added a a selection of 190 major size pictures to this posting. You find it in the travel galleries:
Exploring Venice by Vaporetto – My View
Exploring Venice by vaporetto is truly magical. However, from previous stays I know that in peak visit days, trying to go for a somewhat relaxing ride along the channels is nearly useless – I would rather suggest to opt for organized tours or taking one of the high-priced water taxis. In many occasions, you are much faster when you walk, Venice as such is not that huge – and if you have a good GPS like a modern smartphone with an offline version of the map of Venice, you will not get lost in the laguna city as well.
Vaporetto Map: ACTV Venezia / Venezia Unica
Ships & Water Travel
Here are more Flyctory.com postings about Ships & Water Travel:
Flyctory.com about Italy
Here are all postings related to Italy: