After IKSU did what they expected to do (and stayed unbeaten), it was up to Storvreta to complete the Swedish double. Their performance against Mlada Bolesav has been quite pleasing – but also Classic took a quite straight route against Floorball Köniz in the semis. Sweden vs. Finland – what a traditional way to finish a floorball tournament. Storvreta had some additional support for this match: first of all, the locals added Alexander Rudd to the lineup, after he missed the semis. Secondly, despite the parallel Storvretacupen, quite some supporters did the short hop from Uppsala to Gävle, which lead to a nice (official) audience of 1,565.
There is a full size picture gallery of this match.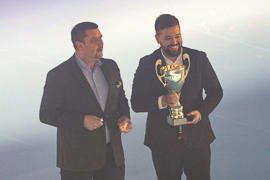 Storvreta vs. Classic – Match Report
From the very beginning, the match was hard and had many small ugly situations. Storvreta seemed to be very interested to heat up the match, maybe due to the great supporting crowd behind them. Joonas Pylsy was not impressed about it and scored the first goal of the match from the right wing (6th). The following situation was very unfortunate: both teams were ready for face-off again, when the Storvreta bench threw Viktor Klintsten's water bottle towards him. You have to say that the goalie always gets his bottle handed over from the bench in breaks, so the only aim of this action was to slow down the match. I am not sure whether the refs got the situation right, a strict application of rules would have been a match penalty. The situation became even more dishonorable as Klintsten complained again and again to get his goalkeeper's area cleaned now.
Oh yes, there was floorball was well (and some fighting…). Rasmus Sundsted tied the score in the 14th minute. Jussi Piha scored short-handed in the 18th minute – neither the defense nor Klintsten looked well at this having-a-lot-of-time-to-aim near post shot. Jimmie Pettersson protested and went to the bench for two minutes. There were a lot of hard situations in this time. Thus, it was not too surprising that the last goal of the first period was equally short handed. Pylsy did a lovely pass interference with 69 second left on the clock to give Classic a 3-1 lead.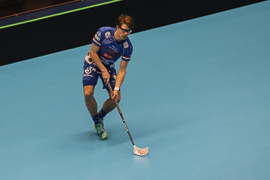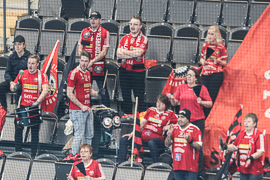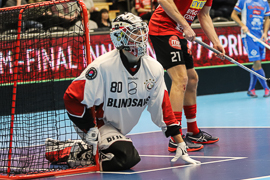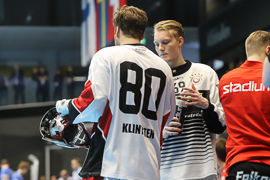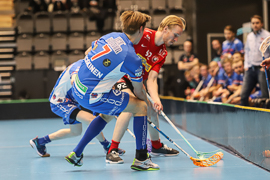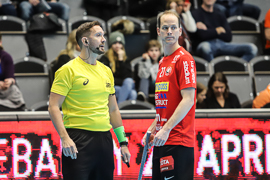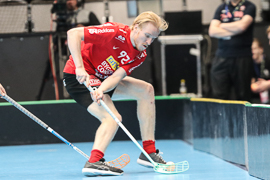 Storvreta lost its Game in the 2nd Period
Classic went for the decision early in the second period. Thereby, the took profit of the fact that Storvreta more and more struggled with the match situation. It was another too easy turnover by Krister Savonen which lead to the 1-4 goal by Sami Johansson after 44 seconds. Pylsy waited on the far post to convert a precise pass by Oskari Heikkila in the 27th minute. Two minutes later, Classic lead by five goals, when Eemeli Salin set the counter to six in another fast break situation. It just felt too easy in that time for Classic to score. Valdemahr Ahlroth took profit of a power play in the 35th minute, but nevertheless Storvreta was still trailing by four goals after fourty minutes.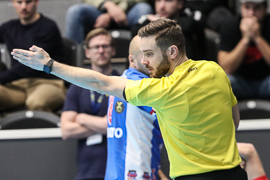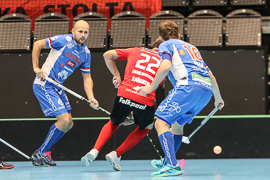 The Finnish Party
Albin Sjögren's goal gave some hope to Storvreta at the beginning of the third period. But Classic gave a lot of pride to the Finnish soul in this match. Krister Savonen converted in power play two minutes later by a penalty shot in power play. At least when Johansson nailed the ball below the crossbar in powerplay (53rd minute), the match was decided. Storvreta tried to add pressure with six field players, but that day was just terrible for the Uppsala team. They just received two empty net goals (Salin, 54th & Heikkila, 55th), which sealed their faith and gave Classic the big Gävle party.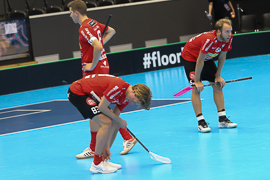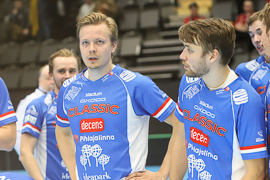 Storvreta vs. Classic – My View of the Match
No, that's not what the Swedish fans and organizers expected. Not just that Storvreta lost (against a Finnish team, even worse…) and thus that the two-day shorty in Gävle ended with frustration. The way Storvreta played that final was just inappropriate. Having an emotional match when you go for a small "Finnkampen" is what you would expect, but this one was too dirty. Thomas Andersson and Rickard Wissmann had a tough time with their countrymen, but they somehow kept control on that battle. Too much protesting on the one side, while Classic had a gameplan and played it.
Finally, the way Tampere played was just impressive. Very concentrated in most situation and very cool when Storvreta gave them chances to get closer to the 10,000 Swiss Francs paycheck. There is no doubt that this cup deserved to have a short ferry trip across the Baltic Sea – no matter how much it will hurt to see it swimming away when you stand at the Gävle shoreline.
Storvreta vs. Classic – Lineups
Storvreta IBK: 80 Viktor Klintsten, 1 Simon Olofsson, 69 Jakob Pettersson – 8 Jimmie Pettersson, 10 Fredik Lindholm, 11 Filip Stenmark, 12 Henrik Stenberg, 13 Mattias Samuelsson, 16 Victor Andersson, 17 Niklas Winroth, 20 Valdemar Ahlroth, 21 Jesper Berggren, 22 Albin Sjögren, 24 Linus Jamtdal, 50 Michael Jansson, 66 Rasmus Sundstedt, 77 Tobias Gustafsson, 83 Emil Helmrich, 92 Alexander Ruud, 97 Robin Nilsberth
SC Classic: 35 Lassi Toriseva, 24 Pietari Jaaskelainen – 2 Eemeli Akola, 4 Konsta Tykkylainen, 7 Albert Koskinen, 8 Juha Kivilehto, 9 Eemeli Salin, 10 Oskari Heikkila, 11 Sami Johansson, 12 Eetu Sikkinen, 15 Aaro Helin, 16 Jussi Piha, 17 Janne Lamminen, 19 Joonas Pylsy, 20 Nico Salo, 45 Jere Pulkkinen, 56 Krister Savonen, 61 Tino Salminen, 66 Mikko Leikkanen, 72 Atte Eronen
Storvreta vs. Classic – Gallery
410 pictures cover the Champions Cup Men's Final in the sports gallery section:
Flyctory.com Floorball Postings
Here are all Floorball-related postings on Flyctory.com: