After the Netherlands showed a good fight against Slovakia, they had to compete against likely the strongest team in their group, Latvia, on Saturday. For the Latvians, it was about to strengthen their position after the strong performance against Hungary and go on on their straight route to Neuchatel.
There is a designated full size picture gallery for this match.
Netherlands vs. Latvia – Match Resume
Overall, the Dutch team again showed a pleasing performance and proofed that they are a rising floorball nation again. Latvia had a quick start, leading 3:0 after eight minutes, but the Dutch played a good game and even scored their golden goal by Kike Wolters late in the first period. Due to the Slovak victory against Hungary later the day, Latvia already qualified for Neuchatel after their second match. Like the Hungarians, the Dutch now needed to go for one of these "theoretical chances" in the direct clash between the two teams.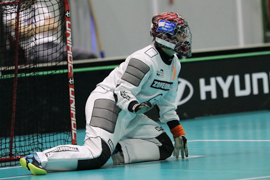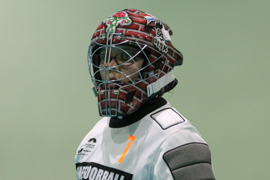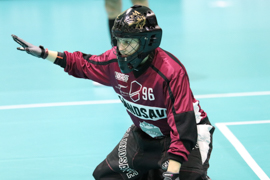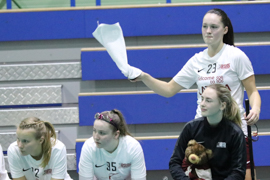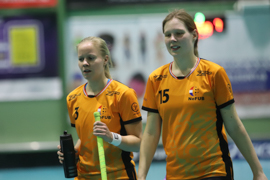 Netherlands vs. Latvia – Lineups
Netherlands: 96 Ditte Moejes, 1 Dorothee Vogelesang – 3 Astrid Beelen, 4 Nina van Mastrigt, 7 Danielle Michels, 8 Lisa Koopmans, 9 Maaike Moes, 10 Merle Eppink, 11 Marissa Meijer, 14 Inge van Dasselaar, 15 Inge Tensen, 20 Susanne Spijkerman, 22 Faybienne Kollau, 24 Rebecca Krauts, 25 Nonne Hodes, 34 Tess Ruger, 37 Kike Wolters, 38 Loena van Roojen, 39 Marcella Govers
Latvia: 96 Kristina Kirilova, 99 Lauma Visnevska – 5 Eliza Elizabete Berzina, 8 Liba Daija Mikova, 9 Paula Egle, 10 Dzenia Eglite, 11 Simona Grapena, 12 Kristiana Gravite, 13 Klinta Martinjekaba, 15 Liga Vancane, 20 Maria Stapkevica, 21 Madara Adamane, 22 Inga Arnetere, 23 Elizabete Pavlovska, 25 Paula Metala, 55 Laura Gaugere, 59 Evelina Garbare, 88 Liene Krauja, 91 Liga Garklava, 95 Anna Ankudinova, 96 Kristine Kirilova
Netherlands vs. Latvia – Gallery
There is a 154 picture gallery of this match:
Flyctory.com Floorball Postings
Here are all Floorball-related postings on Flyctory.com: