On the road to Neuchatel, Hungary and Netherlands had quite bad positions, but at least the advantage that they knew the exact result to take the trip to Switzerland. However, the task was tough after Norway surprisingly beat Denmark in Poland. Both teams had to win by some fifteen goals to take the ticket. The Dutch had played a pleasing tournament before and gave quite much trouble in their matches against Slovakia and against Latvia. Hungary did well against Latvia as well, but were crushed by amazing Slovakians in the Saturday night match. Most of the spectators left, as expected, after the Slovakia vs. Latvia match. One the one hand, the stands were empty – on the other hand, the internet worked again now.
There is a designated full size picture gallery for this match.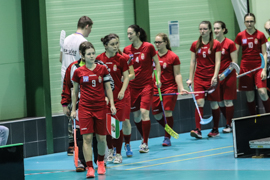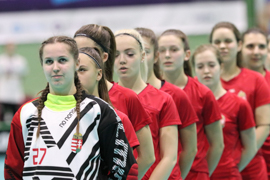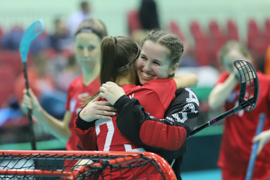 Hungary vs. Netherlands – Match Report
Hungary had the start they needed. Putting pressure on the Dutch goal from the very first second, Kitti Padar stole the ball from the Dutch defense after 34 second and passed to Aliz Zsamboki for the first lead in the match. Hungary had some chances to raise the score, but the match more and more turned towards equal pressure and finally even with a slight touch to the Netherlands. Thus, the intermission score, which Loena van Rooijen was responsible for (14th minute), was well deserved.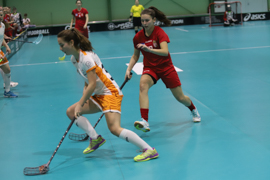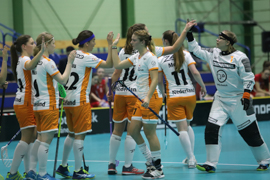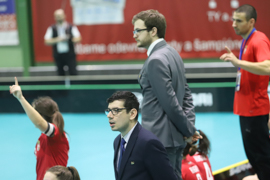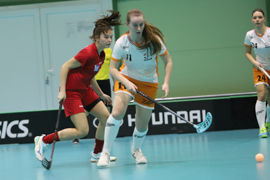 Dutch Offense without Luck in the 2nd period
The Dutch team started better in the second period, but Karolina Babusa was the wall in the Hungarian defense. Vivien Farkasne Varadi saved her team with three minutes left on the matchclock in the second period. After a free hit from the face off spot, she stayed cool in the slot and converted her second shot. Both teams had a lot of chances in that period, but finally this was the only goal in the second period.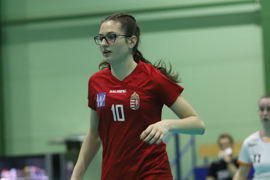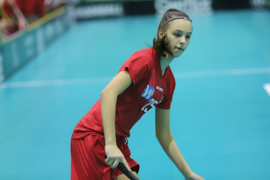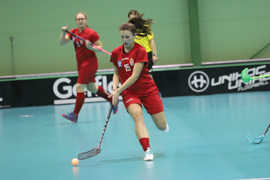 Hungary seals Place 3 in the final twenty minutes
The two teams continued their battle in the third period and gave focus to their defenses. On both sides, the offensive lines kept to play comparably complicated and ineffective. Hungary looked slightly better and were given a penalty shot after 55 minutes. Dora Szalai converted like in the Slovakia match. One minute later, Nora Lelovics, who later was awarded best Hungarian player of the tournament, stopped any Dutch hopes when she raised the lead to 4:1. At the end of the match, some Dutch players were in tears.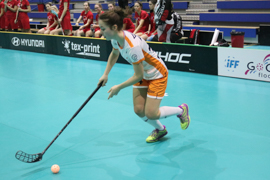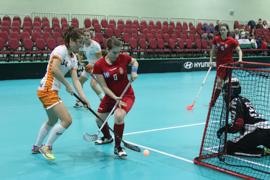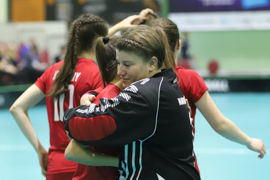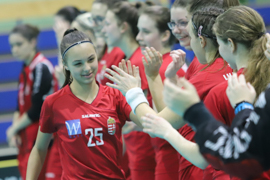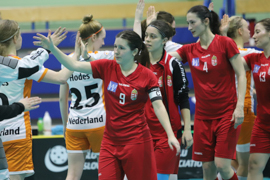 Hungary vs. Netherlands – My View of the Match
I felt that there is no need for Hungary or the Netherlands to be disappointed. Especially the Dutch teams showed massive improvement compared to previous performances. They were also unlucky to end up in a group, in which they had no chance to pass Latvia or Slovakia. I was very proud of my favored young Hungarian team, who showed some great talents and should be able to play a great role for the Uppsala 2021 qualification.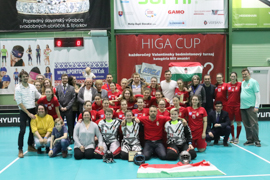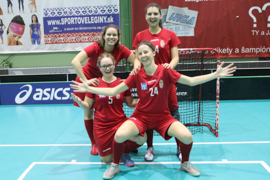 Hungary vs. Netherlands – Lineups
Hungary: 1 Reka Mozes, 11 Fanni Marton, 27 Karolina Babusa – 2 Zora Elek, 3 Emese Bodocs, 4 Anna Takacs, 5 Dora Szalai, 6 Kitti Padar, 8 Orsolya Stipcisz, 9 Nicole Vertesi, 10 Eszter Gonczi, 13 Vivien Farkasne Varadi, 14 Anna Tenyi, 15 Blanka Benyo, 17 Kinga Orovecz, 19 Aliz Zsamboki, 20 Petra Magyar, 21 Dora Veres, 24 Zsofia Petri, 25 Nora Lelovics
Netherlands: 96 Ditte Moejes, 1 Dorothee Vogelesang – 3 Astrid Beelen, 4 Nina van Mastrigt, 7 Danielle Michels, 8 Lisa Koopmans, 9 Maaike Moes, 10 Merle Eppink, 11 Marissa Meijer, 14 Inge van Dasselaar, 15 Inge Tensen, 20 Susanne Spijkerman, 22 Faybienne Kollau, 24 Rebecca Krauts, 25 Nonne Hodes, 34 Tess Ruger, 37 Kike Wolters, 38 Loena van Roojen, 39 Marcella Govers
Hungary vs. Netherlands – Gallery
there is a xxx picture gallery of this match: