SB-Pro vs. Turku, part 2: just the day after SB-Pro beat FBC Loisto on the road, they hosted their local rivals TPS in the Klaukkala Arkadia-Halli. Definitely a match with very different pre-requisites – TPS was at least thought to be an even-strength team, despite they had lost their Saturday before right before. You could expect a close battle – I definitely looked forward to this women floorball F-Liiga match North of Helsinki.
This posting comes with a section of 315 major size pictures in the sports galleries.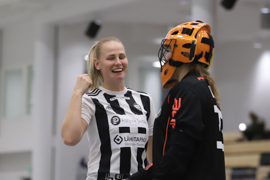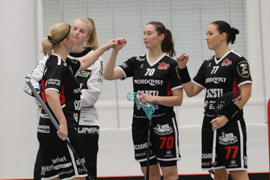 SB-Pro – TPS Turku – Match Report
The match started as a really quick and good-to-watch match with slight chances on both sides. In front of 224 spectators, including Turku's most famous floorball fan Tero Toyrylä (who even gave a touch of big game with his drum when the other spectators were not too active), no team really felt to break through. However, after some ten minutes, it has been a series of goals which completely turned the match. First of all, the guests got in the lead in the 11th minute by Mirja Hietamäki, who profited from one Turku player losing the stick and thus busted her team's defense.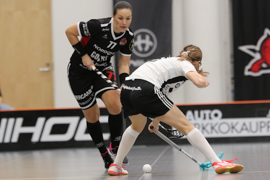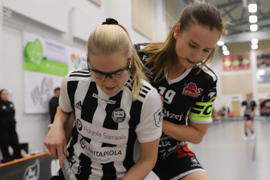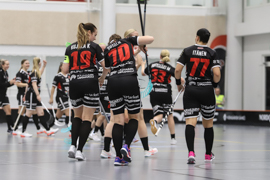 The next three minutes showed threee more goals – and all of them were scored by TPS. Just ten seconds after Hietamäkis lead, Sofia Leino almost scored after her team winning the face-off. Especially the first line of TPS with the Rantanen sisters, captain Jenna Saario, Milla Nordlund and Ina Leminen felt too dangerous for the hosts – and they scored two goals. Laura Rantanen's goal in the 13th minute felt to be a gift from the SB-Pro defense, who could not control the ball just a few meters in front of their own goalie Milla Jaatinen, The third goal by Saario felt like a knock-down for SB-Pro – as seconds before the TPS captain finished a fast break successfully, Laura Hietamäki had hit the bar on the other side of the rink. 1-3 instead of a possible 2-2. To add some more bad luck, I felt that the Hietamäki shot, which dropped down from the bar, might have crossed the goal line. Turku controlled the match now, so the score after twenty minutes felt more and more deserved.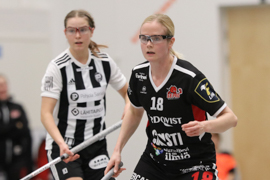 Four Goal Lead after 40 Minutes
While the second period started quite well for SB-Pro, they just did too many silly mistakes in this match. In the 26th minutes, the defense as well as Jaatinen could have cleared a really slow ball – but finally Joanna Kaasalainen reacted quicker than any other player and tipped the all passed the baffled SB-Pro goalie. The fifth goal for TPS was more than bad luck for SB-Pro again. In the 28th minute, it was in fact a weak free hit by the hosts, which more or less lead to an immediate fast break. The game plan by the guests worked out again, they scored a lovely goal after a few precise passes, which finally gave Milla Nordlund a free position in the slot, just needing to tip in front of the Nurmijärvi goal – this time, there was absolutely no chance for Jaatinen to prevent the fifth one.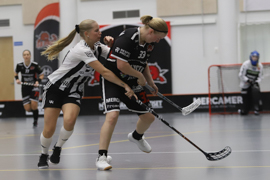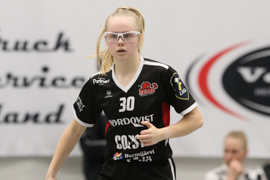 You could not argue that SB-Pro had no chance in the second period. But neither Mirja Hietamäki nor Karoliina Kujala could give back hope to their team after excellent fast breaks. Thus, the score stayed at a four goal lead until the second intermission – also because both teams hit the post once each close to the end of the second period.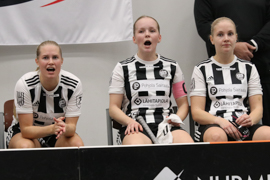 Tuokkola with a Goal for SB-Pro – but TPS got the Party
SB-Pro tried to alter the tactics a bit and especially tried to have more common rink time for the Hietamäki twins (which also meant that the Kujalas did not always join forces). Turku felt too save though. You felt that these three points were very valuable for the guests, both sides acted more nervous. There were also some discussions about referee decisions. The referees did not feel to have full control of the match – including scenes like Anu Raatevaara applauding when the umpires sent Meri-Helmi Höynälä to the sin bin for two minutes (the refs did not react on that at all). SB-Pro profited of that and scored in power play by Aino Tuokkola (53rd) with a remarkable shot from the left wing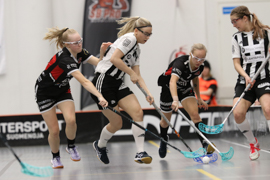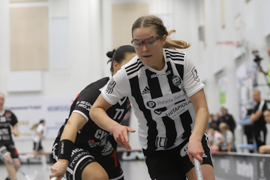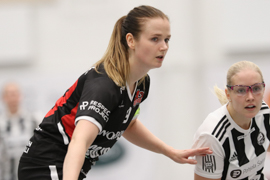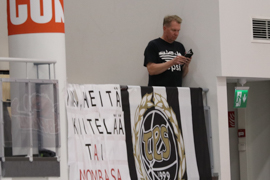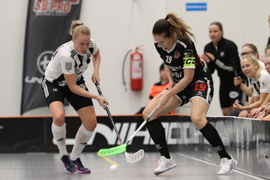 However, that's about it. SB-Pro did have two more entries to the match report – but both have been minor penalties. TPS Turku anyway felt to be too strong and SB-Pro too unlucky and clumsy in this match, so that the guests could fix their position at the upper region of the table, while SB-Pro stayed in F-Liiga average areas.
SB-Pro – TPS Turku – My View of the Match
TPS Turku had an excellent game plan in this match – and they hit SB-Pro at a very weak point of their game during this time of the season: mental strength. TPS gave the hosts an uncomfortable match. The 2021-22 Women F-Liiga season as a lot of potential to become a very interesting one, as this momentum may turn in favor of other teams within a few weeks already.
SB-Pro – TPS Turku – Lineups
SB-Pro Nurmijärvi: 16 Milla Jaatinen, 31 Nuppu Tikkakoski – 3 Jenina Hämäläinen, 4 Mea Kiuru, 7 Aino Tuokkola, 12 Saana Neulasalmi, 15 Emma Kankainen, 18 Elina Kujala, 19 Karoliina Kujala, 20 Anu Raatevaara, 22 Laura Hietamäki, 30 Aada Isometsä, 33 Mirja Hietamäki, 55 Heini Haapalahti, 60 Jenna Ronkainen, 70 Juulianna Sotola, 77 Emma-Karoliina Itänen, 83 Emmi Lindh, 86 Anni Räisänen
TPS Turku: 35 Noora Vuorela, 50 Lisette Blomqvist – 10 Anna Manrttala, 12 Saara-Kaisa Suomela, 15 Diana Klavan, 17 Sini Niinikoski, 19 Melissa Aydemir, 21 Seraina Fitzi, 23 Meri-Helmi Höynälä, 24 Ida WIberg, 26 Joanna Kaasalainen, 28 Laura Rantanen, 44 Milla Nordlund, 65 Aino Järvinen, 69 Ina Leminen, 79 Cira Virta, 87 Noora Rantanen, 89 Jenna Saario, 96 Sofia Leino
SB-Pro – TPS Turku – Gallery
In the sports gallery, there is a designated major size picture gallery with 315 pictures of this match at
SB-Pro Nurmijärvi
Here are all postings regarding my favorite Finnish team, SB-Pro Nurmijärvi:
Flyctory.com and Iceland
Here are all my postings related to Iceland: