Slovakia and Latvia were both already qualified for Neuchatel when they competed in the second last match of the Trencin tournament. The winner would finish Group 4 as winner. Here is just a quick look to the match with a minor picture gallery.
There is a designated full size picture gallery for this match.
Slovakia vs. Latvia – Match Resume
I did not see too much of the match, but the scenes I saw gave 600 spectators in the too-crowded looking M-Sport Centrum a fantastic floorball fight. The hosts had the better day, took an early lead by Michaela Sponiarova after 25 seconds and never gave Latvia a tie again. The match was extremely dynamic. The two best teams of Trencin – apart from Finland, of course – gave their final show, which finally was won by Slovakia with 5:3. Thereby, Slovakia continued their strong streak after the dominating performance against Hungary.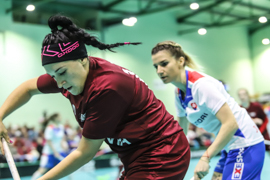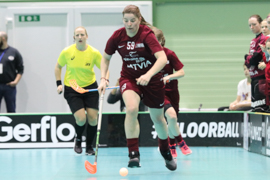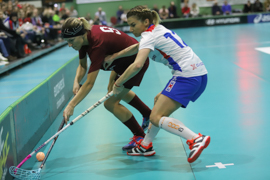 Slovakia vs. Latvia – Lineups
Slovakia: 91 Jana Dupcakova, 31 Pavlina Farulova – 2 Alzbeta Durikova, 3 Sarka Bolova, 6 Lenka Dobrodejova, 8 Alexandra Faktorova, 10 Denisa Ferencikova, 12 Katarina Klapitova, 15 Lenka Lencesova, 19 Katarina Marcinkova, 24 Lucia Jelinkova, 26 Jana Troskova, 30 Paulina Hudakova, 39 Lenka Cuprakova, 48 Michaela Sporniarova, 71 Kristina Belicova, 73 Viktoria Grossova, 75 Klaudia Robova, 81 Klara Grossova, 88 Kristina Hudakova
Latvia: 96 Kristina Kirilova, 99 Lauma Visnevska – 5 Eliza Elizabete Berzina, 8 Liba Daija Mikova, 9 Paula Egle, 10 Dzenia Eglite, 11 Simona Grapena, 12 Kristiana Gravite, 13 Klinta Martinjekaba, 15 Liga Vancane, 20 Maria Stapkevica, 21 Madara Adamane, 22 Inga Arnetere, 23 Elizabete Pavlovska, 25 Paula Metala, 55 Laura Gaugere, 59 Evelina Garbare, 88 Liene Krauja, 91 Liga Garklava, 95 Anna Ankudinova, 96 Kristine Kirilova
Slovakia vs. Latvia – Gallery
Here are 130 pictures of the top match of Group 4:
Flyctory.com Floorball Postings
Here are all Floorball-related postings on Flyctory.com: