This is a posting I am aiming to write since ages somehow. I visited so many hotels – not just during the Flyctory.com days – and there are still some things I just do not understand. Basic mistakes which too many hotel just do not right. In recent times I ran into a bunch of these point again. Maybe one day, I write a book. Something like Driving a Hotel for Dummies – A Guide from a Frequent Traveler Perspective. So far, I just bother you with this posting – hope you enjoy and also have some fun reading it.
I would definitely also enjoy to discuss some points with you, if you feel I am wrong in them.
Some Things Too Many Hotels Still Do Wrong
Here are the biggest unnecessary frequent pain points in hotels worldwide – happy to discuss with you about my ideas – maybe you got different ones?
We are an Internet Community Now – Give Us WiFi!
At least there are hardly any more hotels who charge you for WiFi nowadays. Still, the availability of a reliable internet connection (where somehow doable) is a must – regardless if it is a simple stay or a posh business place. I recently had a stay in Lübeck, Germany, where they put the "work desk" in to the most far-behind corner of a room of an old house with thick brick walls. The result was… No reception. I had great connection on the loo… But do you want to work there? They called it Business Room. Not sure if that's the kind of business they meant.
Every Mobile Needs Its Power Socket
The second point on my list even leads to issues in rather posh and luxurious overnights. Nowadays, I feel, you should have at least two power sockets at the work desk plus sockets or at least USB ports next to the bed. The reality of traveling nowadays simply includes a mobile phone and a notebook. It is not just me who wants to recharge overnight, guys! As I am really having very frequent issues with the availability of power plugs, I never travel without a plug strip.
Only The Perfect Does Not Need Feedback
How did you like staying with us? The question is really simple, ain't it? I just don't understand why the hotels nowadays more and more don't ask it. Yeah, these online forms which (for the hotel: hopefully) lead to a good rating at Tripadvisor are popular – but ain't there a better way to get good feedback than a chat with the guests. Even if there are just minor things, I am always very open to give honest feedback – and to me it is an absolute statement of quality if hotels react well about my thoughts. This doesn't mean extra frequent customer points for your account, but really thinking about your thoughts.
Breakfast Times Please
Especially for airport hotels and rail hotels, where some guests may have to leave for early connections, this is an extremely valid point: too many hotels fail to give exact breakfast times on their website. Not too rarely, I need an early breakfast to head on on my trip. A very similar issue are parking fees, by the way. Sometimes, booking.com is the only somehow reliable source of truth… But of course, it may not be the channel you booked with.
Housekeeping is an Ambassador To The Guest
I meet the reception at check-in and check-out and maybe at one or two requests during my stay. Then, there is breakfast staff or restaurant employees, which you might meet in the morning and in the evening. Too many hotels underestimate how their housekeeping is a branding your feelings about a stay. Not just having a nicely cleaned room, but also the way they treat the guests when you happen to meet in the hotel. Recently, two house keepers already stepped into an elevator which was already above its Covid-19 capacity, not wearing a mask. These are no gos to me. Even though I assume they might be managed by another company.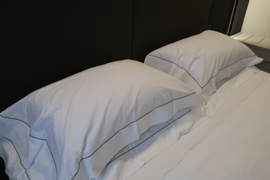 A Good Cushion Is Your Premier Business Card
Even though I have so many thoughts about what a good hotel is alike, I could never manage or own one. Some things about guest behavior would drive me mad. Likely, hotel guests also take cushions with them. That's the only rationale I see why some hotels offer you ridiculously thin and cheap ones, which make you feel like being in a low-cost airline's economy class. A reasonable cushion is not too expansive. And it gives you a good sleep. Good night means happy guests. Happy guests come back.
I am Travelling, I do have waste
During my recent trip to Iceland, that was a issue at almost any hotel I stayed in: if you are not a very central city hotel and most of your guests come by car, they inevitably have waste in their car. They ate, they drank, they did… whatever. And, finally, they want to get rid of it. I personally feel that dust bins on hotel car parks or at least before you enter the hotel are an absolute must.
You Know When I Left – Housekeeping on Check-Out Day
Yeah, there were these times, when there was no internet, no mobile networks. Even though there were still radio connections during that time, I do understand that it was more difficult to communicate with your staff during work. These times are over since at least fifteen, twenty years. I just don't get why house keeping is knocking on your door (or is even in your hotel room) at check-out day. Reception should tell them when you are leaving. Not too rarely, they knock the door ridiculously early.
By the way, I had the worst situation recently when house keeping stepped into the neighboring hotel room, which was marked with the good old Do Not Disturb tag. They just stated that too many people forget to take it away, so that they do not care. A nice way to solve it is not link these damned keycard-main power switch things with a display outside the hotel, so that you see if there is somebody in the room. I guess it is a bit different in the US, where you just leave the room at some chains.
Dust Bin, reloaded
In this posting, I feel to be addicted by… Dust. Somehow. Maybe the hotel room's dust bin is on the top of the list of travelers' souvenirs – but, hey, I still need one. Not these tiny tampon holders in the bathroom. A proper one. I sometimes eat, drink in a hotel room. I need to get rid of my waste somehow. It is surprising how many hotels still don't have that simple service in the living / sleeping areas of their rooms.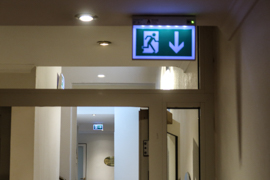 I Want To Get Out – Emergency Routes
Call me coward – but one thing which especially happened rather frequently during the last twelve months to me is that there was no proper emergency exit route at (or around) the room door. Most of the times, they were missing – at some occasions, they were either wrong or fixed in a way that you have no way to see them in case of fire. I unfortunately can only downgrade hotels in few regions of the world to it, as I am not sure how legally binding this is in other countries. Since I have been to flight crash emergency support training, I am quite aware of how important it is to quickly find the right route in case of fire or any other emergency.
All "classic" blog posts
No reviews – just debating and certain topics – these are my "traditional" blog posts in the categories Just blogging, Just blogging on music and Sports Blogging:
Hotels with Top Pick! Ratings
Here are all hotels and other accommodations, which received the Top Pick! rating on Flyctory.com: