Going from Northern Iceland's largest city to the famous Myvatn Thermal Bath or even further on to Egilstadir – the Northeast part of Iceland's famous Ring Road 1 is very popular among tourists. However, the direct route also takes you to a rather mixed experience – the direct route features Iceland's only toll route. When I visited the area in summer 2021 (and have been too thrifty to pay toll multiple times), I also had a look at two alternatives. Here is my view about how to do this part the classic Iceland round trip best.
Vadlaheidargong Toll Tunnel Area – Location
The Vadlaheidargong tunnel is part of the ring route / Hringvegur / route 1 in Iceland. It is located Northeast of Akureyri and has a total length of 7,206 meters. There is just one tunnel tube, which is servicing traffic in both directions. German Wikipedia states that the tunnel is in average used by 1,800 cars per day.
The two alternatives are both located North of the tunnel. However, the very route connecting Akureyri to the East coast of Iceland has been the Bíldsárskard pass, which is according to my sources nowadays only used for horse riding and similar activities.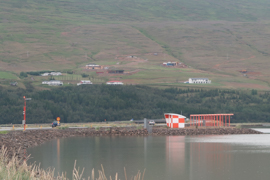 Vadlaheidargong Toll Tunnel and two Alternatives
Here are my thoughts about the different routes leaving Akureyri in Northest direction.
The Straight Way – Vadlaheidargong Toll Tunnel
The road toll for the tunnel is 1,500 ISK (for cars), roughly ten Euro. You pay the toll for every trip you take through the tunnel – a return trip is two passages. There are no toll booths, you have to pay the fee online. The toll has to be paid in a period of 24 hours before the in-fact passage to 24 hours thereafter. This especially means that if you pay more than 24 hours in advance, your payment will not be processed. You can buy packages of multiple trips or monthly subscriptions, which are always bound to your licence plate. The trip itself is not too thrilling, as it is just a tunnel. The speed limit in the tunnel is 70km/h.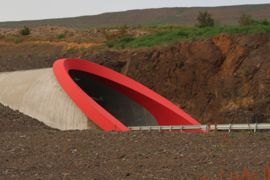 The Efficient Way – Route 83 and 84
This route crosses the mountains over the Vikursgard pass. Even though the road is just climbing up to 325 meters above sea levels, taking route 83 from Akureyri and then changing to 84 may be blocked in winter due to snow. In that case, the tunnel is the only passable connection you can choose, typically. The trip is nice and offers some really beautiful views – especially if you approach Akureyri from the East and explore the fjord of the city while you are approach it. If you are not too much in a hurry, this route is likely the best option in summer, when the tunnel at most saves you 15 minutes of your trip.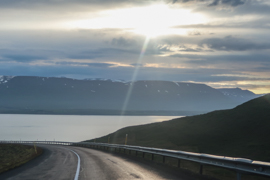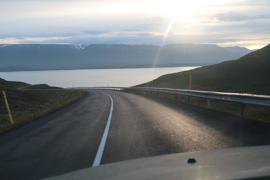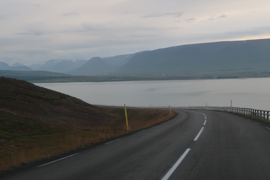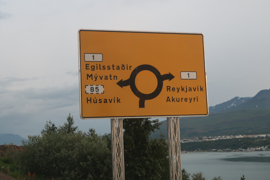 The Historic (and: Memorable) Way – Route 832
My favorite way to do the crossing (at least for a one-time experience – is to use route 832. You reach the road from Akureyri by crossing the fjord and then heading towards road 828, before you turn left to the Vadlaheidi pass. The peak of that pass is 520 meters. While the other two options are paved roads, this one is a gravel road. Despite it is not an F-road, it is limited to 4WD cars and the maximum weight is 5 (metric) tons.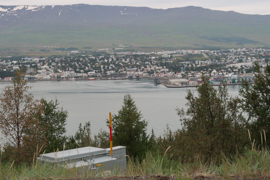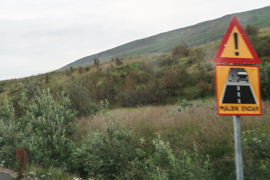 Major parts of driving the 832 is really easy and give you amazing views. You likely don't come across too many other cars (in contrast to the other options). At most, there are some people with their dogs – and, of course, there are a lot of sheep around. The views over the fjord, but also Eastbound are breathtaking.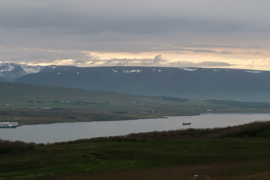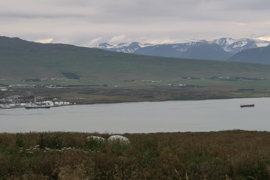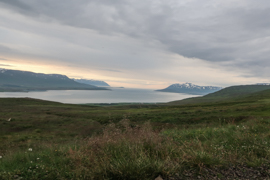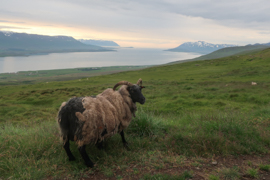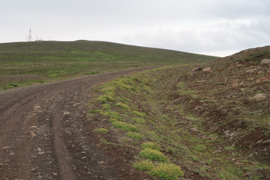 Just when you made already most of the trip (at least when coming from Akureyri), there is the reason why you must not use a normal non-4WD car on that route: a former bridge crossing a creek is only passable for bikers and pedestrians – if you drive a car, you have to ford the creek. This is not a big challenge, but more difficult than the pictures may suggest. A 4WD is likely only necessary in adverse situations like a lot of water running down the creek, but extended chassis clearance is absolutely necessary. At the end, you see the East end of the tunnel from above, which is also a nice thing about chosing 832 named Vadlaheidivegur.
Vadlaheidargong Tunnel & Alternatives – My View
At summer, only time pressure like the risk of missing opening times really suggest to use the tunnel. However, in winter, this place is vital. If you do have a 4WD with you, one of your trips should include 832 in my point of view. It is really a beauty and not too challenging to drive.
Disclaimer: The Vadlaheidargong Tunnel is the only toll road in Iceland. However, in Thingvellir and Skaftafell, you have parking/stopping fees, which act like a toll if you don't pass the area directly.
Postings about Road Trips
Here are all road trips on Flyctory.com
Postings about Akureyri
Here are all my postings related to Akureyri in Northern Iceland: