My trip in May 2022 (driven by the Ice Hockey World Championships 2022 in town) gave my wife and me quite a lot of opportunity to explore Helsinki. One place I had on the top of my list was the Suomen Pankin Rahamuseuo, which is typically named the Bank of Finland Museum or the Money Museum of he Bank of Finland in English. A very interesting place – hope you enjoy the review.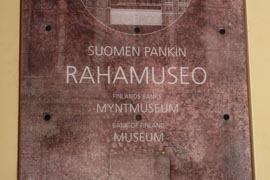 Bank of Finland Museum – Location & Admission
The Bank of Finland Museum is located in the very heart of Helsinki. Key sights like Helsinki Cathedral or the harbor (from where I took a Royal Line City Cruise) are just a few footsteps away from the museum. Furthermore, the Snellmaninkatu street, in which the museum is located, features the Hallituskatu tram stop, which is serviced by three lines (2, 4, 7 / 7H), which more or less halt right in front of the place. I would generally recommend to prefer public transport in the Finnish capital. Car parking is possible, though.
The museum is opening from Tuesday to Saturday. Opening times are 11:00 to 17:00 hrs. On Saturdays, the museum is closing one hour earlier. There is free admission.
Bank of Finland Museum – The Visit
The museum starts at the roots of using money as a way to drive economy. Of the course, the closer you get to current times, the more the museum also takes a the perspective of the developments in Finland. Thereby, you also get to learn key people of the development of the Finnish economic systems, like Risto Ryti, a former Finnish Minister of Finance. There are also some interactive screens, which divert from the pure knowledge transfer to a more modern approach. Especially younger visitors will like that.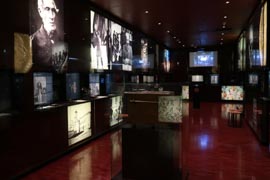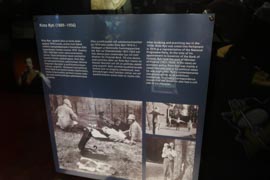 The museum also shows a collection of foreign currencies and the impacts on money. One o the most impressive items in that context is a ten trillion dollar note from Zimbabwe, which also illustrates the impact of inflation very nicely. In a more modern context, you also learn a bit about the Euro. However, you also learn about how money is transferred and how money is comparred, including the famous Big Mac Index.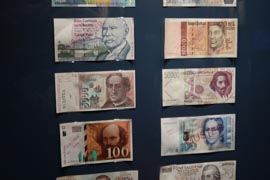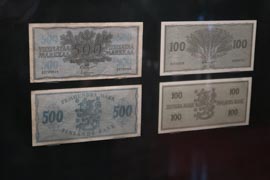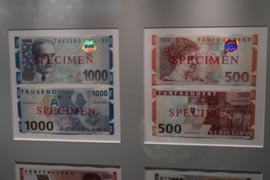 Bank of Finland Museum – Services
Apart from a small gift shop (which is also having some interesting books in stock), there is also a small cafeteria in the looby area of the museum.
Bank of Finland Museum – My View
The Bank of Finland Museum might not be as rich as the German Central Bank Money Museum in Frankfurt, but it is a cool, very informative place to visit. The location is much more central than the Frankfurt one and it is a great presentation, even if you are not too deeply into economics. The museum is definitely worth the 30 to 45 minute break.
(Greater) Helsinki
Here are my Flyctory.com postings related to the Helsinki Metropolitan Area:
Free Entry Places – 2022
Here are all places with free admission I reviewed in 2022: