Despite the undeniable fact that their capital Athens hosted the Olympic Summer Games twice, the only Olympic Museum in Greece is located in Thessaloniki. Being in the city in early October 2018 made me also visit the museum.
Thessaloniki Olympic Museum – Location & Admission
Thessaloniki Olympic Museum is close to the University sites and thus in proximity to several sports facilities. It takes some thirty minutes to walk from city center, so that you may also decide for a bus or taxi transfer.
Admission for adults is 2 EUR. The staff was first of all comparably surprised that I wanted to visit the museum (I also felt quite lonely during the 50 minutes of my visit). Secondly, they were unfriendly when I wanted to pay with a 20 Euro bill – I do not feel that this is too inappropriate. Fortunately, I had just sufficient remaining change. The employees were much nicer after my visit, when I agreed to do their questionnaire, though.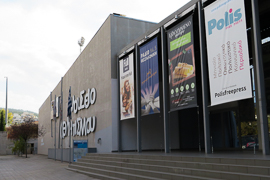 Thessaloniki Olympic Museum – Olympic Cities
Apart from some special areas, you can more or less split the exhibition into two parts:  at the wall of the major hall are exhibits about the Olympic Host cities. The inside of the exhibition place shows the Olympics Sports. I broke the suggested route and visited the museum from present (i.e. Rio 2016) to past (i.e. Athens 1896). There were quite some exhibits (or course, with a Greek focus) for each of the Olympic Games, so that part of the museum was definitely the most enjoyable. The variety of exhibits was quite wide, ranging from sports equipment and medals to Olympic mascots and souvenirs.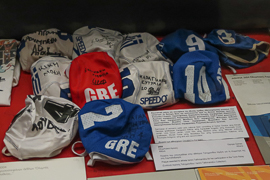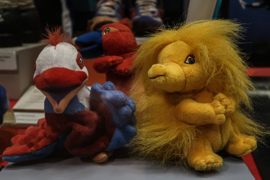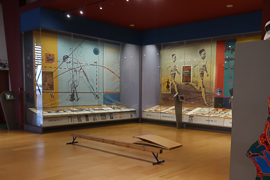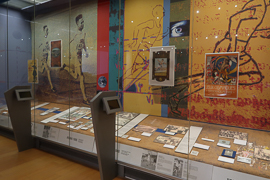 Thessaloniki Olympic Museum – Olympic Sports
Somehow, the presentation of Olympic Sports in the museum has been done in a very motivated way. The explanations try to give an insight into the basic rules of each sports and there are some exhibitions for each of them. However, I felt that this part of the exhibition was even the weaker part: the sports presented were as at the Olympic Summer Games 2008. This means that Baseball and Softball are included (with a banner that they are no longer Olympic). On the other hand, Golf and Rugby Sevens, which were both highlights of Rio 2016 to me, did not have exhibition space. I am also not sure if the Summer Olympic sports were all represented: I felt to miss Archery and Shooting, for example. I was also quite disappointed about Tennis (where Greece had Olympic medals in 1896) and Basketball, which is such a huge sports in the country.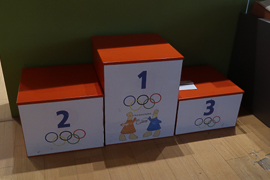 Thessaloniki Olympic Museum – Winter & Paralympics
Have you missed something? Maybe skiing of any kind? Ice hockey? Yeah, the Greek definition of "Olympic" seems to be free of ice and snow. In fact, Greece never won a medal at the Winter Games, but at least there are some Olympic heroes like five-time participant Athanassios Tsakiris. The museum is allowing for Winter Olympics, according to the museum map, but the room only features some spare furniture.
There is a small exhibition on the Paralympics. Unfortunately, this exhibition is not too precise as well. For example, they name Goalball (one of the best Paralympic sports to me) as a kind of football, which is just wrong.
Thessaloniki Olympic Museum – Education
The museum also offers some education rooms like a very small running track. These facilities majorly seem to focus on children. For example, there was a (birthday?) party during my visit.
The museum also offers a temporary exhibition space. I would definitely prevent my visitors from seeing that empty floor. However, in the entrance area, there were some Rio 2016 exhibits.
Thessaloniki Olympic Museum – My View
What do I expect of a sports museum? Education, refreshing memories, definitely also entertainment. Sports museums may be interactive – it is easy to feel the sports. I have been to so many good sports and Olympic museums. Unfortunately, I cannot count the Thessaloniki one as one of them. The place definitely got potential and has some nice exhibits (though I really hoped for more 1896 stuff). The Olympic Cities part is definitely superior to the sports one. Missing some Olympic sports completely and turning the Winter Sports exhibition to a storage room is terrible. The temporary exhibition floor is empty. Time stood still in Thessaloniki – this is maybe why all technical exhibits are not working and even some light is missing. It could definitely be a great place, but the moment, it is not. Staff told me they are planning to upgrade it. Hope they do it soon. If not, I do not understand the high rating of this place.
Other Thessaloniki Postings