I am a huge fan of the Granada Alhambra. I love to visit the wide grounds and dip into the palaces and gardens. When you review the Seville Alcazar, you just cannot cross-reference to the likely most important sight to visit in Andalusia, Spain. The Alcazar has been built as a royal palace for Peter of Castille, based on the destroyed grounds of a Muslim residence. The Alcazar is also showing a strong influence of Arabic geometric designs and is a mixture of different architectural styles. It was also used for some movies, like Lawrence of Arabia and the fifth season of Game of Thrones.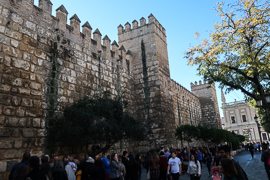 Alcazar – Location and Admission
The Alcazar is located in the heart of Seville old town – the Seville Cathedral is just right across Plaza del Triunfo.
You may buy a ticket online beforehand, which I absolutely recommend. However, the Alcazar website is mainly in Spanish. There are three queues at the main entrance, the "with ticket" queue is by far the quickest. You can also pass the queues by hiring an official guide. Even though being at the Alcazar at a Friday morning in December, the queues to buy tickets were not too long, but they just did not let you in. In the internet I found that you just should come back a later time, the queues become shorter – but the situation was definitely worse when I exited.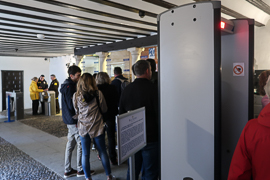 The entrance fee for adults is 11.50 EUR. Pupils and seniors pay 3 EUR. I heard that you cannot buy discounted tickets online – I cannot confirm or decline that. Lucky if you live in Seville or were born there: you may enter for free! If you want to visit the Upper Royal Rooms, you pay an addition 4.50 EUR. Renting an audio guide (which looked like an audio guide, not multimedia one) is quite a rip-off, as it adds six Euro each to your Alcazar expenses.
Alcazar – My Visit
After I finally made it inside, I just spent some two hours in the Alcazar, which feels very short compared to the Alhambra, where I spent more than double the time on my second visit. I could not visit the Royal Rooms upper level (due to availability of tickets). I might even not have visited the whole place, the section on services gives a hint about it.
The Palaces
After you survived the entrance procedure, you are at the nice Patio del León, a small garden area. The next area, Patio de la Monteria, is something like the main square, where several palacios and casas are diverging from. The patio itself belongs to the rather minor Palacio del Yeso. Maybe the most impressive part is Palacio del Rey Don Pedro, which also covers the throne rooms. I also loved strolling through Casa de la Contratacion and Casa del Asisente. The palace I visted last is Palacio Gotico, where they also sold products produced by monastries.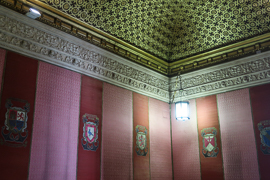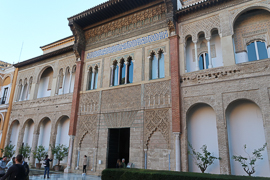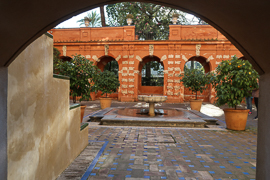 The Gardens
I loved strolling through the gardens, looking at the ponds and fountains and enjoying all the Seville oranges on the trees. Unfortunately, most of them are bitter oranges as used for Blue Curacao liqueur, which you cannot eat – so you easily resist to grab one. Maybe it is more crowded in summer, but in December, it was just the peaceful part of the Seville Alcazar.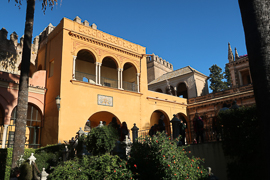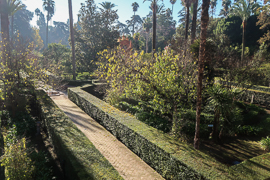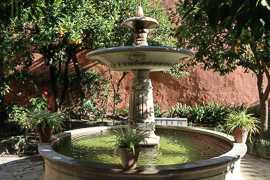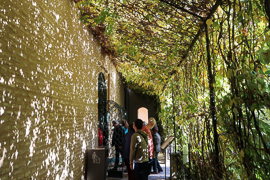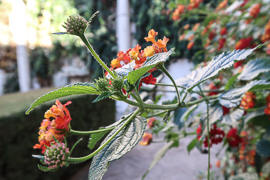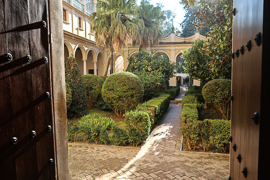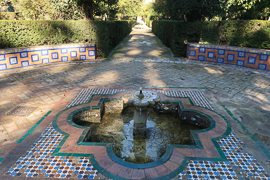 Alcazar – Services
After surviving the ticket sale, I have to say that especially the services and organisation of the place is a huge disappointment. At the entry turnstiles, there were two piles of Alcazar maps – one in Spanish, one in German. No English, no Asian language (there are plenty of Asian people around…) – that is just ridiculous. In contrast to the Alhambra, there is also no guidance on which places you should visit, a certain order of visiting or similar. I am sure I missed some big ones.
A very negative thing I recognized is the behavior of the tour guides. Several of them use umbrellas to point at certain areas – and don't care a f*ck about other people – I nearly got hit in my face thrice the first 30 minutes of my visit. I also felt that the group sizes there are sometimes very large – people tend to push you away because your guide is already moving to the next room.
There is a very nice cafeteria in the garden area, which I can absolutely recommend to enjoy some sun. Sanitary services are available and quite clean, but maybe a bit sparse.
Alcazar – My View
As I love these kind of places, I was sure before my visit that this will be a great time and a definite Flyctory.com Top Pick. Sadly, I have to say: it is not! The place itself is amazing, but there was too much disappointment. First of all, there is the strange entrance and ticketing system. But majorly, the whole organisation is just weak. Yes, there is maintenance in the gardens, but there are too many poorly maintained areas. Not being able to get a map in English at 10a.m. is also not acceptable to me. I also feel that the pricing system is odd. The Alcazar is a great place – but it could be so much better. I just felt it too often. Finally, I loved the gardens more than the palace. They are just so relaxing, even in winter. If you have limited time in Andalusia, invest your time in the Alhambra. Having said that, Seville overall is worth a stay – the city is amazing! And the Flamenco Museum is tiny compared to the Alcazar – but they did a better job there.