I have to agree: if it comes to arts, especially modern arts, I am a real low-brow. You won't find too many postings related to graphic arts, sculpturing and other creative techniques on Flyctory.com. Thus, it is somehow remarkable that I chose to visit the Österreichischer Skulpturenpark (or, in English: Austrian Sculpture Park), before I headed back to Germany from Graz Airport (GRZ) in summer 2021. Now that the park is opening its gates for the summer season 2022, I take you on a visit in one of my Pictured Stories.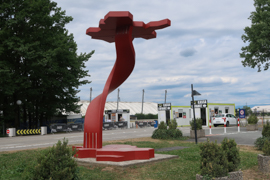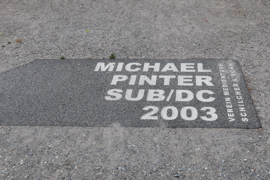 Australian Sculpture Park – Location & Admission
The Österreichischer Skulpturenpark is located in Thalerhof, a borough in Southern Graz in Austria. The park is located right West of the runway of Graz Airport (GRZ). Multiple bus lines (630, 650, 671, 692) connect to the area, which also hosts some other relax and entertainment facilities like a popular bathing lake. You may, of course, also go there by car. Parking is free. The Austrian Sculpture Park belongs to the Museum Johanneum, which drives multiple museums in the Styria (Steiermark) state.
The Austrian Sculpture Park is open in summer months only. From April to August, the park is open from 10:00 to 20:00 hrs, in September and October, gates close at 18:00 hrs. Admission is free. At the main entrance, there is a map and a place where you can grab an information brochure, which is giving you details about the exhibits.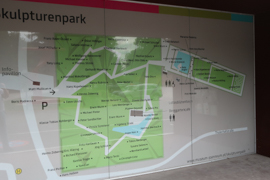 Australian Sculpture Park – Impressions
The park features a space of 70,000 square metres. It also features a small lake and recreation facilities. Overall, the park hosts 75 objects of arts. Some of them are permanent, while others are rotating. Thus, you may see some different pieces in case you visit the park after reading my review (the pictures reflect the state as of 2021). The sculptures are highlighted on the ground when you walk along the routes (see pictures above). The free guide gives you some insights – just a couple of sentences per work, which I felt very to be very suitable.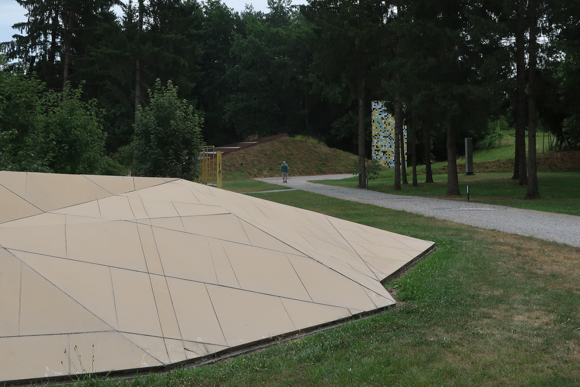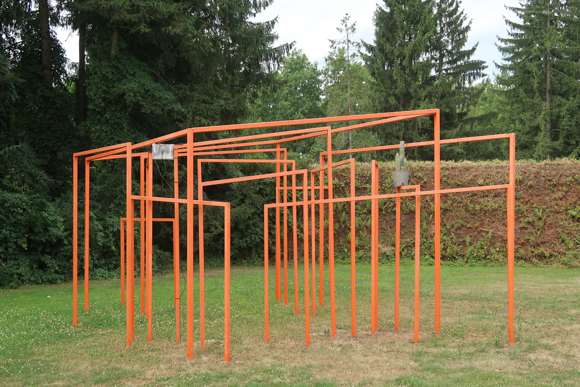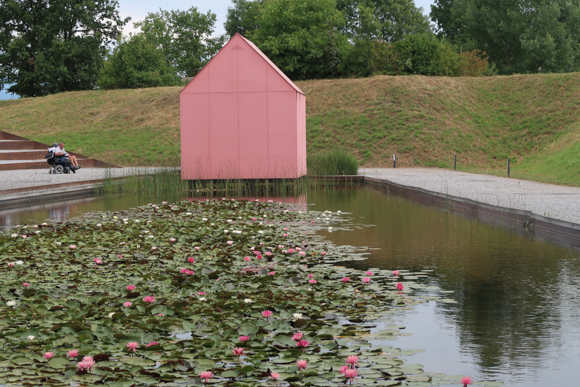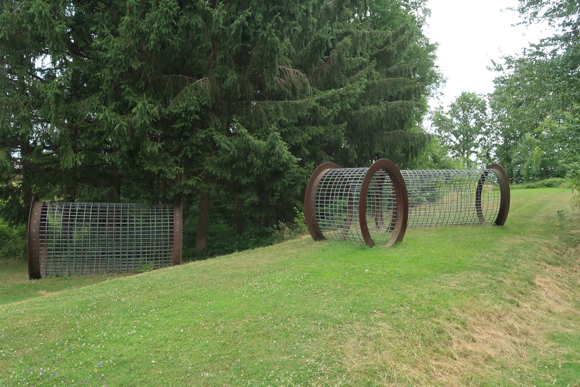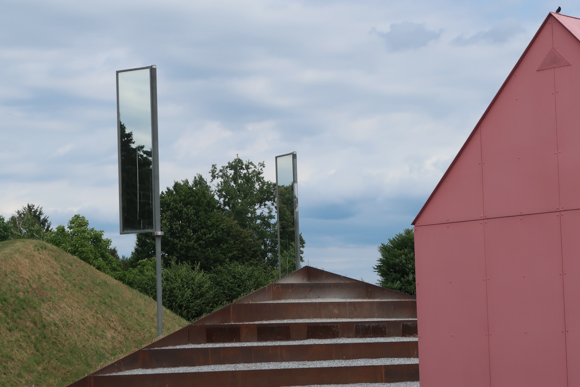 As you already see in these few pictures, there are very different kind of works, which leads to a rather entertaining and not too boring, even if you are not an art lover. Finally, this place is also just nice for a walk to recreate – just enjoy the pieces of arts you like and ignore the others. One of the highlights to me were the three crosses by Yoko Ono, Painting to Hammer a Nail in / Cross version. Later during my visit, I even passed a small labyrinth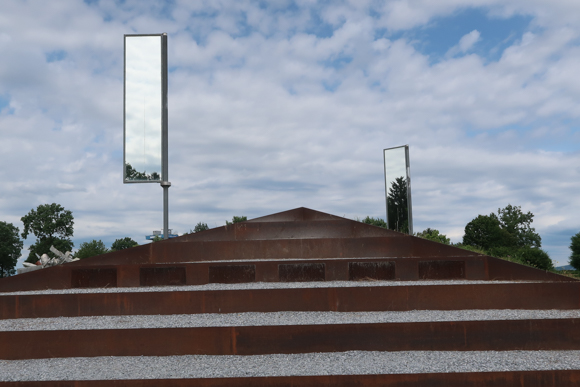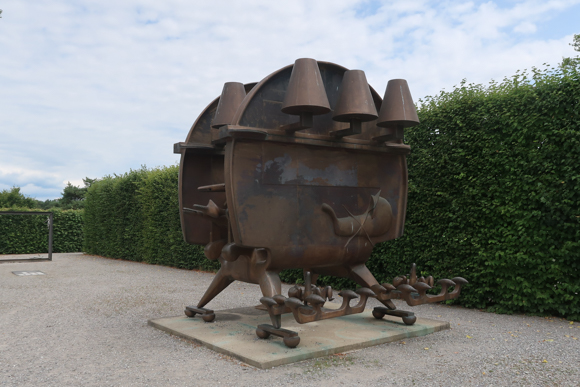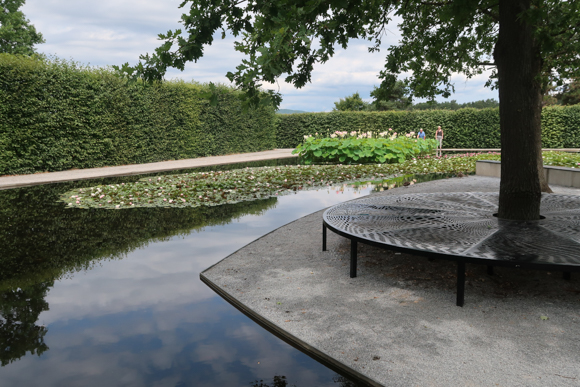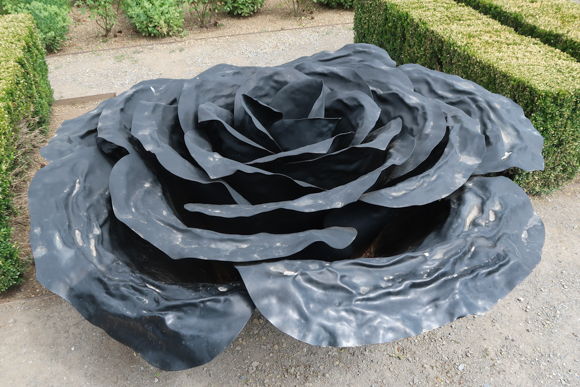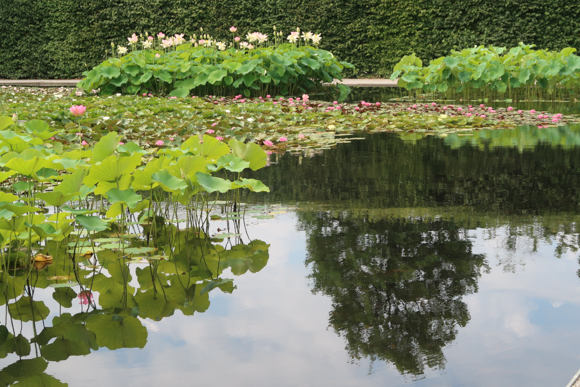 The picture below features the Betonboot ("Concrete Boat") by Michael Schuster, a Graz local artist. Airplane Parts & Hills, a sculpture which reminds of the 9/11 incidences, was, of course, also a work which made me stop and explore it in detail. It has been created by a Texas artist, Nancy Rubins. I really had a good time in the park, which gave me a relaxed walk and some stops at different works for some 75 minutes. If you are an art lover, you should assume to stay there for two hours, I guess.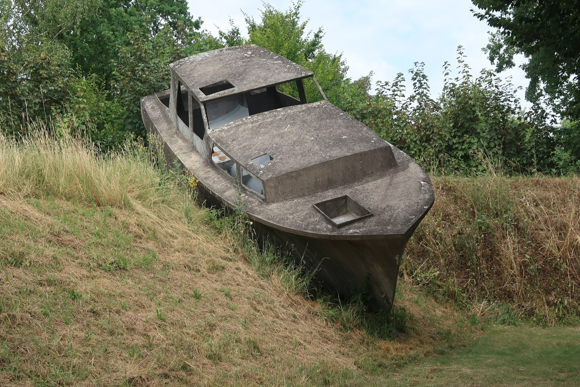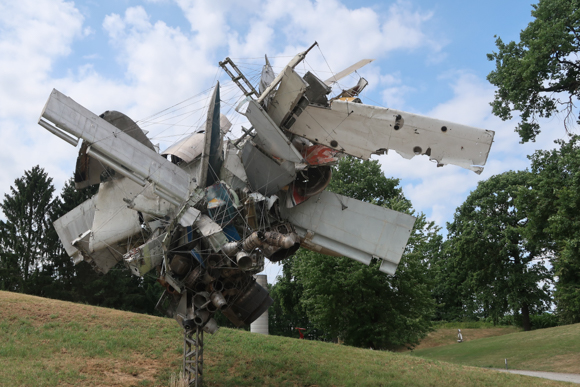 Flyctory.com in Graz
Here are all my postings related to the Austrian city of Graz:
Airports on Flyctory.com
Here are all other airport-related postings: