Meeting Caesar about a kilometer away from the Colosseum? Having a picture with the pope? It is not too surprising that Rome is having its own wax museum.  Not a Madame Tussauds outlet, but a privately driven place. As it is so close to many Rome key attractions, I just had to have a look into it while in the Italian capital in summer 2020. The place is simply called Museo Delle Cere – "Museum of Wax".
Museo Delle Cere – Location & Admission
The Museo Delle Cere is located right next to the key historic center of Rome. The Colosseum  is a less than fifteen minute walk away, other sights like the Mercati di Traiano are significantly closer. If you head North from the museum, you make it to the Trevi Fountain in about 15 minutes. The area of course features a lot of other touristic places, cafes and restaurants. Public transport is a bit limited, the Colosseo metro station is likely the best travel hub.
The wax museum typically opens from 9:00 to 21:00 hrs. Adult admission is 10 Euro.
Museo Delle Cere – The Visit
Apart from the Albert Einstein statue, who is greeting you at the entrance, and a few other celebrities, you do not see too much of the exhibition when entering and paying the admission – the owners put some carpets into the lobby to avoid too curious viewers. The rooms are comparably narrow (you will often see multiple figures on one picture due to that reason), but overall, the museum feels well organized and typically documents the exhibits in Italian and English. There is no major service apart from a visitor toilet, the staff spoke at most reasonable English during my visit.
The first sections you visit are Roman emperors (there is also Cleopatra, who you do not see on the pictures). You already see that the figures are not too bad, but definitely not the level of quality you have at Madame Tussauds wax museums. In the next rooms, you run into some big Italian celebrities of different ages, which overall leads to a very pleasing start of your visit.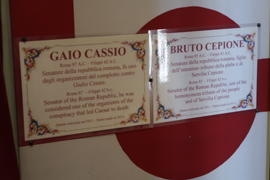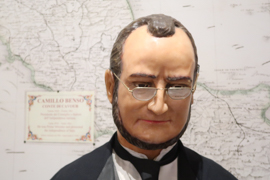 The next sections include musical stars like Freddie Mercury and Michael Jackson, before you head into a room, which is featuring the founder of the museum, but also a bunch of wax faces, which are not / no longer in display of the museum. Some of the people are now in display in an improved version – you for example see that many of the heads on the shelves do not have real hair, but wax-modeled hair – which is simply looking less realistic.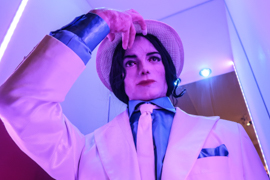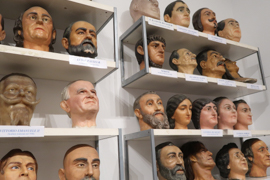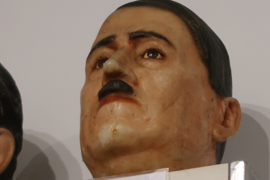 After heading to a diner-alike scenery which is – among others – featuring Elvis Presley, you run into famous Italian historic artists like Leonardo da Vinci and Michelangelo.
Thereafter, you visit a section of political leaders. Adolf Hitler – I intentionally did not comment on his head above – is two statues away from Barrack Obama – if Donald Trump is looking like on his Rome wax copy, the television pictures typically use a lot of soft focus lenses. The same room features Lenin, Napoleon, Mahatma Ghandi and Nelson Mandela – the composition of this room just felt a bit too disturbing and tasteless to me.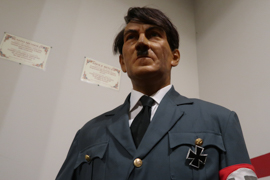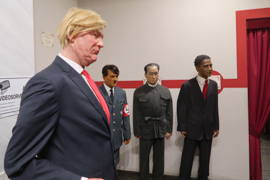 What would Rome be without the popes? Of course you meet Benedict, Francis or John Paul I. – this is the very last exhibition before you head back to the reception lobby.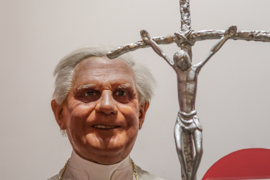 Museo Delle Cere – My View
There is so much history in Rome – I feel that a wax museum just feels like a necessary tourist attraction. The Museo Delle Cere, however, feels very packed. The figures are not meeting the highest standards – but I also saw significantly worse ones in the past. Still, it is fun to have some snaps with celebrities. I would have favored to have less tyranny on the politic side – it also sends a very brutal (and likely: wrong) message to visitory of Italy when they visit this place. Not good, not bad – this wax museum is just average, but at least it comes with a fair price.
Flyctory.com about Italy
Here are all postings related to Italy:
Wax Museums
Here are all other postings about wax museums: