Milan-Malpensa Airport (MXP) is the major of the two airports serving the North Italian city. However, there is one issue. While it is just about a ten kilometer distance from the heart of Milan to the other airport, Linate (LIN), the drive from city center to Malpensa is about 50 km. Quite a bunch and likely out of taxi distance (if you are not on a business trip or have another kind of sponsor who is paying for it). One of the alternatives is the Malpensa Express. The train is connecting the airport with Milan city center. I checked out the connection in November 2021. Here are my thoughts.
Malpensa Express – Route and Tariff
From Milan Malpensa, there is typically one train every fifteen minutes. However, there are two branches of the Malpensa Express, one to Milan's main station, Milano Centrale, and one to Milano Cadorna, which is shorter, but less touristic (see below).
Malpensa Express is operated by Trenord, the Northern Italian regional train sub-division of Italian rail. You can find the rail as a regional train in any Italian rail booking tool. However, there is officially only first class. This turns the one-way ticket (regardless if you buy it at a machine or online) to a price of 13 Euro. There is also a return ticket for 20 Euro. However, while you can select a date and a (quite narrow) three hour time slot for both directions if you book a ticket online for that price, the ticket machines at Malpensa airport only know a same day return for that price.
Malpensa Express – At The Station(s)
The Malpensa Express booths at Malpensa Airport were closed when we arrived at the airport train station, which is quite a walk from the luggage belts and is sometimes a bit confusingly signed (even though most of the walk is really straight). Thus you had to buy tickets at one of vending machines. There was also a direct contactless vending machine.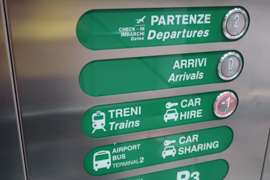 At Milano Centrale, Malpensa Express trains depart from one of the very outer platforms (in our case, platform 1), which is quite a walk. Again, there was limited support in case you struggle with train bookings. You may add a fast security option at the airport to your train ticket.
Malpensa Express – Rolling Stock
Trenord operates the Malpensa Express rail with designated carriages named Convoglio Sevizio Aeroportuale ("Airport Service Convoy"). Even though these trains are relatively new (the first ones have been introduced in 2010), the trains feel quite run-down from inside and outside.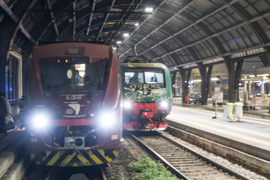 You typically have 2-2 seating, most of the time there are two seats each facing each other. Th seat pich is actually quite fine. There are no tables or similar facilities apart from a small foldable table next to the window. I unfolded the table on both trips – they did not feel like being cleaned at all.  The seats do not feature recline, but are overall quite fine.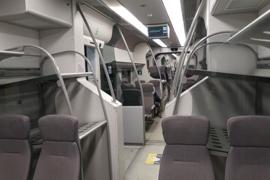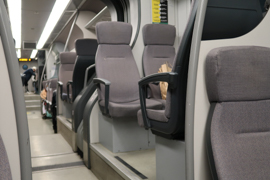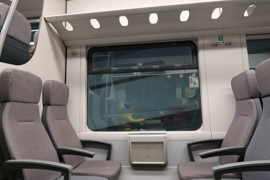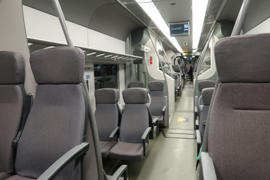 Malpensa Express – The Trip
As we had both trips during the evening, I did not take any sensible pictures of the trip. We used the trip to and from Milan Centrale. The trip is almost one hour. The train to Milano Cadorna is about 15 minutes quicker. This trip as three stops between Malpensa Aeroporto T1  and the city terminus. From Terminal 1 to Milano Centrale is a total of eight stops, which feels like ages.
Malpensa Express – Service
There is a train conductor and a toilet. That's it. If you dream of a WiFi connection or even food onboard this "first class" experience… You are wrong. The seats at least come with power plugs underneath a small foldable table.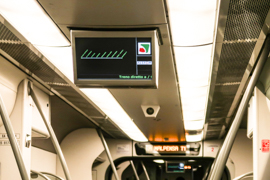 Malpensa Express – My View
Even though the Cadorna branch feels to be significantly more efficient, Malpensa Express does not really meet the (nowadays) needs of a airport traveler. On both station there is no additional service, so that the Malpensa Express does not compare at all to other "Airport Express" services like the Arlanda Express in Stockholm. The high frequency of stops and the quite high airport upgrade fee (the trip from the first stop after the airport, Ferno, to Milano Centrale, is 4.80 EUR) is also questionable. Finally, Malpensa Express is nothing but a somehow comfortable, but run down regional train.
"Rides on Rail" Postings
Here is everything about trains, trams and other rail vehicles:
Flyctory.com in Milan
Here are all postings related to Milan: