Sometimes you see hordes of people, locals and tourists, in front of a small booth at the end of Voetboogstraat in the heart of Amsterdam. The cause for that are fried potatoes: several travel guides name Vleminckx, the store which is located there, simply the best french fries in Amsterdam. Here is a small look into it.
As the topic of this posting is comparably limited, I decided not to leave an explicit rating for Vleminckx. Thus, I also did not decide whether this place is a Top Pick! or not.
Vleminckx Amsterdam – Location & Times
Vleminckx is located  right in the heart of Amsterdam, a bit of South to attractions like Amsterdam Dungeon. The next metro station is Rokin, you may also use tram connections to Spui or Koningsplein.
Opening times are surprisingly limited: the store is open all day, 11:00 to 19:00 hrs. On Thursday, the Frituur closes at 20:00 hrs, on Sunday and Monday, there are fries from noon only.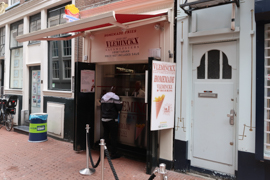 Vleminckx Amsterdam – The Franchise and The Menu
Vleminckx De Sausmeesters ("Vleminckx the sauce masters"), how the store is officially called is a traditional attraction of Amsterdam: the company has been founded in 1957. The franchise itself, however, is even older, dated as of 1887.
The menu is quite straight: you may choose between one meal – fries – in thee different sizes: the small one is 2.80, the large one 4.90 EUR. The variety comes with the sauces: there are 13 "regular sauces", which start with fries sauce and Dutch favorite Joppie sauce and end up with satay or Oorlog Mix, which is a mixture of mayonaise, satay sauce and onions. The "Belgian" sauces have are much more widespread, from Tartar to Hawaiian, Cocktail, garlic to green pepper sauce. A sauce is 0.70 Euro, two sauces or a mixture like the Oorlog one costs one Euro. The place is so popular that the menu is displayed in eight different languages.
Vleminckx Amsterdam – The Fries / My View
The fries come in the characteristic cornet-alike paper. Sauce is served on top of the fries. With that type of packaging, the lowest fries may be a bit hard to grab with the wooden handle.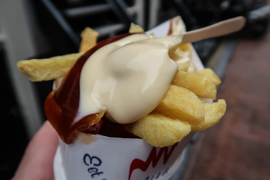 The fries were absolutely delicious. Quite cross on the outside and soft inside, good temperature and overall consitency. I really enjoyed them. If it is too crowded, though, you may have to stand in line and it may also be tough to find a good place to enjoy your snack – finally, you will likely end up standing somewhere around on the (very low amount of traffic) street – so better not go for a raining day to give Vleminckx a try.
Flyctory.com in Amsterdam
Here are all Flyctory.com postings related to Amsterdam:
Flyctory.com on Eating & Drinking
Flyctory.com is not a culinary blog. Nevertheless, here are all posts dealing with Eating and Drinking: