My wife loves almost any kind of animal. Thus, your trip to Helsinki in April 2022 finally lead us to three places you could describe as a zoo. Apart from the main one, Korkeasaari Zoo, we also visited Sea Life Helsinki and – the maybe least well-known place, the Helsinki Tropicario. The Tropicario is a place which is specialized in reptiles, mainly lizards and snakes In this posting, I take you with us to a visit.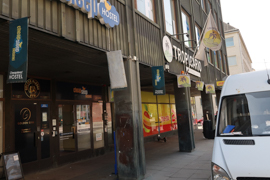 Helsinki Tropicario – Location & Admission
Tropicario is located in Vallila, a rather Northern borough of the Finnish capital. The area is okay, there were some homeless people around, but it felt very safe. The building is offering quite some services: apart from the zoo, there is a hostel, a supermarket and Finland's only gay sauna. The easiest way to get there is by tram. We took a ride to Hattulantie, which is served by lines 1 and 7. In addition to these lines, the station Roineentie should also serve 6 / 6T and 8, but this station was closed during our visit due to construction works.
The reptile zoo is opening daily (apart from Christmas holidays) from 10:00 to 18:00 hrs. Adult admission is 15 Euro.
Helsinki Tropicario – The Visit
You in fact visit the basement of a residential and commercial building. You first might feel that this place is rather small, but this is definitely not the case. You more or less go on a round trip through the exhibition, there was no clear direction, though. The aisles were rather wide and the habitats felt reasonably large and absolutely clean, so that we had a good felling visiting the Tropicario. There was detailed description for all animals in Finnish, most of the time, you could also find Swedish, English and scattered Russian documentation. Most of the cages are closed to the visitors, very few have an open top – but there is no chance to touch an animal in any way.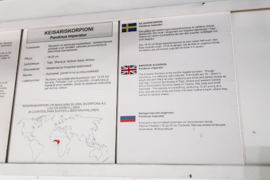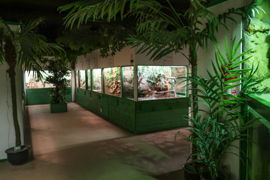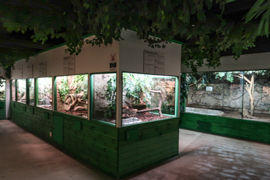 As said, the majority of animals in display are snakes and lizards. There are a few exceptions like turtles or the hornbill you see on one of the first pictures below. The habitats are really nicely done and in the morning hours, the animal protagonists were quite active. Quite some habitats were home of several animals (of the same species, of course. As you see in the pictures, you could really watch the animals from rather close distance. Even though there were more visitors than I expected in the Tropicarium, the visit was rather relaxed.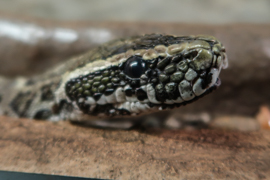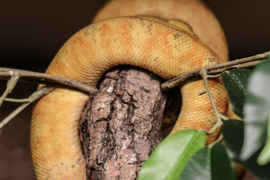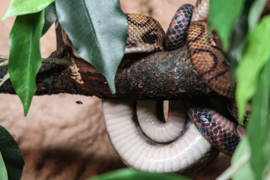 In the pictures below, you also see some of the other species which are displayed in the Tropicarium, for example spiders, frogs and crocodiles. Overall, we spent about an hour in there.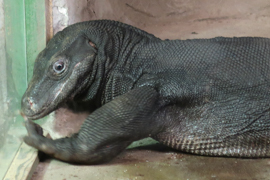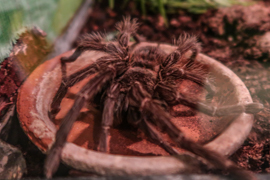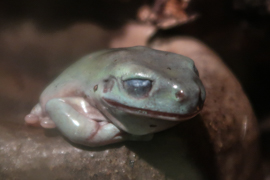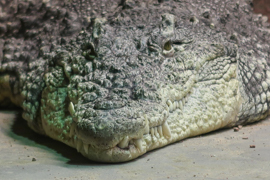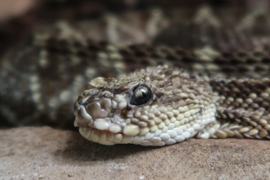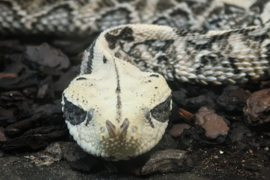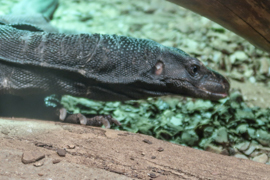 Helsinki Tropicario – Services
Helsinki Tropicario features a small gift shop and toilets. The gift shop also features ice cream and drinks, but there is no cafe or a similar service.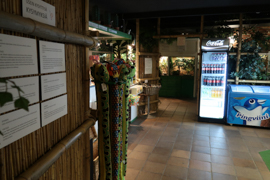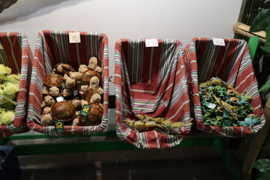 Helsinki Tropicario – My View
I feel that the Tropicario turns a rather limited space into a really good experience. There are quite a lot animals in display and we really enjoyed watching them. If you like snakes, lizards and other reptiles, this is definitely a nice visit.
(Greater) Helsinki
Here are my Flyctory.com postings related to the Helsinki Metropolitan Area:
Flyctory.com about Animal Parks & Zoos
Here are all postings of the Zoos and More category: