Our Ring Road Trip through Iceland in April and May 2023 took us to three geothermal spas. I already introduced you to the beauriful Forest Lagoon in my favorite Icelandic town Akureyri. This time I take you to the first spa we visited on the tour, the Vök Baths. Located right outside of Egilstadir in East Iceland / Austurland, the key feature of this bath and geothermal pools in flat floating on a lake.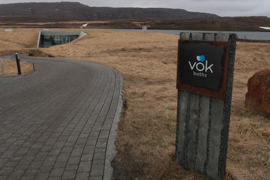 Vök Baths – Location & Admission
The Vök Baths are located some 5 kilometers North of Egilstadir. They are a short detour away from the Ring Route #1, at the Route 925, which is fully paved in this section. The geothermal spa is located right at the share of the Urridavatn lake, on which two of the pools are floating. There are no touristic services around Vök Baths – however, you find all of them in Egilstadir. You practically should go there by car. There is sufficient free parking in front of the entrance to the spa.
In summer months, mid June to mid September, Vök Baths are open from 10:00 to 23:00. The bistro is operating at the same time (kitchen closes at 21:00). In the other months, times are noon to 22:00 and the bistro is only operating Thursdays to Sundays (Thursdays from 17:00 only). You are asked to leave the pool fifteen minutes before closing latest. Adult admission is 6,490 ISK, roughly 45 Euro. Towels are 990 ISK, bathrobes 1,490 ISK (for rent, each). There are also some upgraded packages, which were not available during our stay, e.g. because the bistro was closed.
Vök Baths – The Visit
Your steps into the in-fact spa area at the Vök Baths is in fact very similar to Forest Lagoon – even the architecture feels somehow familiar. You first leave your shows in a rack and then undress to take a shower and lock your clothing and valuables. You can chose any locker, they are locked with a chip in a bracelet you receive at check-in. This bracelet can also be used to pay additional charges within the baths, i.e. drinks. There are also checking devices in case you forget which locker you have chosen before.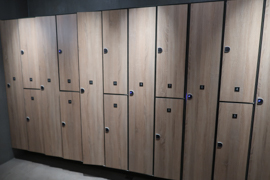 Vök Baths in fact consists of three different basins. The key one is located right at the locker rooms, you can walk inside from the locker area already.
From the other end of the main basin, you take a wooden walkway down to the two floating basins. In cooler times, at least, this way down can be rather slippery, especially as you typically wear slippers or are barefoot. The experience is nice and the view from the pools is really catching. You are also allowed to have a short jump into the lake (at own risk) – the water temperature was some 5 degrees during our visit though.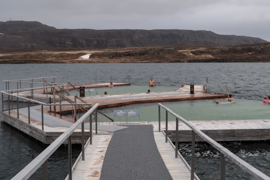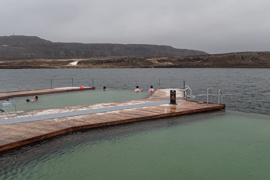 Vök Baths – Services
The staff was very friendly. As stated above, the bistro was already closed at the time of our visit. That was quite a shame, I love to have a bite after relaxing in the warm pools. Like in practically all similar places in Iceland, you can rent a towel, slippers and a bathrobe. Due to the architecture of the place (especially as there is no place to stretch out and lay down), renting a bathrobe does not make real sense at the Vök Baths, though.
However, there is (of course) a bar in the pool at Vök Baths. Additionally, your admission allows you trying one of their herbal teas in the lobby for free, regardless whether the bistro itself is operating or not. Of course, there are also some souvenirs you may take home with you for a more or less reasonable price. Vök Baths also provides swimming aids, if necessary.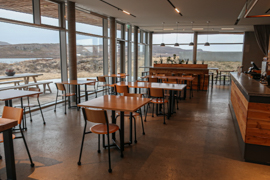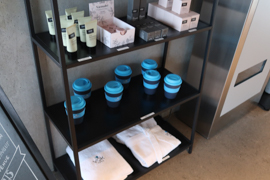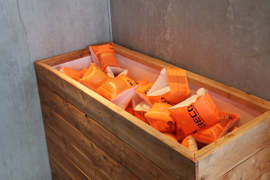 Vök Baths – My View
Of course, having the two floating pools is a really nice experience. My wife and I enjoyed the Vök Baths. The staff is nice, the facilities felt to be well maintained. I still would have loved to have some sort of snack after swimming. Additionally, the scenery in other geothermal spas in Iceland is simply nicer – my favorites are the Forest Lagoon in Akureyri and the Sky Lagoon South of Reykjavik.
Posts about Egilstadir
Here are all my posting related to Egilstadir in East Iceland:
Spas & Health
Swimming pools, thermal pools and places to relax can be found under Spas & Health: