Despite driving on the left hand side: if you really want to explore Cyprus effectively, a rental car helps you a lot. For our trip in early October 2022, my wife and I rented a car from Larnaca Airport (LCA). The rental car provider was Astra, a local rental company. Here is our
Astra Larnaca Airport (LCA) – The Rental
We had a six day rental from Larnaca Airport (LCA). The class we booked was D3, equivalent to a Kia Rio Automatic. The total rate for the Saturday to Friday rental in early October 2022 was 332 Euro. The rate included full insurance and had to be paid at the counter (refundable).
Astra Larnaca Airport (LCA) – Location & Office
Most car rental companies have a desk right at the arrival area of Larnaca Airport (LCA). Astra owns one of the first desks, so that it is very handy to find them. From there, you have to walk along the airport and cross the road in front of the terminal building to a car park, which has several sections for the differnt car rental companies. As there are large signs and some advertising, it was very easy to find the Astra office there when we grabbed the car.
Astra Larnaca Airport (LCA) – Receiving The Car
Receiving the car was very easy. There was nobody in front of us in line, the customer manager spoke English sufficiently, so that it took less than five minutes until my wife and I got the keys to the car. As the pictures above suggest, the car rented was parked very close to the office building, so that I had no chance to drive out the car from the parking spot. Unfortunately, there was no Astra person around to assist us. Nonetheless, the process of renting the car was really smooth.
Astra Larnaca Airport (LCA) – Returning The Car
Overall, Larnaca Airport (LCA) is still very handy and also not too large. Furthermore, the directions around the airport are very well signed, so that it was easy to find back to the parking lot. This time, the Astra office at the parking lot was staffed, so that we were able to head to the terminal building after a really quick car check.
The Car – Honda Fit
The Honda Fit is a car which is marketed in Germany and other countries as Honda Jazz. The car was in line with the class I booked and offered quite some space. Overall, the car was generally in good condition. However, in contrast to other car brands I rode so far for left-hand driving, Honda also twists the position of the blinker and windscreen wiper. Thus, the key issue I had with the car was that I wiped the front window instead of indicating a turn several times during the trip – at least you get it quickly and it is a nice laugh. The only maintenance issue was that the water tank for the wipers was empty, which is bothering due to the sandy winds. The red licence plate indicates that the car is a rental, by the way.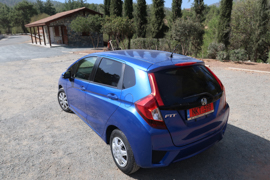 Astra Larnaca Airport (LCA) – My View
Overall, the rental with Astra in Cyprus was a really nice experience. We just experienced a few issues listed above. I would definitely recommend them and consider them whenever I come back to the lovely island.
Car Rental Reviews
Here are all my car rental reviews so far:
Museums in the United Arab Emirates
Here are all my Museums & Exhibitions reviews related to the United Arab Emirates: