Another weekend, another car rental: for my trip to Italy, which majorly featured a couple Emilia-Romagna automobile history places, I went for a flight to Milan Malpensa Airport. At Terminal 1, where Eurowings was arriving in June 2021, I went for a rental car with Sixt. Here are my thoughts about the rental.
Sixt MXP T1 – The Rental
I had a three day rental from Thursday to Sunday in late June 2021. I had to alter the rental a couple of times due to continuous rebookings of my flights by Eurowings. The car category I went for was CWMR, which is for example a Fiat Tipo station wagon. Finally, I had a flexible, non-prepaid rate of 183.95 EUR incl. taxes, which came with unlimited mileage.
Sixt MXP T1 – The Rental Office
The rental car offices are located in one corner of the terminal. Thereby, "corner" is a quite precise description, as you have to walk quite a bunch from arrivals and baggage claims to the offices. Thereby, you also have to take one level down from arrivals. The Sixt office is larger than some of its peers and a bit of separate.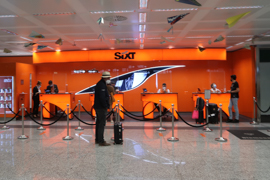 Sixt MXP T1 – Receiving The Car
The receiving of the car was not ideal in my point of view. I initially felt very welcome, being greeted by the staff, which was very good in English, as a Sixt Platinum member. What was named by the staff to be a complimentary upgrade was in fact the try to sell me a more expansive car. I was initially with a BMW 2 class car (which is in fact an upgrade), which then turned into a BMW 3 class with a 20 Euro per day upgrade price and an adopted (means: higher) liability. I finally received a Volkswagen Golf with automatic transmission (no station wagon). Unfortunately, Sixt does not print the class of the in-fact received car on the invoice, so that I cannot check whether the car has really been an upgrade – it does not necessarily feel like one, at least.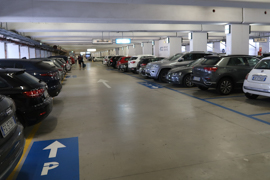 I got a bit lost in the old-fashioned parking garage before I finally found the Sixt rental lots. The car was parked quite in the rear of the parking lots. Maneuvering through the narrow parking garage was a bit of tricky. In general, Italian rental cars do not have facilities to automatically pay road tolls, so that you either have to use an own device or pay at the cash / card booths.
Sixt MXP T1 – Returning The Car
Returning the car was quite easy. The route to the car rental bays in the parking garage are well-signed, so that I easily found the place. The car check at return was very friendly and went smoothly. Funnily, there are people who make money by showing you the walking route back to the terminal – this service tells a bit about that there are some challenges connecting from the car rental return to your flight.
The Car – VW Golf TSI Automatic
The car I got was a Volkswagen Golf with automatic transmission. Apart from the strange check-in process at the airport, I really liked the car, which was a very comfortable option. The car was almost brand-new and had a mileage of about 900km when I received it. Regarding the trip I took (a lot of motorway driving, but also some rather narrow roads in the Modena region), it was a really good choice.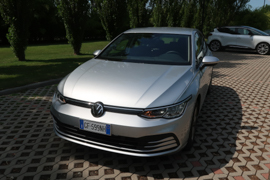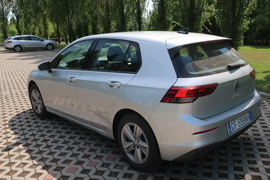 Sixt MXP T1 – My View
Overall, I had a good rental with Sixt. A good car, smooth processing at car return. Only the receiving of the car was really bothering (even though I like the design of the Sixt offices, where you see updates on your rental on a small tablet screen). The parking garage was quite narrow and came with the touch of a labyrinth. There are not too many things which sum up to a very good car rental, Sixt in Milan unfortunately failed in some of them and thus ends up in a rather average range.
Car Rental Reviews
Here are all my car rental reviews so far:
Flyctory.com in Milan
Here are all postings related to Milan: